These super moist and flavorful muffins are the perfect breakfast for a chilly Fall morning!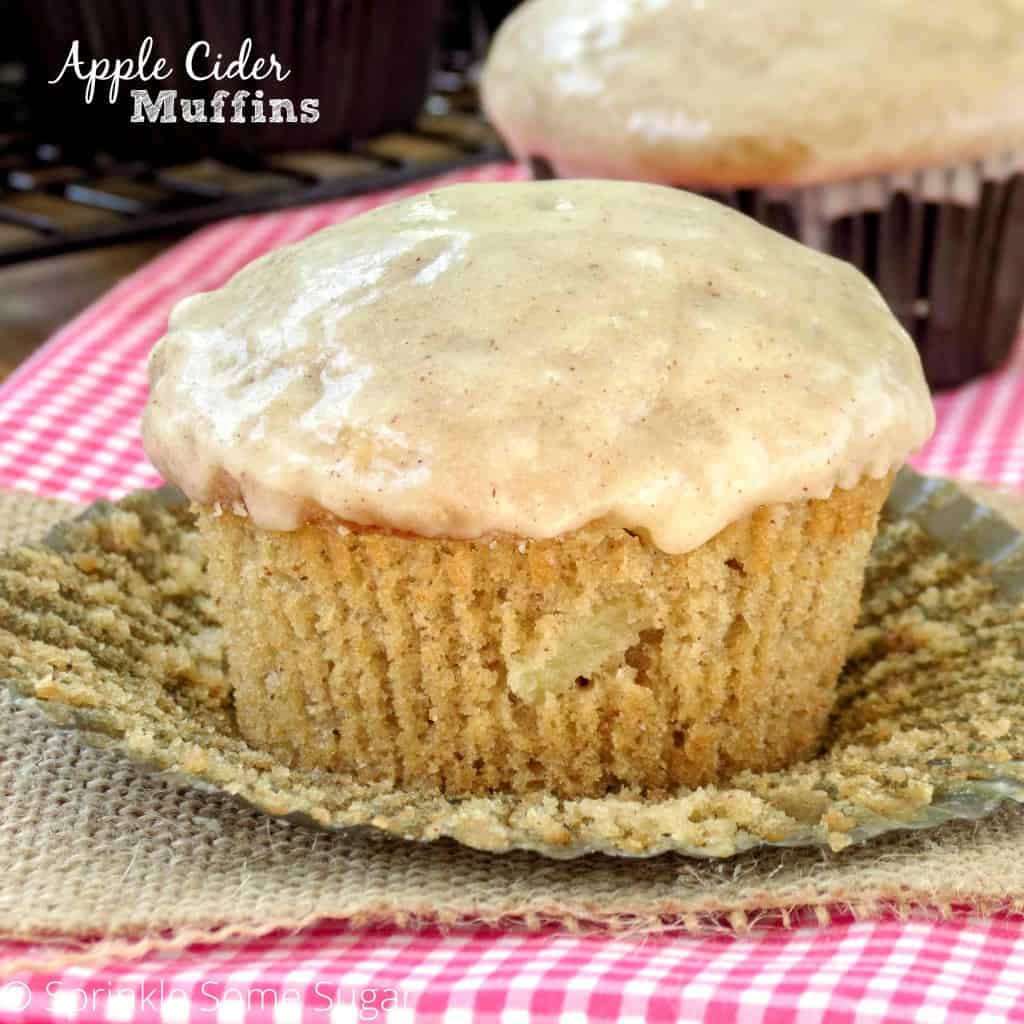 Cozy, comforting muffins perfect for the chilly mornings coming up! If there's one thing I love, especially on the weekends, it's a muffin for breakfast. There's just something about having a fresh out of the oven warm muffin early in the morning that is SO comforting! These Apple cider muffins are jam packed with so much Fall flavor, they'll blow your mind.
Apple cider is used in the muffins and in the sweet glaze on top, giving them a double dose of cider flavor! The glaze on top really adds so much flavor to these guys. If you want to skip it, the muffins themselves are delicious on their own, but I prefer them with the glaze. It's so delicious I could sit and eat it with a spoon!
The muffins are so moist and have the perfect texture! If you can think of what Fall would taste like in your mouth, these muffins would be it. Loaded with a heavy hand of spices, chunks of apples and apple butter to add some extra flavor, these muffins are just perfect.
After making these I'm not even ashamed to say that I had three. Yes, THREE in a row. I seriously couldn't help myself they are THAT good, people! I brought some over to my grandmother's house the day I made them because she's always asking me to make here something with apples and she had two in a row. I'm sensing a pattern here?? Maybe she's where I get my absolute ZERO self control for sweets from! I finally figured it out!
Side note: This is the apple cider I used in the photo below and it is AMAZING! I went to Trader Joe's for the first time a few weeks ago and OMG I wanted to buy everrrrything! If you've never been there, you need to go asap. Did you know when you buy one of their spreads they give you spoons to eat it them in the car I guess? I didn't do this of course.. Okay, I had ONE spoonful. Isn't that crazy though? When the guy asked me if I wanted a spoon I thought he was joking! Ha ha.
Anyways, back to these apple cider muffins. You just really need to make them, you will fall in love! (You see what I did there?) 😉
[pinterest]
Apple Cider Muffins with Apple Cider Glaze
Ingredients
*Apple Cider Muffins*
1/4

cup

vegetable oil

1/4

cup

+ 2 tbs apple butter

1/2

cup

light brown sugar

1/3

cup

granulated sugar

2

large eggs

1 1/2

tsp

vanilla extract

2 2/3

cups

all-purpose flour

2

tsp

baking powder

1/2

tsp

baking soda

1

tsp

cinnamon

1/4

tsp

nutmeg

pinch

salt

3/4

cup

apple cider

I use Trader Joe's Spiced Apple Cider

1/4

cup

whole milk

1

cup

Granny Smith apple

chopped very thin and small (about 1 whole apple)
*Apple Cider Glaze*
3

tbs

unsalted butter

melted

1

cup

confectioner's sugar

1/4

tsp

cinnamon

3

tbs

apple cider
Instructions
Preheat oven to 375 degrees. Line muffin tins with paper liners, set aside.

In a large bowl or the bowl of your stand mixer, stir oil, sugars and apple butter together until smooth. Beat in eggs and vanilla until completely combined. In a separate bowl, combine flour, baking powder, baking soda, cinnamon, nutmeg and salt. In another bowl, combine apple cider and milk. Alternate adding the dry and wet ingredients to the batter until everything is just combined. Don't overmix! Fold in chopped apples. Scoop batter into prepared muffin tin about 3/4 high. Bake for 13-16 minutes or until a toothpick inserted in the center of muffins comes out clean.

Allow muffins to cool in pan for 10 minutes before transferring to a wire rack to finish. While muffins are cooling, prepare glaze by whisking all ingredients together in a small bowl. Either drizzle or dip the tops of warm muffins into the glaze. Allow glaze to harden to a few minutes and serve.

Apple Cider Muffins will stay fresh for up to 4 days stored in an airtight container.
[pinterest]