[pinterest]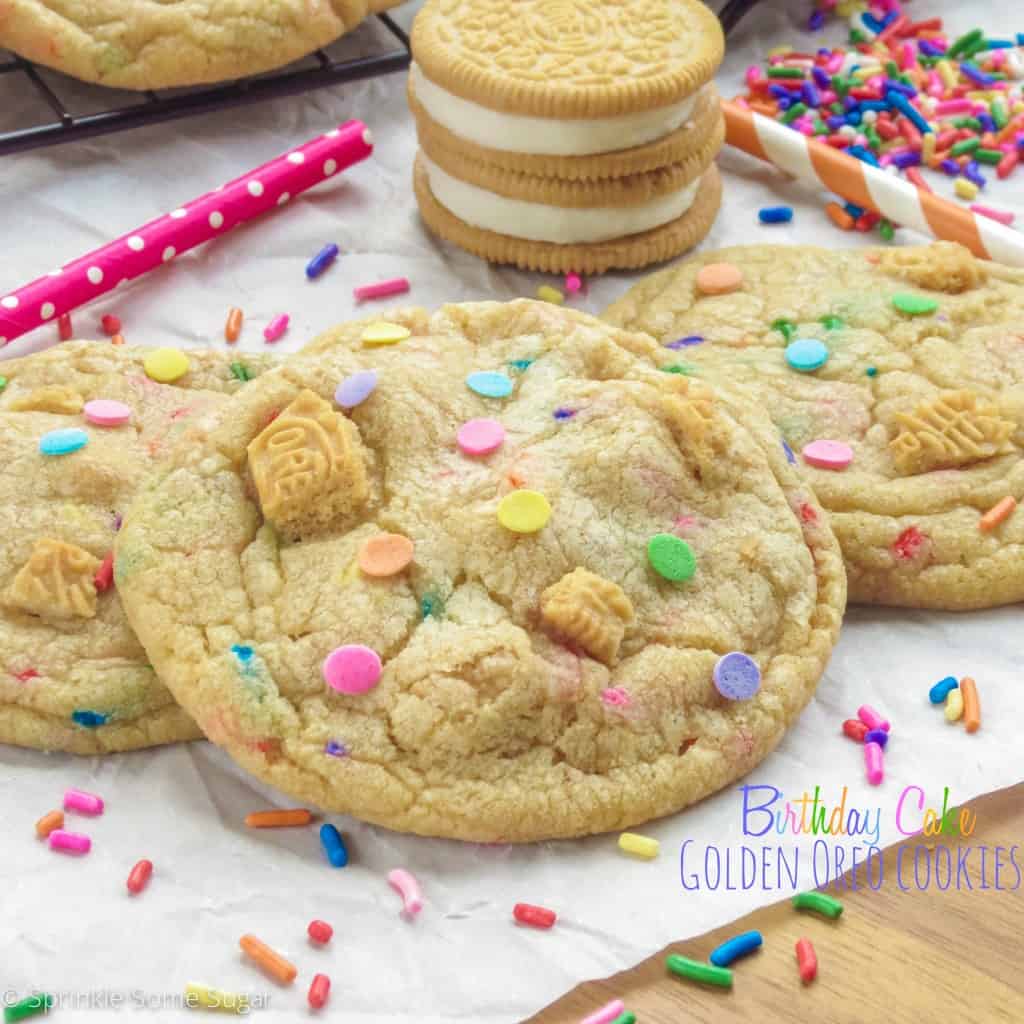 Today is a special day, hence the abundance of sprinkles! Today, my sweet baby boy is TWO!! He's growing up right before our eyes into such an amazingly smart, loving, CRAZY little boy and today is making me really stop and think about how fast time really goes by. We have been so blessed since the day he was born and what they say is true, you really never know the true meaning of love until you have a child because now I can't imagine a day without him in our lives! It's indescribable the amount of love, joy and happiness this perfect boy brings to my life, making me a better person and making me try even harder to be the best mom I can be to him every single day.
I love this quote.. "A young mom means that we met a little early, but it also, means I get to love you a little longer. Some people said that my life ended when I had a baby but my life had just begun. You didn't take away from my future, you gave me a new one.." I'll love you forever and always times infinity, John Michael!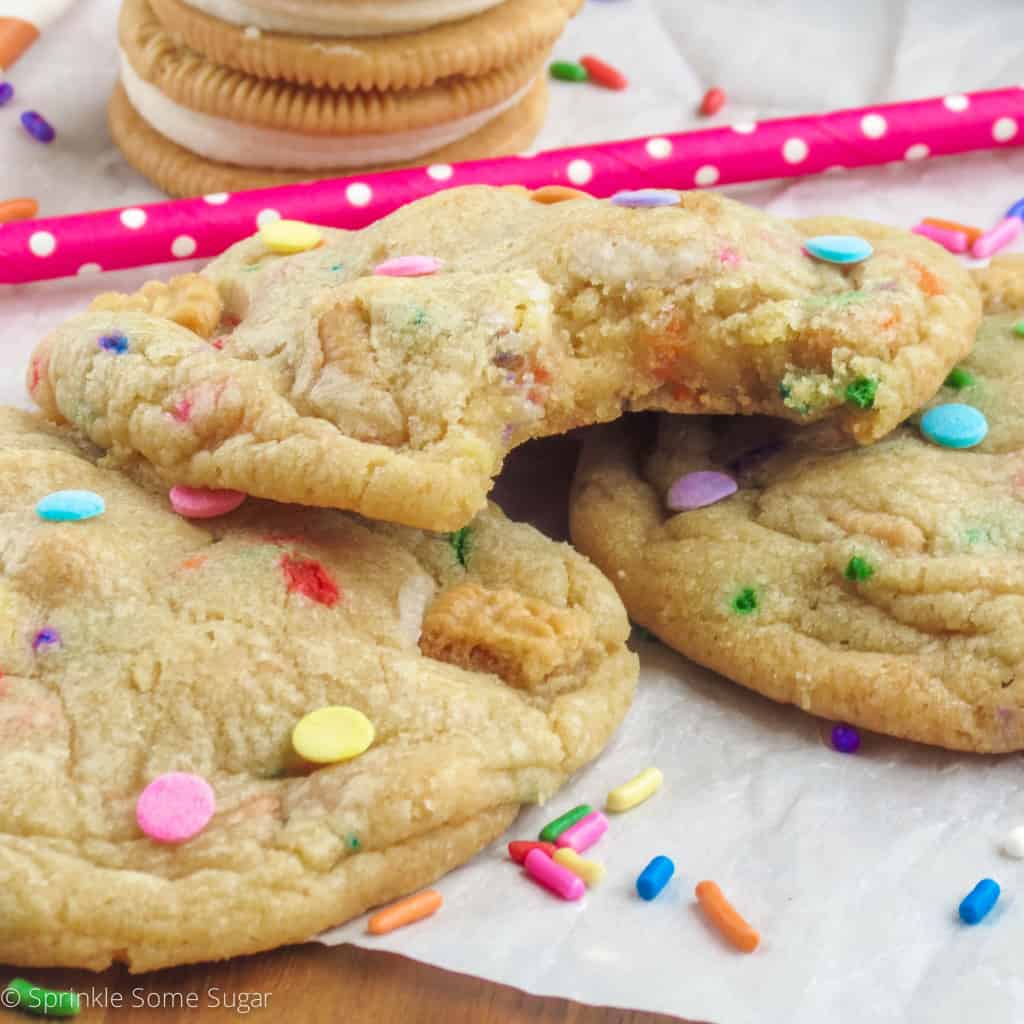 Anyways, now that I'm crying (#emotional), for this special day, I wanted to make him a special treat to enjoy so I had to make the happiest, tastiest cookies of all. Enter: Birthday Cake Golden Oreo Cookies. Chock full of yummy vanilla sandwich cookies and of course loaded with sprinkles! Oreos are his absolute favorite cookie. I mentioned in this post how he loves eating the middles out of them, lol, what a kid! Still not sure how he learned that, but, I knew I wanted to create some kind of cookie that just screamed happy and of course included Oreos so I came up with these. I used my beloved cookie recipe that I love so much and tweaked it to make these beauties. I've used it to create chocolate chip cookies, chocolate fudge cookies and a few others!
These are huge, soft and chewy bakery style cookies. The dough is so rich and buttery and the combination of cake mix and golden Oreos make the dough so deliciously sweet with yummy flavors of vanilla and cake batter bursting in every single bite!
If you have a special birthday or occasion coming up, or just need some sprinkle lovin' to brighten up your day because let's face it, sprinkles make EVERYTHING better, you've gotta make these delicious cookies!
[pinterest]
Birthday Cake Golden Oreo Cookies
Ingredients
3/4

cup

unsalted butter

melted

3/4

cup

light brown sugar

1/4

cup

granulated sugar

3.4

oz

box instant vanilla pudding mix

1

egg

1

egg yolk

1

tbs

vanilla

1 1/2

cups

+ 2 tbs all-purpose flour

1/2

cup

yellow cake mix

just the powder

1

tsp

baking soda

pinch

salt

10

golden oreo cookies

roughly chopped

1/4

cup

sprinkles
Instructions
Preheat oven to 350 degrees. Line two baking sheets with parchment paper, set aside.

In a large bowl, combine both sugars and melted butter and mix until smooth. Add egg, egg yolk and vanilla and stir until completely combined. Pour in pudding mix, cake mix flour, baking soda and pinch of salt and stir until just incorporated. Don't over mix. Fold in chopped oreos (I reserve about 2 tbs to press into the tops of dough balls before baking) and sprinkles until evenly distributed.

You may chill your dough for 30 minutes for thicker cookies (chilling is best for hot days). If not chilling, roll dough into 2 rounded tablespoons of dough and place 1 1/2-2 inches apart on baking sheets. If you saved oreo cookie pieces, press into the tops of cookie dough balls now. Bake for 11-12 minutes. Cookies will be underdone but will set up when they cool and stay very soft. Allow them to cool on baking sheets for 7-10 minutes until able to be handled without breaking apart before transferring to wire racks to finish cooling.

Birthday Cake Golden Oreo Cookies will stay soft and fresh for up to one week stored in an airtight container.
[pinterest]
[pinterest]
[pinterest]