[pinterest]
Remember when I posted these Nutelle Cinnamon rolls the other day using store bought cinnamon rolls? Well, I have been noticing that I've been using more and more store bought stuff lately. Does that make me lazy? Maybe. But I don't think the store-bought stuff lacks in flavor what so ever! ESPECIALLY the crescent rolls. Sweet, buttery crescent rolls. They are my most favorite store bought dough because they are just SO addicting.
I love stuffing crescent rolls with a bunch of things, they're so versatile. A few weeks ago I bought a jar of biscoff spread and had absolutely no idea what to do with it (or what it even was) besides unashamedly eat it by the spoonful. Have you ever tried this stuff? It is sooo good! Like the best graham cracker you've ever had in spreadable form. Delicious. I wanted to make it breakfast-y so I decided to add some cinnamon sugar because well, it's no secret that I'm obsessed with the stuff. Donuts, more donuts, puppy chow etc. I love it.
These little rolls take about 5 minutes of your time to prepare and 3 ingredients. 4 if you have to make the cinnamon sugar which is very simple. All you do is spread the biscoff spread on, sprinkle lots of cinnamon sugar, roll up and sprinkle with some more cinnamon sugar. And bam! You have the tastiest breakfast/snack/dessert – whatever you want to call it – ever with very little work. I made these in the afternoon for myself and my son for a little treat. There were still lots left over by the time everyone got home from work and even after sitting out on the counter all day, everyone went nuts over them! Mike absolutely loved them. His exact words were "What the HECK is this stuff?!" He is now just as in love with cookie butter as I am. 😉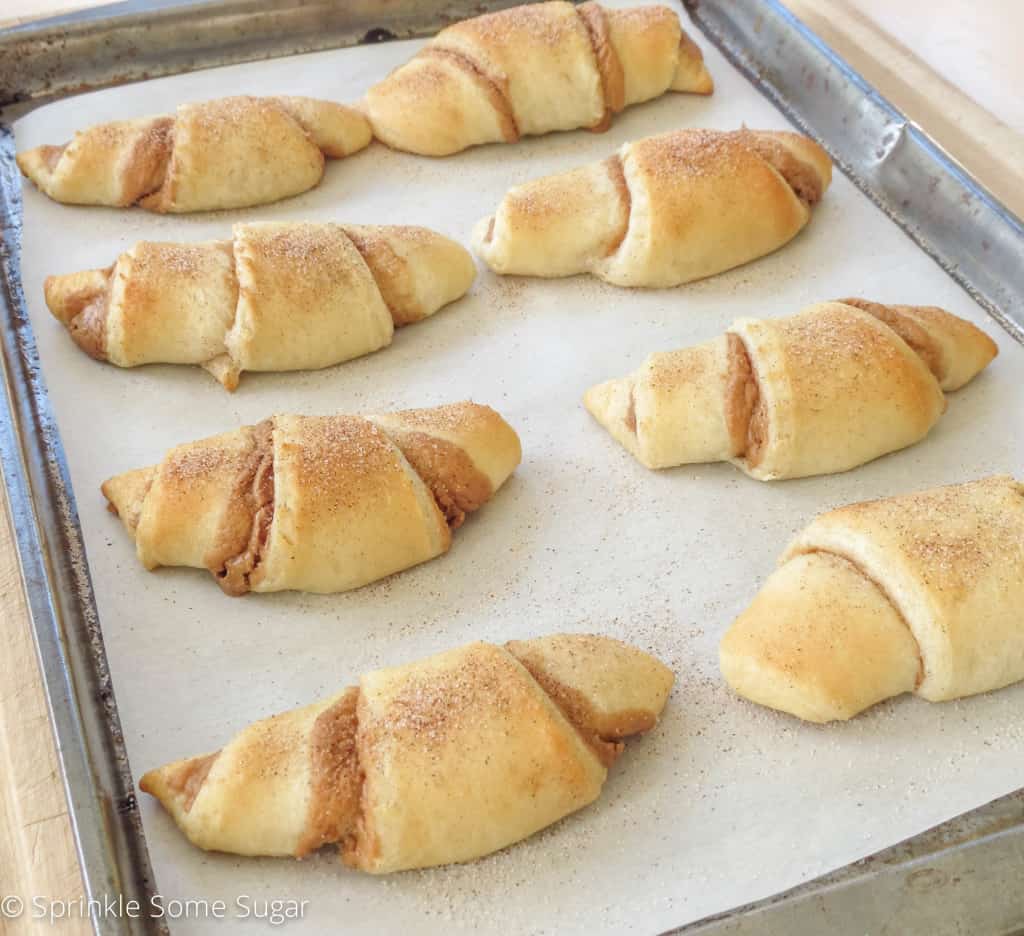 [pinterest]
Biscoff Crescent Rolls
Ingredients
1

package Pillsbury Crescent Rolls

8

1/4-1/2

cup

Biscoff spread

2-4

tsp

cinnamon sugar topping
Instructions
Preheat oven to 375 degrees. (Or follow manufacturer's instructions depending on what brand you are using.) Pop open the can of crescent rolls and separate the triangles. Evenly spread about 2 teaspoons of Biscoff spread on each one and add 1/4 tsp cinnamon sugar on top of spread. Roll crescent rolls up, sprinkle some more cinnamon sugar on top of rolls and place on baking sheet. Repeat this process until all crescent rolls are prepared. Bake for 9-12 minutes (or again, follow manufacturer's instructions) or until lightly golden.

Crescent rolls are best served warm, immediately. Will keep for 1 day stored in an airtight container.
[pinterest]
[pinterest]