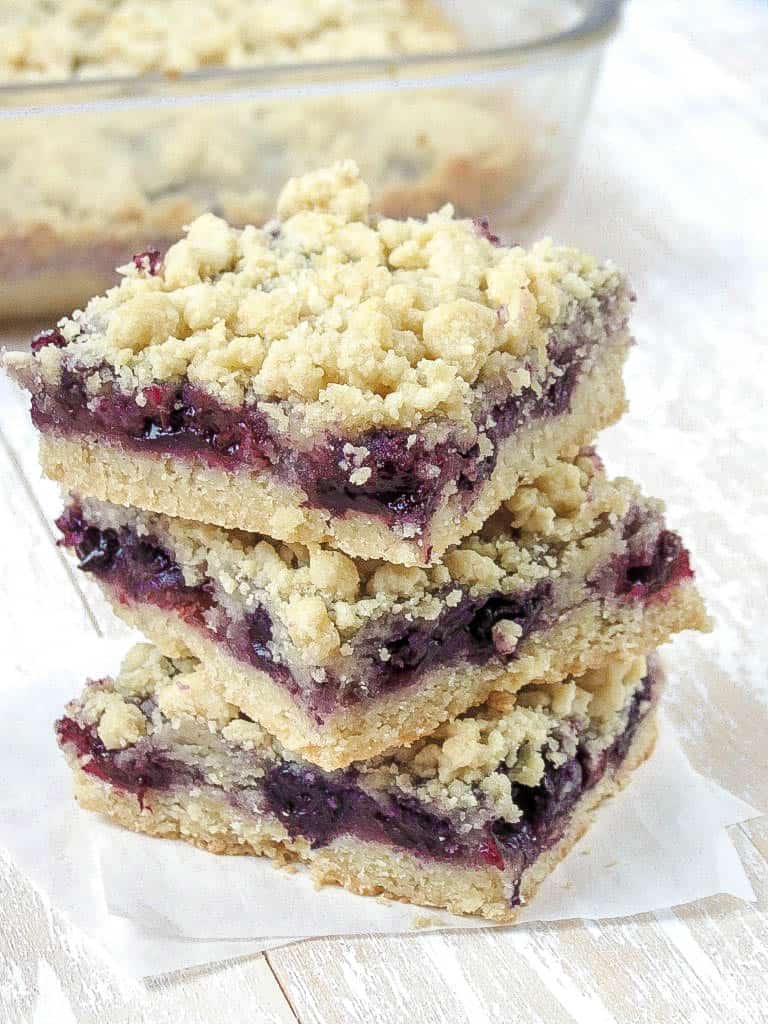 My favorite part of a muffin, coffee cake, etc... is the crumb topping. Isn't that the same with everyone though? You can always find me picking off the crumbs on top first before getting to the bottom. This dessert is a crumb lover's dream come true! Soft, buttery crumb topping make up each entire bar, sandwiching gooey blueberries in between. I absolutely love them. They're a spin off of my strawberry crumble bars, another family favorite! They are perfect for a snack or even better for breakfast. When these are sitting around, they just scream to be eaten all day long and I can't help but grab a piece every time I walk by! The blueberries soften and get so gooey inside which makes them so delicious! Added bonus, aren't they just so pretty?!
Why you'll love this recipe
The crumble topping are made using the same recipe so they are super easy to make!
Blueberries can be frozen or fresh and you can even substitute for your favorite berry in it's place - this recipe is so versatile!
Before the blueberries are added, they're tossed with a little bit of sugar to sweeten them up a bit and corn starch to ensure once the juices start running while baking, they stay super gooey instead of liquid-y. I also toss a bit of lemon juice in there just to change it up a bit. This can be optional, but I love lemon and blueberry together so it just adds more yummy flavor.
They're great for feeding a large crowd since they are baked in a large pan and they're able to be cut into smaller squares to feed more people. You can store them at room temperature but I prefer them chilled in the fridge, much more refreshing! These bars are seriously addicting and are sure to be a crowd pleaser!
Blueberry Crumble Bars
Ingredients
Crust/Topping
½

cup

granulated sugar

½

cup

brown sugar

1

tap

baking powder

3

cups

all-purpose flour

1

cup

unsalted butter

cold and cubed

1

egg

pinch

salt
Filling
4

cups

blueberries

fresh or frozen

½

cup

granulated sugar

4

teaspoon

cornstarch

1 ½

teaspoon

lemon juice
Instructions
Preheat oven to 375°. Grease a 9×13 inch pan, set aside.

In a large bowl, whisk together both sugars, flour, salt and baking powder. Using your hands, fork or pastry cutter, cut in the butter until it resembles a coarse meal. (I like to use my hands.) Mix in the egg until fully combined. Press half of dough into the prepared baking pan and bake for 7 minutes.

While the crust is baking, stir together the blueberries, lemon, sugar and cornstarch. Once crust is done, spread blueberry mixture over the warm crust and crumble the remaining dough over the blueberries. No need to make this absolutely perfect, it's looks nice when some blueberries show through.

Place back into oven and bake for another 35-45 minutes or until top starts to turn slightly golden. Once done, allow them to cool for 20 minutes before cutting.
Notes
Storage instructions: Bars will stay fresh for up to 5 days stored in an airtight container at room temperature or up to 7 days stored in the fridge. They will get soft after day 1, but this texture change doesn't affect the flavor at all.