[pinterest]
Cinnamon Rolls with Cream Cheese Frosting. OMG. If I could have one of these very single morning, I would be in heaven.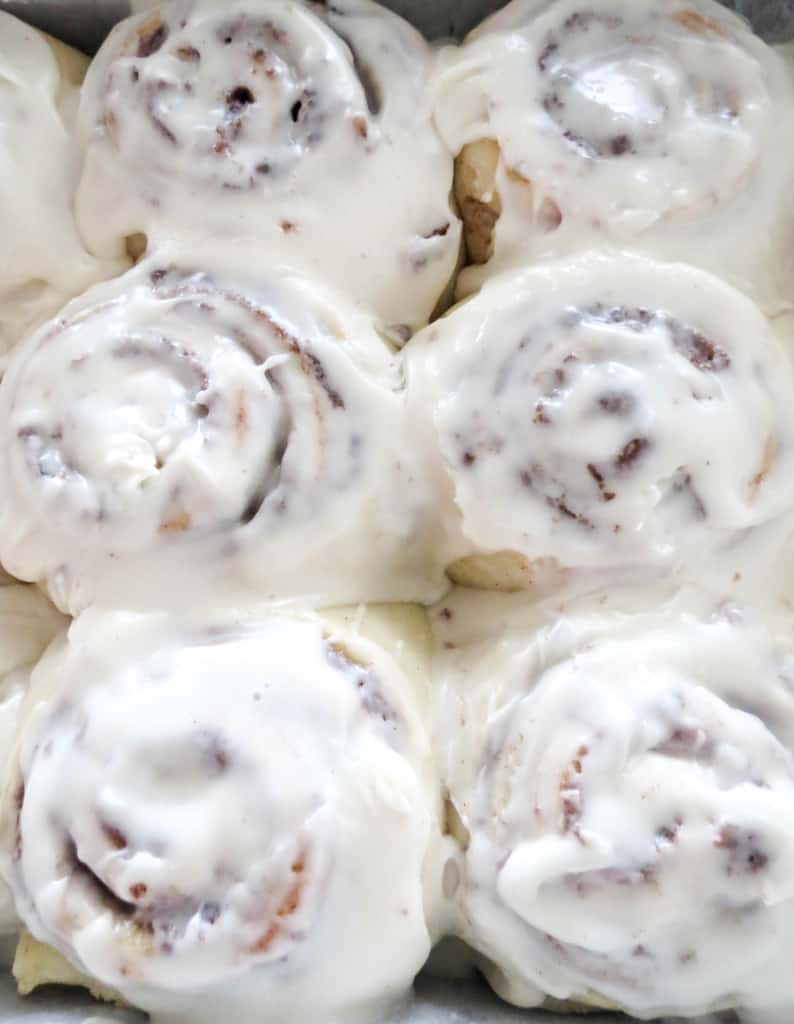 This was actually my first recipe ever using yeast. I have to say, it was a success! These cinnamon rolls are comparable to any you have ever had at any diner, bakery or even, dare I say it… CINNABON. Yup, I said it. These seriously are soooo good. Probably the best cinnamon roll I have ever had – and I made them right in my own kitchen. And so can you!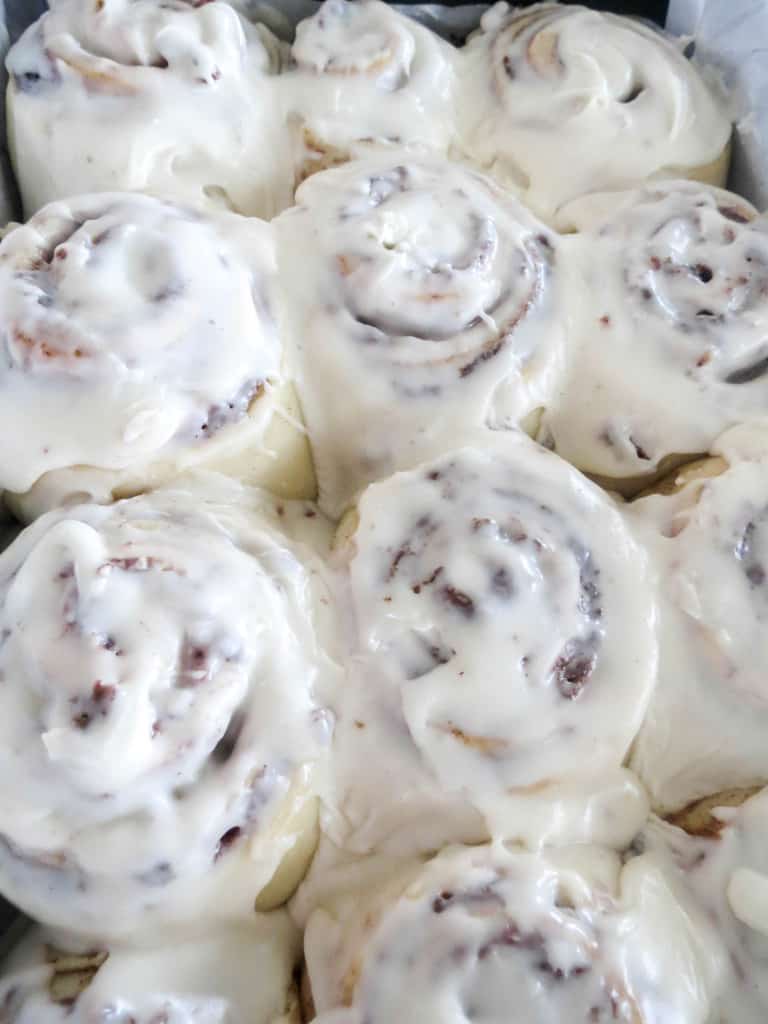 The cinnamon roll itself is so soft and doughy (my favorite), while the filling just oozes out its cinnamon-ey, brown sugar-ey goodness. The cream cheese frosting is the best part! I guess that is why I made A LOT. I like to add some when heating these up in the microwave after they've been sitting on the counter. So, if you're like me , then you can make this amount, but if you don't like so much, I would definitely half the recipe.
Also, these take some time to make. Most of the time it's just waiting for the dough to rise. So, if you want them for breakfast in the morning, and don't want to wake up around 5AM, then I suggest starting these at night, which is what I did. Oh, and another tip.. If you do start these at night, don't be like me and start at 10:00PM because then you will be up at 1:00AM rolling out dough. Ha! It was so worth it though!
The directions for these are pretty lengthy because there are a lot of steps. I tried to keep it as simple as possible and to the point. So, here it goes..
First things first, you need to make the dough. Follow the directions in the recipe down below and once it is ready and you have rolled out the dough to the correct measurements, added your filling, rolled it up, cut them and placed them into the prepared baking pan, they should look like this:
Then, if you are doing the process straight through, let the rolls do their final rise. If not, just wrap them in plastic wrap and top with a damp towel and set them in the fridge over night. In the morning, take them out and let them come to room temperature. Then, set them in a warm place. I used my oven that i preheated to 175° and then as it cooled down, I set them in there. They should double in size and almost be touching. They will look like this:
Now, you are ready to bake them! Bake them at 350° or until the tops just start to brown SLIGHTLY! You need to watch these like a hawk because they will burn fast! They will get nice and puffy and the filling will get nice and warm and melty. Mmmmm.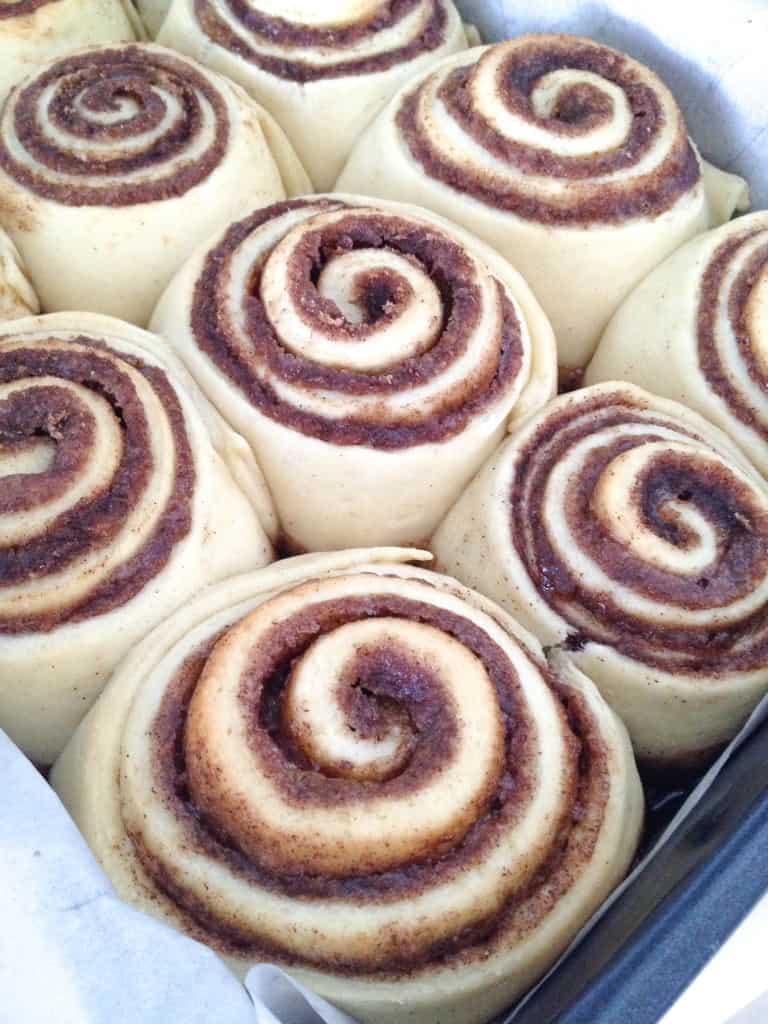 Sorry for the bad quality of those last three photos, they were taken on my iPhone and I was running out of light! You get the idea though.
Now, slather on some frosting and eat these up!! They are best served warm. They will keep for up to 5 days in a sealed container. You can also keep them in the refrigerator, I don't. I keep mine right on the counter. You can also freeze these for those mornings when you just need a cinnamon bun to get your day going.
[pinterest]
Cinnamon Rolls With Cream Cheese Frosting
Ingredients
Dough

3/4

cup

warm milk

2 1/4

tsp

active dry yeast

1 standard packet

1/4

c

sugar

1/2

tsp

salt

1/4

cup

buttermilk

or make your own with milk + 3/4-1 tsp vinegar

1

egg

1/3

c

vegetable or canola oil

3 3/4 - 4 1/2

cups

all purpose flour

Filling

1/2

c

salted butter

1 1/4

c

brown sugar

2 1/2

tbs

cinnamon

1

tbs

corn starch

Cream Cheese Frosting

8

oz

cream cheese

softened

1/2

cup

salted butter

room temperature

1/2

c

sugar

1

tbs

vanilla
Instructions
For the Dough and Filling:

1. Proof your yeast. - Heat up your milk until warm NOT hot or it will kill the yeast. Pour in the yeast and 1 tbs of sugar. Stir and let it sit for about 3 minutes. If the mixture has a frothy, thick coating at the top, your yeast is alive and you are good to go!

2. Attach your dough hook and add in the rest of the sugar and salt and mix for a couple of seconds on low speed.

3. In a separate small bowl measure out oil and buttermilk and whisk together. Add in the egg and mix until smooth. Pour egg mixture into milk mixture and stir for a couple more seconds until everything is somewhat combined.

4. Next, start by adding 3 cups of flour and then add 1/4 cup at a time until the dough is sticky, but not so sticky that it gets stuck to your fingers or bowl.

5. Once your dough is where it needs to be, knead for 5 minutes longer on low.

6. Put your kneaded dough in a big greased bowl with plastic wrap and a damp cloth on top. Set in a warm place to rise about 1-2 hours until it has doubled in size.

5. While that is rising, you can start making your filling and let your butter warm to room temperature. Mix together cinnamon, brown sugar and cornstarch and set aside.

6.Once the dough is doubled, punch it down (this is the fun part!).

7. Flour a large surface with lots of flour. Knead the dough for a second so it comes together, then roll out a 20x30 rectangle or as close as you can get to it. (Mine was about 2 inches off.)

8. Spread very soft butter all over the dough making sure to leave a 1 inch line at the bottom for easy closure.

9. Pour brown sugar mixture over butter and spread until evenly distributed. Take your rolling pin and gently roll over it a bit to press the mixture into the butter to secure.

10. Start rolling the dough towards you in a log, as tight as you can, ending at the plain line at the bottom and pinch it closed.

11. Cut off weird looking ends and then score the dough every 2 inches (get out your measuring tape!).

12. Cut the dough where you scored with a serrated knife and set in a parchment lined, greased pan. If you are letting this sit over night, this would be the step you put in the fridge with plastic wrap and a damp towel. If doing the process straight through, let the rolls rise another 1-2 hours for the final rise or until they are almost double in size and almost touching. (In the morning when you take your rolls our of the fridge, let them sit in a warm place to rise. This might take much longer because they need to reach room temperature first before rising. Set them in a warm NOT hot oven and this will make the process go a lot faster.)

13. Bake at 350° for 17 minutes or until tops start to brown slightly. Watch them like a hawk!!

For the Frosting:

1. Cream together the cream cheese and butter until light and fluffy. About 2 minutes.

2. Add in vanilla.

3. Pour in the confectioner's sugar 1 cup at a time and mix until smooth. Taste and make sure its to your liking or adjust.

4. Beat another 3 minutes on high until everything is very creamy.

5. Once the rolls are done and removed from the oven, spread on a layer of frosting. Lots of it will just melt into the rolls. Once they have cooled a bit more, you can add a second, final layer of frosting. Now eat and enjoy!!
Dough & filling recipe adapted from Lauren's Latest