[pinterest]
Strawberry Crumble Bars. These bars have everything you'd want in a breakfast treat!
You get a melt in your mouth, buttery and tender shortbread, layered with fresh, sweet, juicy blueberries and then it's sprinkled with more of that delicious, buttery cookie goodness
You've got a buttery, almost shortbread-like crust, covered with a nice thick layer of juicy, gooey strawberries, sprinkled with some more buttery deliciousness! I really don't think these can get any better. They are so addictive and just melt in your mouth! Every bite is better than the last. If you don't like strawberries, you can definitely substitute your favorite berry in its place, I just loooove strawberries so they are usually my first choice. I use strawberries in lots of my recipes, like my strawberry danish braid or strawberry muffins.
These would probably be delicious with blueberries too! Those are on my list to try in these bars next. 😉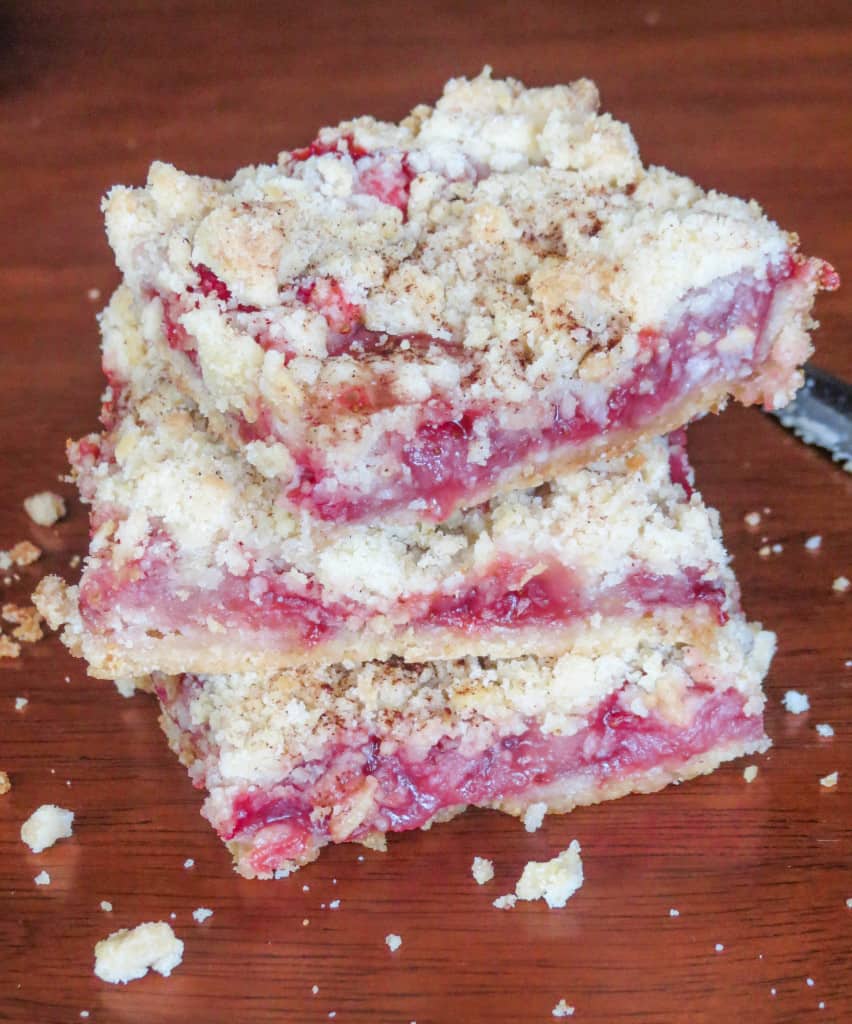 My family went nuts over these and they were all gone by the very next day! These will definitely be a new weekend staple in my house.
If you are crunched for time and need an easy, delicious breakfast or dessert, these bars fit the bill!
[pinterest]
Strawberry Breakfast Bars
Ingredients
Crust/Topping

1/2

cup

granulated sugar

1/2

cup

brown sugar

1

teaspoon

baking powder

3

cups

all-purpose flour

1

cup

unsalted butter

cold

1

egg

1/4

teaspoon

salt

*pinch of cinnamon for top of crumble

Filling

4

cups

strawberries

sliced, fresh or frozen

1/2

cup

white sugar

4

teaspoons

cornstarch
Instructions
1. Preheat oven to 375°. Grease a 9×13 inch pan, set aside.

2. First you have to make the crust/crumble. Whisk together sugar, flour salt and baking powder.

3. Use a fork or pastry cutter to cut in the butter and mix the egg. You may want to use your hands for this part once the egg is combined, it makes it much easier. Dough will be very crumbly.

4. Press half of dough into the prepared baking pan and place in preheated oven for 7 minutes.

5. While the crust is baking, stir together the sugar cornstarch and strawberries, they should be a little gooey - this is good!

6. Once the crust is done, pour the mixture over the warm crust and crumble the remaining dough over the strawberries. No need to make this absolutely perfect, it's nice when some strawberries peek through.

7. Optional* Sprinkle a tiny bit of cinnamon over the top of the crumble.

8. Bake for 35-45 minutes or until top starts to turn slightly golden.

9. Once done, take them out and let them cool for about 20 minutes in baking pan. Cut and serve!
Recipe adapted from allrecipes.com