[pinterest]
Is there a better flavor out there than cake batter? I don't think so.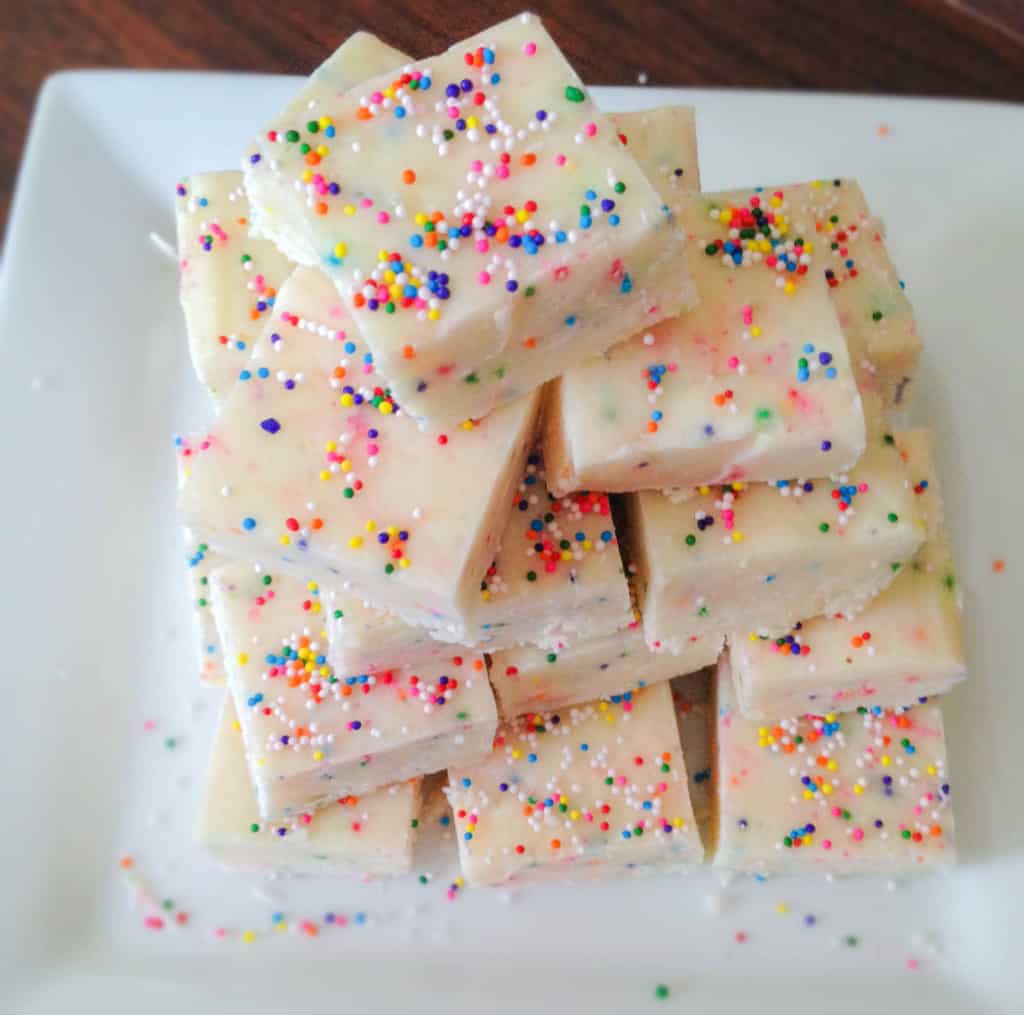 I've had the urge to make something cake batter flavored for so long. So, I finally did it. This fudge is so good! Every bite literally melts in your mouth. Who doesn't love to lick the spoon while baking a cake? Well, this tastes EXACTLY like that, just in a hardened version.
I was never really a fudge person, but this has totally converted me! It's so soft, so flavorful and the texture of the sprinkles gives it such a nice little crunch. Sprinkles make me so happy!
I used white cake mix for my recipe because yellow cake mix is too yellow, I like how pretty and clean the white looks. (And it tastes even better!) The fun thing about this recipe is that there are so many possibilities! You change out the flavor of the cake mix to be anything you want. You can even try chocolate, I think I am going to try that next!
This recipe is so easy to make it literally took me about 10 minutes to throw everything together, maybe less.
You need to try this!
[pinterest]
Ingredients:
2 1/2 cups white or yellow cake mix (I like Betty Crocker Supermoist)
2 cups confectioner's sugar
1/4 cup milk
1/2 cup salted butter, cut into 8 chunks
2/3 cup white chocolate chips
1/2 cup rainbow sprinkles
Instructions:
1. Line just the bottom of an 8x8 pan with parchment paper and grease the sides, set aside.
2. Pour in cake mix and confectioner's sugar in a large microwave-safe bowl.
3. Add in the milk and all chunks of butter. No need to stir.
4. Put the bowl in microwave for 2 minutes.
5. Once out of the microwave, immediately begin stirring mixture until all of the butter is melted.
6. Fold in the white chocolate chips first, then the sprinkles second. Be gentle so the sprinkle colors do not bleed.
7. Spoon the fudge mixture into your prepared pan, make sure everything is smooth and even on top.
8. Cover with plastic wrap and et it set in the fridge for at least 2 hours.
9. Cut it up and enjoy!
https://www.sprinklesomesugar.com/cake-batter-fudge/
Recipe adapted from girl meets life.