[pinterest]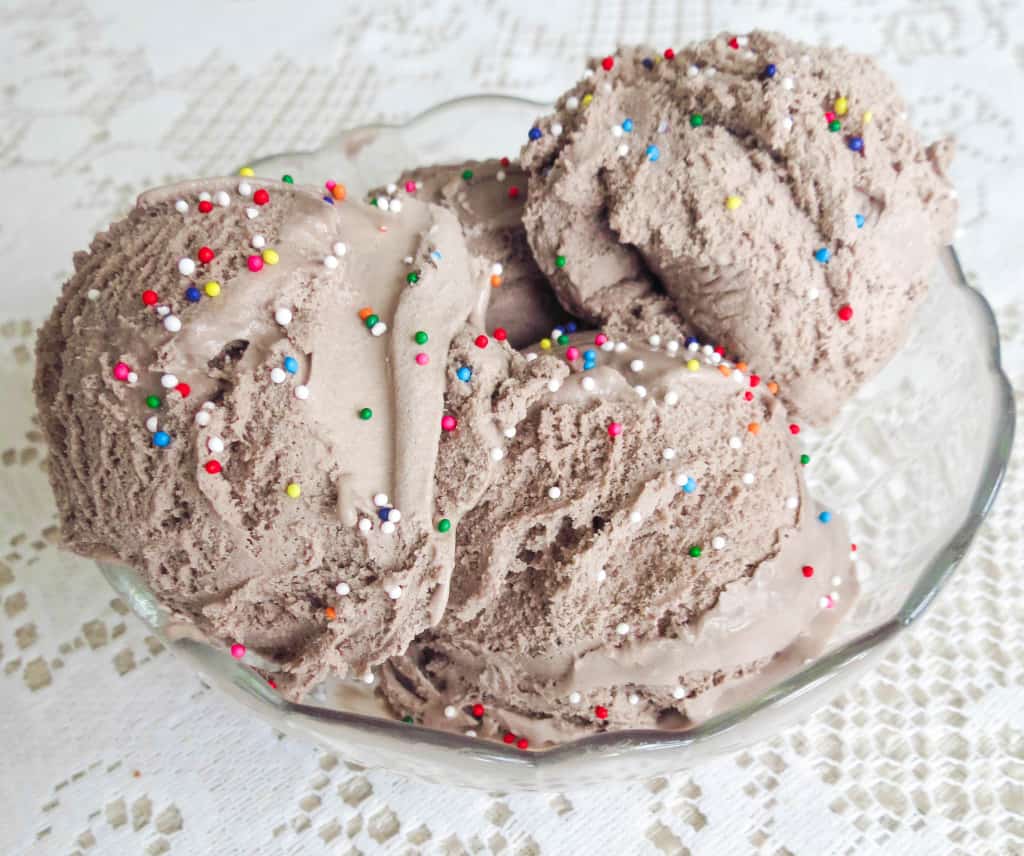 This ice cream… OMG. If you are like me and are obsessed with licking the spoons while baking cakes, cupcakes and well, pretty much anything, then you are in for a real treat. This tastes exactly like it in ice cream form! You can use this recipe for the base of any cake mix flavored ice cream you'd like, it's so flexible! I have seen so many recipes for cake batter ice cream using yellow cake mix but I wanted to do something different. I took a simple, basic ice cream recipe (heavy cream, sugar, vanilla etc..) and tweaked it from there adding cake mix to my liking. Of course I had to do chocolate being the chocolate fanatic that I am and it was such a good choice! I usually try to avoid box cake mixes and never really use them, but for this ice cream I think it's required to get an authentic cake batter flavor.
This ice cream is sooo incredibly creamy. Seriously, when everyone was eating it they kept saying over and over again that they couldn't believe I made this from home! Also, sprinkles are not an option, they are totally necessary for in or on top of this ice cream! I usually add mine on top when I am ready to eat instead of adding them into the mix because I always want it to be as creamy as possible without any crunchiness from the sprinkles. Feel free to add yours into the mix though, I'm sure it would be even more amazing!
If you love chocolate cake batter, you absolutely need to make this right now. Instead of your kids begging for a lick of the spoon that has raw egg in it, you can make them this and they can still have the same great flavor in an irresistible creamy treat!
[pinterest]
Chocolate Cake Batter Ice Cream
Ingredients
3/4

cup

+ 1 tbs chocolate cake mix

I used Betty Crocker Supermoist Chocolate Fudge

1/4

cup

sugar

1

tsp

vanilla

1

cup

milk

2

cups

heavy cream

*sprinkles - optional
Instructions
In a large bowl, whisk the heavy cream, milk, vanilla, sugar and cake mix together. Mixture will be thick. Pour into well frozen ice cream maker and churn according to the manufacturer's instructions. Once the ice cream is at an ideal consistency, pour in some sprinkles if you are using them. (I didn't do this because I wanted a super creamy texture without a crunch. Instead, I put them on top when I am ready to eat.)

Transfer ice cream from ice cream maker to an airtight container and let it set up in the freezer for about 2-3 hours. Once ice cream is hard enough, dig in!