[pinterest]
Homemade Reese's Peanut Butter Cups with rich chocolate and smooth, creamy peanut butter filling.
These are so simple to make, it's ridiculous. Also, you probably have all of the ingredients on hand! AND you actually know what are in these. No crazy ingredient labels here! Just fresh, homemade peanut butter cups!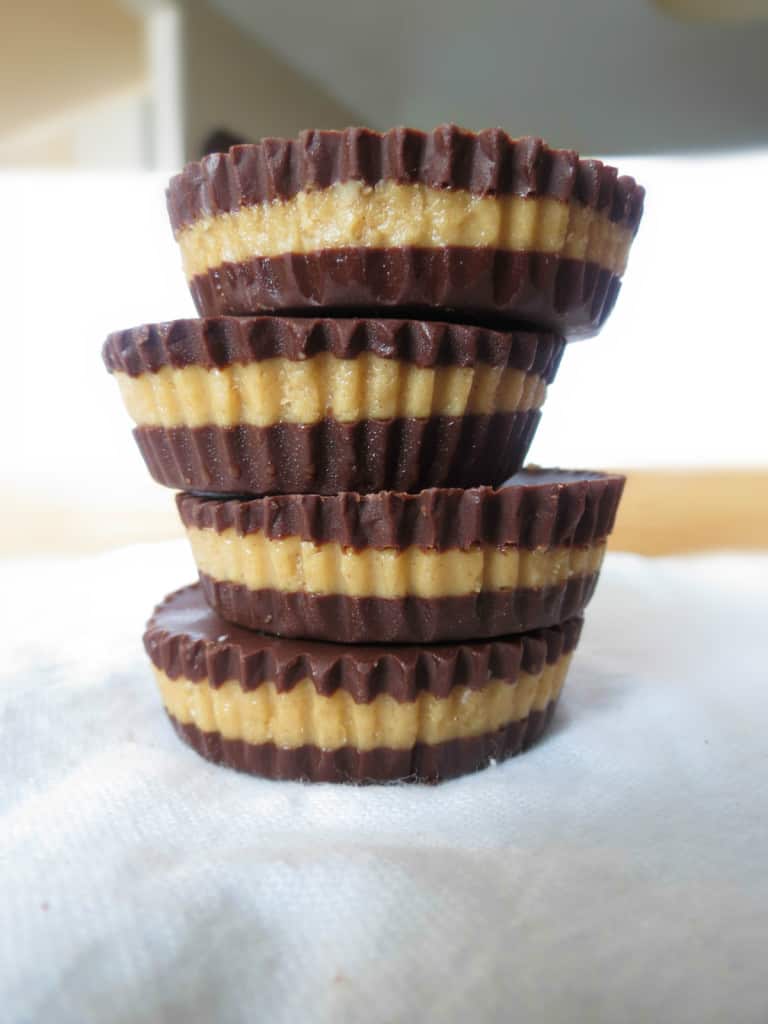 Reese's are Mike's absolute favorite candy, so I knew I had to re-create them for him for Valentine's Day! I made these yesterday to give them to him today, but I was so excited I couldn't wait! So, he had some last night. Let me tell you, he was freaking out. I also had some left over filling because this recipe makes quite a bit, and he loved it so much he was dipping his peanut butter cups in it! Ha!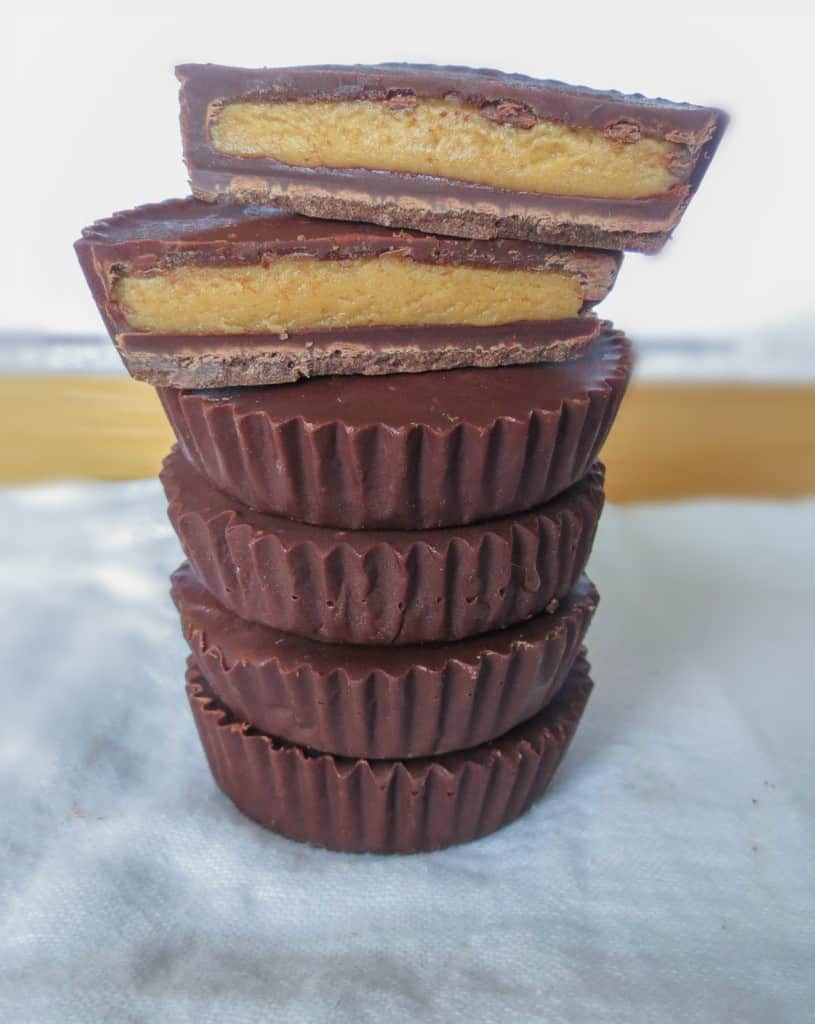 These peanut butter cups are as close as you can get to the real thing in my (and Mike's) opinion. I personally don't care for store bought Reese's cups, but these, I can eat all of them!! You just can't go wrong! The chocolate is rich and the peanut butter filling was to die for. Mike was eating it by the spoonfuls! What a nut.
Anyway, you start by whipping your peanut butter with some confectioner's sugar and butter. It'll look something like this, very thick!
Then, after pouring some of your melted chocolate mixture into your cupcake liners and freezing for 15 minutes, roll up a ball of the filling and press down onto the frozen chocolate, making sure you get into all the nooks so your chocolate doesn't seep down the sides of the peanut butter and ruin your pretty lines! You can also make these without the line of peanut butter showing by pushing up the melted chocolate on the sides before freezing. Then, when putting the peanut butter layer on, only put it in the middle, don't push against the sides and leave some room around the edges for the chocolate to mold around it.
On top of the peanut butter layer, pour some more melted chocolate on top until you can't see the peanut butter anymore. Now, bang your muffin tin on a flat surface like a crazy person to help the chocolate smooth out on its own. Freeze them again for 10-15 minutes, take them out, peel the wrappers off, and enjoy! (Even though they get a little melty as the come to room temperature, they're much better that way!)
[pinterest]
Homemade Reese's Peanut Butter Cups
Ingredients
Peanut Butter Filling

2 1/4

cups

peanut butter

Jiffy or Skippy are my favorites

1 3/4

cups

confectioner's sugar

5

tbs

unsalted butter

4-5

tablespoon

milk

Chocolate Coating

2

bags semi-sweet chocolate

1

tablespoon

shortening
Instructions
1. Prepare your muffin tins with liners and set aside.

2. Melt the chocolate chips in microwave at 30 second intervals until mixable and smooth.

3. Mix in the shortening until it is melted and everything comes together smooth.

4. Pour a little bit of the chocolate mixture into your liners about half of 1/4 of the way up (I tell you the different techniques for different results above) and put in freezer for 10 minutes.

5. While that's in the freezer, start whipping together your peanut butter and butter until light and fluffy.

6. Add in the confectioner's sugar until combined. It may look crumbly but will smooth out once the milk is added.

7. Add 4-5 tablespoons of milk and mix until smooth and to the consistency you want. I like mine to be pliable almost like a really soft dough so it is easier to mold. If you find you need more milk add a tablespoon at a time.

8. Once your peanut butter mixture is ready, take your frozen chocolate out of the freezer. Roll a ball of peanut butter in your hands and flatten out on top of the chocolate.

9. Pour some more chocolate on top of the peanut butter layer and bang on a flat surface to get it to flatten out on its own.

10. Freeze for 15 minutes. Take them out of the freezer, unwrap and eat them up!