[pinterest]
These cinnamon rolls are my new favorite breakfast! Last weekend I was CRAVING cinnamon rolls. I wanted them so. bad. I decided that I didn't want to wait 5+ hours since it was already 9AM, I wanted these rolls as soon as possible. I adapted my favorite cinnamon roll recipe to make these rolls much faster! The dough to these rolls is extremely soft and flufft and the filling is SO delicious! I used a basic cinnamon roll filling of brown sugar, cinnamon, butter, etc. and added some apples and caramel. Totally drool worthy. Seriously. The filling is so gooey and it just oozes out of the rolls like crazy so when they are done baking, the pan of rolls are swimming in a pool of caramel-brown sugar goodness. So freakin' good.
To the dough I added some apple juice to make it a little sweeter and go together with the flavors of the filling, but that's optional, you can use buttermilk instead. (Or regular milk, but I recommend using buttermilk for softer rolls!)
For the filling, I used homemade caramel, but feel free to use store-bought to make your life much easier. The apples, I chopped up extremely small and thin and cooked them with a few tablespoons of butter and a tablespoon of sugar to sweeten them up (as if the filling wasn't sweet enough! This part reminds me of apple pie - mmmmm.) Just cook them down on low heat just enough so that they are slightly softened, you don't want them to be so soft that they are soggy since they are so thin. This should only take about 10 minutes.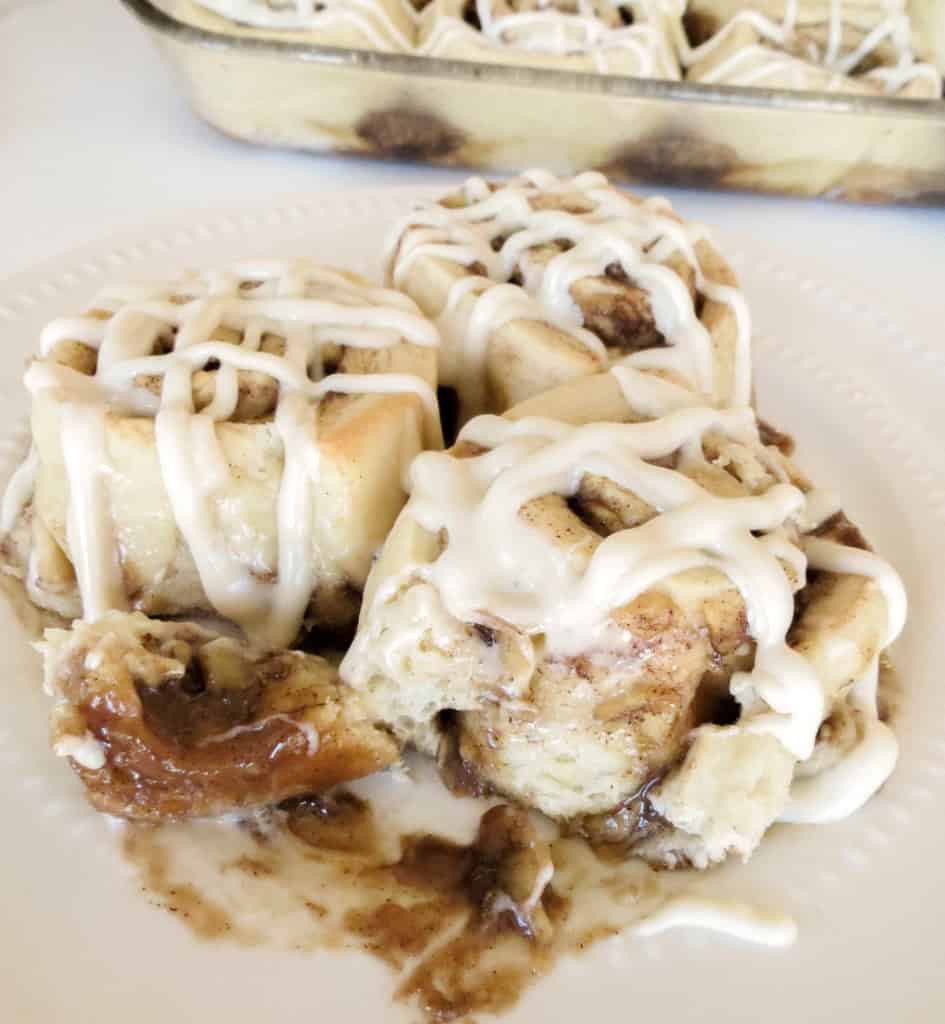 As if I couldn't love cream cheese frosting enough, this version makes me love it even more. Adding brown sugar to it was the most genius idea ever! I feel like any kind of cinnamon roll just isn't the same without cream cheese frosting slathered on top, so to tie the frosting in with the filling flavors I added brown sugar to it. So yummy!! You'll want to eat the whole bowl of this stuff. The brown sugar adds such a delicious sort of richness to the frosting that plain powdered sugar doesn't have.
If I didn't convince you enough about how delicious these are and you want the most delicious breakfast (or dessert) ever, you absolutely need to give these rolls a try!
[pinterest]
Caramel Apple Cinnamon Rolls With Brown Sugar Cream Cheese Frosting
Ingredients
Dough

¾

cup

milk

warmed

2 ¼

tsp

instant or rapid rise yeast

1 standard packet

¼

cup

sugar

½

tsp

salt

¼

cup

+ 1 tbs apple juice

1

egg

⅓

cup

vegetable or canola oil

3 ½ - 4

cups

all-purpose flour

Filling

¼

cup

unsalted butter

melted (use leftover, if any, to brush tops of rolls before baking)

1 ¼

dark brown sugar

packed (or light)

2 ½

tbs

cinnamon

1

tbs

corn starch

2

medium sized apples

peeled, cored and chopped thin and small

2

tbs

unsalted butter

1

tbs

sugar

½

cup

prepared caramel

homemade or store bought

Brown Sugar Cream Cheese Frosting

4

oz

cream cheese

room temperature

½

cup

powdered sugar

½-3/4

cup

brown sugar

¼

tsp

vanilla
Instructions
*For the Dough

Warm milk in microwave until warm to the touch, about 30 seconds. Mix in oil and set aside.

In the bowl of your stand mixer, combine 3 cups of flour, salt, sugar and yeast. Pour in oil mixture and mix until combined. Add in apple juice and egg and beat until incorporated. Dough will be very sticky. Add ¼ cup of flour at a time until dough pulls away from the sides of the bowl. Dough should be sticky but not so sticky that it sticks to your hands. Take dough out and shape into a ball. Spray bowl just used (or a separate bowl) with cooking spray and place ball of dough back in covered with a damp cloth to rest for 10 minutes. In the meantime, prepare your filling.

For the Filling

Start with the apples. Peel, core and chop apples very thin and small. Place in a small pan with 2 tablespoons of butter and toss with 1 tablespoon of sugar. Cook apples down until they are soft and tender, about 10 minutes. Stir frequently and watch them carefully so they do not get mushy. Once they are done, drain liquid out and place the apples into a small bowl to cool. I placed my bowl into the fridge to speed up the process.

In a small bowl, whisk together brown sugar, cinnamon and corn starch. Set aside. (You may not use all of this - up to you.)

Prepare a 9x13 baking pan by lining with parchment paper or foil and greasing it heavily.

Take your rested dough and roll it out to be about a 15x20" rectangle. (If you are an inch or two off, that's okay.) Brush melted butter all over rectangle leaving a 1 inch strip untouched across the bottom. Pack brown sugar mixture on top of the melted butter. (Like I said before, you may not want to use all of this, it's up to you, I used a little more than ¾ of the mixture) Sprinkle cooled apples on top of the brown sugar mixture. Drizzle caramel on top of the apples.

Roll dough up as tightly as possible. Score the log every 2" (use a ruler or measuring tape!) and cut with a serrated knife or dental floss. You should get 10-11 rolls. After each roll is cut, place in prepared baking pan about 1 inch apart. Let the rolls rise in a warm place for 20 minutes until they are doubled in size and almost touching. About 10 minutes into rising, preheat oven to 350°.

Brush rolls with melted butter (you may have some remaining from the filling). Place in preheated oven and bake for 15-20 minutes or until slightly golden and cooked through. While rolls are baking, prepare frosting.

For the Frosting

Beat cream cheese, powdered sugar and brown sugar together until smooth and fluffy. Start with ½ cup of brown sugar and add more to taste. Add vanilla and 1 tablespoon of milk. Add more milk one tablespoon at a time as needed until desired consistency is achieved. Once rolls are done, and cooled slightly, spread frosting on rolls and serve. Best served warm.

Rolls will keep for up to 5 days in an airtight container at room temperature. If you want to keep them in the fridge because of the cream cheese, feel free to do so, but I don't. Reheat in microwave for a few seconds.