You get a chewy, spicy gingerbread cookie cup that's filled with gooey, chewy caramel and topped with a sweet drizzle of white chocolate. All of these flavors pair so beautifully together!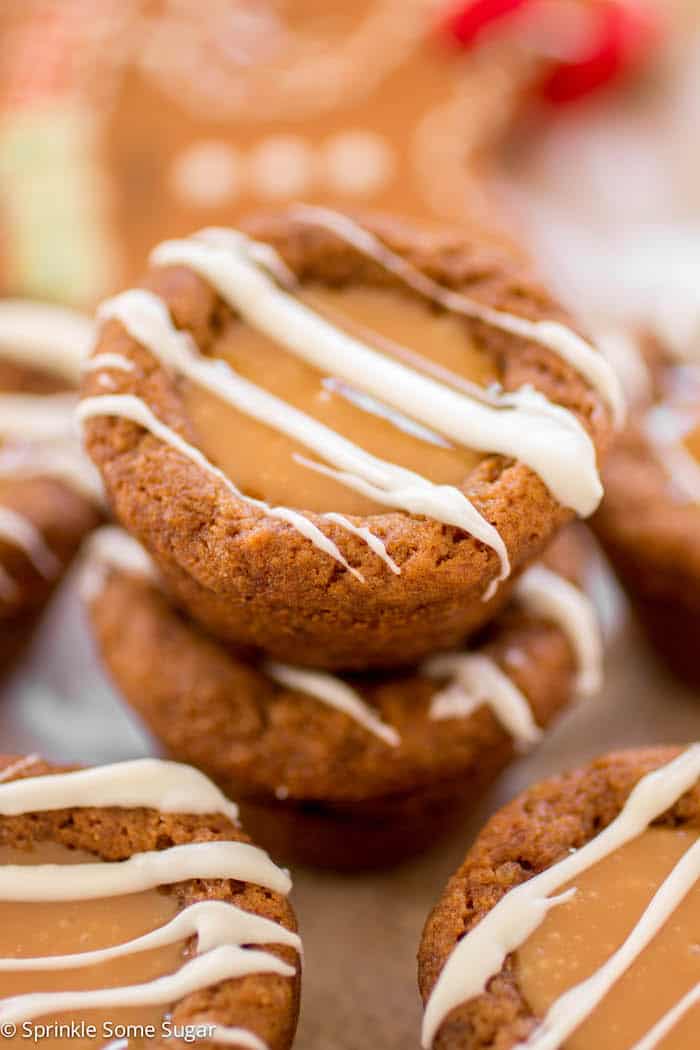 Christmas is over, but that doesn't mean that the cozy flavors of gingerbread need to stop! How was everyone's Christmas?! I hope everyone had an amazing day filled with family, fun and lots of good food. I know we did! We go to Mike's grandparents' house every year and it's always a blast. We do this thing called the 'Santa Sack' every year and it's so much fun for the kids because they're told that Santa dropped off a sack full of presents and everyone there, even the adults, get a bunch of small little presents with our names on them. It's so much fun! We look forward to it every year. This year these gingerbread cookie cups actually graced the dessert table made by Mike's cousin and they were delish! I just love that girl. She's a big fan of this cake and these donuts too.
With these caramel gingerbread cookie cups you get a nice chewy gingerbread cookie that is just bursting with cozy flavors like ginger, cinnamon, cloves, molasses❤️, nutmeg, etc. The cookie cups get filled with a pool of gooey caramel and then they're drizzled with some melted white chocolate. Caramel and gingerbread go so perfectly paired together and the white chocolate drizzle adds such a nice little something extra that I just love!
Caramel Gingerbread Cookie Cups
Ingredients
3/4

cup

unsalted butter

softened

1

cup

dark brown sugar

1

egg

1

egg yolk

2

tsp

vanilla extract

1/2

cup

dark molasses

4

tsp

ginger

1 1/2

tsp

cinnamon

1/4

tsp

nutmeg

1/4

tsp

cloves

1

tsp

baking soda

2 1/4

all-purpose flour

1 11

oz

bag soft caramels

unwrapped

3

tbs

heavy cream

1/2

cup

white chocolate chips
Instructions
Preheat oven to 350 degrees. Grease muffin tins with non-stick cooking spray and set aside.

In a large bowl, cream butter and brown sugar together until light and fluffy. Beat in egg, egg yolk, vanilla and molasses until completely smooth. Add spices, baking soda and flour and mix until just combined. Dough will be very sticky.

Scoop about 1/2 tbs of dough into each muffin tin - it might not look like a lot, but they rise a good amount and may spill over the sides if you add too much. Bake cookie cups for 10-12 minutes, they will look underdone in the center but this will prevent a dry cookie and make them stay moist and chewy. Remove from the oven and immediately press a large well into the center of each cookie cup. I usually use the end of a rolling pin to do this but you can use any round object. Make sure the well is deep enough to hold a pool of caramel but you want to leave enough cookie in the bottom for the caramel to sit in.

Release the edges of each cookie cup with a butter knife and allow them to cool for 3 minutes in the pan. Turn the pan over onto a wire rack, tap on the back of the tin and they should pop right out if the pan was well-greased.

In a small saucepan, heat unwrapped caramels and heavy cream and stir until smooth. Spoon caramel into each cookie cup evenly.

Melt white chocolate chips in the microwave at 30 second intervals until storable and drizzle it on top of each cookie cup.

Caramel Gingerbread Cookie Cups will stay fresh for up to 5 days stored in an airtight container.