[pinterest]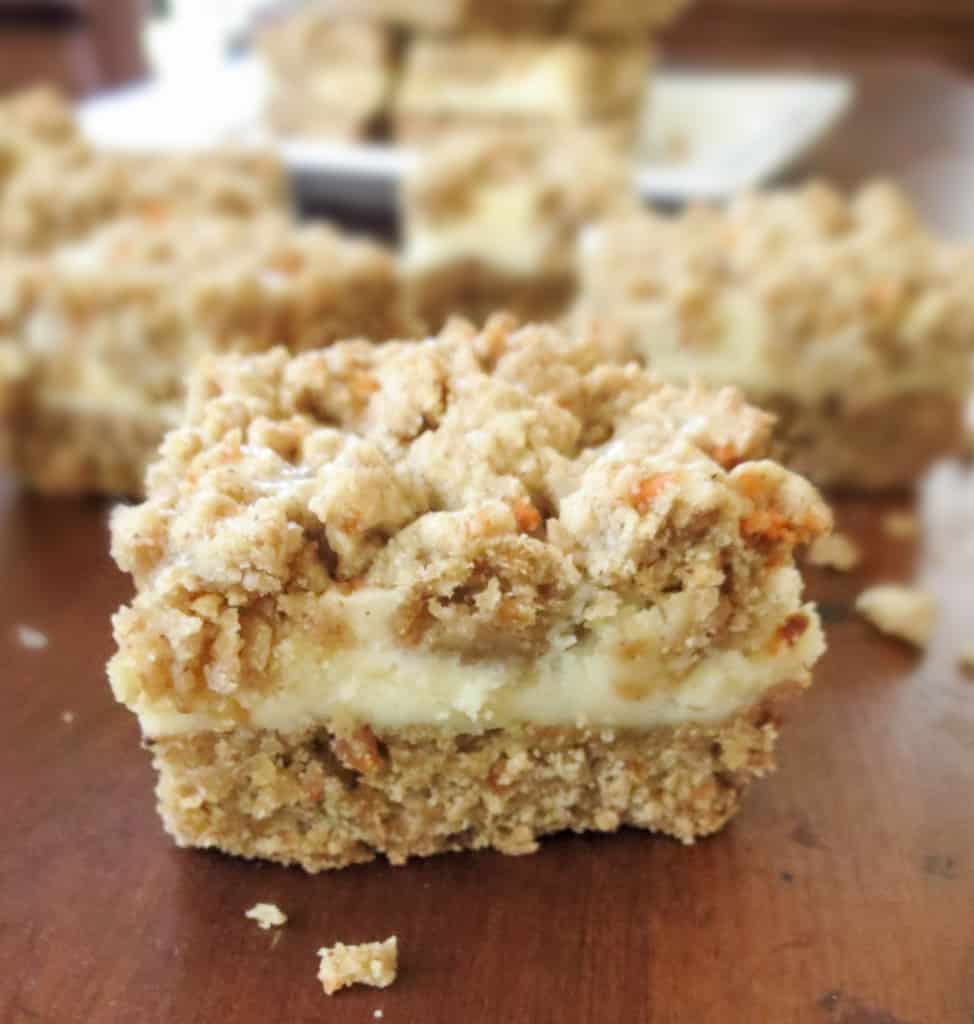 Happy Friday everyone! I made these bars on Easter, but who doesn't love carrot cake and cheesecake all year round anyway? I know I do. These are one of the treats I made along with my cherry danish braids and some rolled sugar cookies. I created these bars based off of my carrot cake cookies I posted last week and had no idea how these were going to turn out! Luckily, they turned out AMAZING! And I was so, so happy when I tasted them and they were just as good as I hoped. Don't you just love when you create a recipe on a whim and cross your fingers for the best and it comes out awesome?! The cookie layers are so chewy and soft and combined with the creamy cheesecake center – there just are no words for these.
I typically use a heavy hand on spices when I am making anything carrot cake-like because I feel like carrots can really stand up to copious amounts. These are definitely not over-spiced though, they are the perfect amount of spiciness cut by the slight sweetness of the carrots. Oh, and can we not forget about the delicious cheesecake center?! The cheesecake center is what makes these bars so amazing. It's like having a piece of carrot cake cheesecake but a MILLION times easier to make! I just love easy, decadent desserts that taste like you've put a lot of work into them and this is definitely one of them.
I cut my bars into tiny squares since they are very rich. You won't be able to have just one.
If you love carrot cake and you love cheesecake, you will love these bars!
[pinterest]
Carrot Cake Cheesecake Cookie Bars
Ingredients
Carrot Cake Cookie Layers

3/4

cup

unsalted butter

melted half way

1

cup

brown sugar

2

tsp

vanilla

1 1/2

cup

flour

1

cup

quick oats

pulsed to about half their size

1 1/2

tsp

corn starch

1 1/2

tsp

cinnamon

3/4

tsp

nutmeg

1/4

tsp

cloves

3/4

cup

finely shredded carrots

Cheesecake Filling

1 8

oz

cream cheese

softened

1/4

cup

+ 1 tbs granulated sugar

1

egg

1/2

tsp

vanilla
Instructions
Preheat oven to 350°. Line and lightly grease an 8x8 baking pan with parchment paper, set aside.

For the Cookie Layers

In a medium-sized bowl, combine flour, pulsed quick oats, corn starch, cinnamon, nutmeg and cloves together. Set aside.

In a separate bowl, cream butter, sugars and vanilla together until imcorporated. Pour in flour mixture and mix until just combined, don't over mix. Fold in shredded carrots with a rubber spatula until evenly distributed throughout dough. Dough will be very sticky, that's okay. Reserve about 1 1/2 cup of the dough in a separate bowl for the top of bars. Press dough into pan making sure everything is even and level.

Place in preheated oven and bake the cookie "crust" for 18-25 minutes or until crust starts to not look "wet" anymore (you'll see what I mean when it's baking). It should be very slightly browned. While that is baking, prepare cheesecake filling.

For the Cheesecake Filling Layer

Combine cream cheese and sugar and beat until smooth and sugar is mostly dissolved. Add in egg and vanilla and mix again until smooth. Once cookie "crust" is done, pour this mixture over top of it and smooth out with a rubber spatula to make sure it's even.

Take your remaining cookie dough and sprinkle it all over the top of the cheesecake layer. No need to be neat here, the dough doesn't have to completely cover the surface. If there are spots where you can see the cheesecake, that's fine. Bake the bars again for 25-30 minutes OR until cheesecake layer is firm. A toothpick inserted in the center should come out clean.

Cool bars completely in their pans. About 30 minutes, then cut into bars with a wet, hot knife and serve.
Adapted from my Soft-Baked Carrot Cake Cookies