These soft and chewy cream cheese cookies are filled with a creamy cheese danish filling and topped with a sweet vanilla glaze!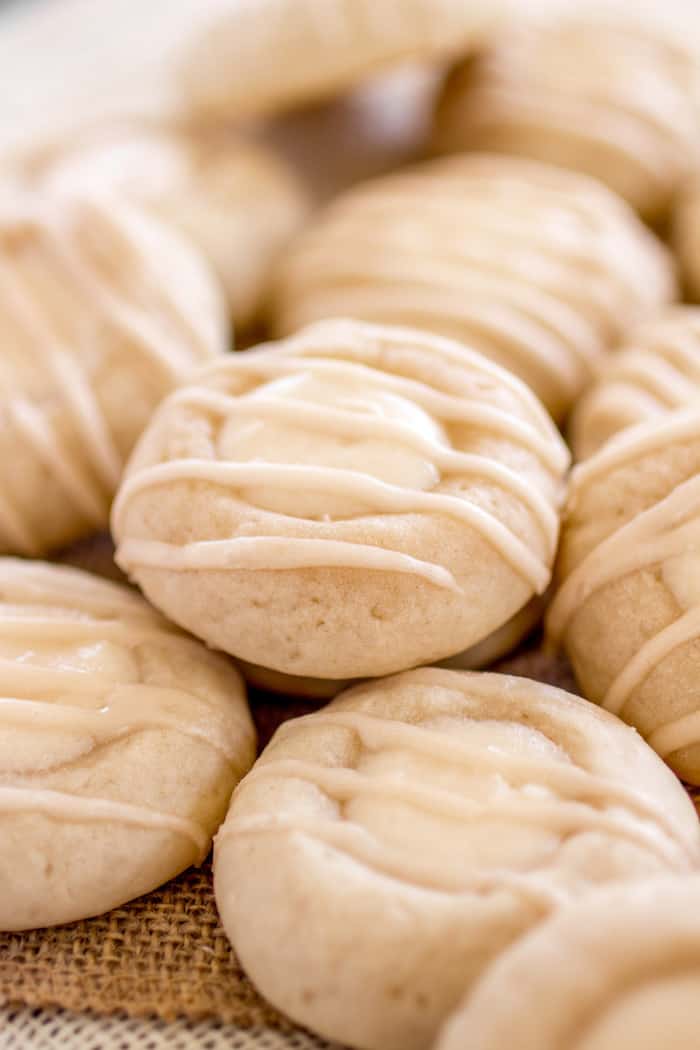 If a cheese danish and a cookie had a baby, they would produce these cheese danish cookies! These cookies are honestly life changing! I have no words to describe them but to tell you how ridiculously amazing they are. The cookies are lightly sweet, super soft and stay that way for days and the filling is the same as I used in all of my cheese danishes at home – it's creamy, smooth and delicious! They are ahhhh-dicting. Think of them as little handheld cheese danishes.. in cookie form.
To make these cookies, you'll prepare the dough and refrigerate it. It's really soft and creamy thanks to the cream cheese in the dough that gives it such a nice flavor and the lemon juice also gives them something a little special. You'll roll the chilled dough into 1″ balls and place them on a lined baking sheet. Make indentations in the tops of all of the cookies with your finger (I find that using my knuckle and wiggling it around works best!) or another round object and fill the wells with your cheese danish filling. To make life way easier, I like to scoop my filling into a ziplock bag and snip a corner off to pipe into each cookie. So much easier and much less to clean up afterwards! After the cookies are baked and cooled completely, they'll get drizzled with a sweet vanilla glaze that really brings the whole thing together and gives them that traditional cheese danish flavor.
These cookies are super soft and chewy and stay that way for days and days. Even after four days they were still awesome! You wouldn't expect that with a cookie like this. I just <3 them so much!
You can find the FULL recipe over at Dixie Crystals!