A creamy marshmallow filling is sandwiched between two super soft and chocolate-y little cakes. H-E-A-V-E-N.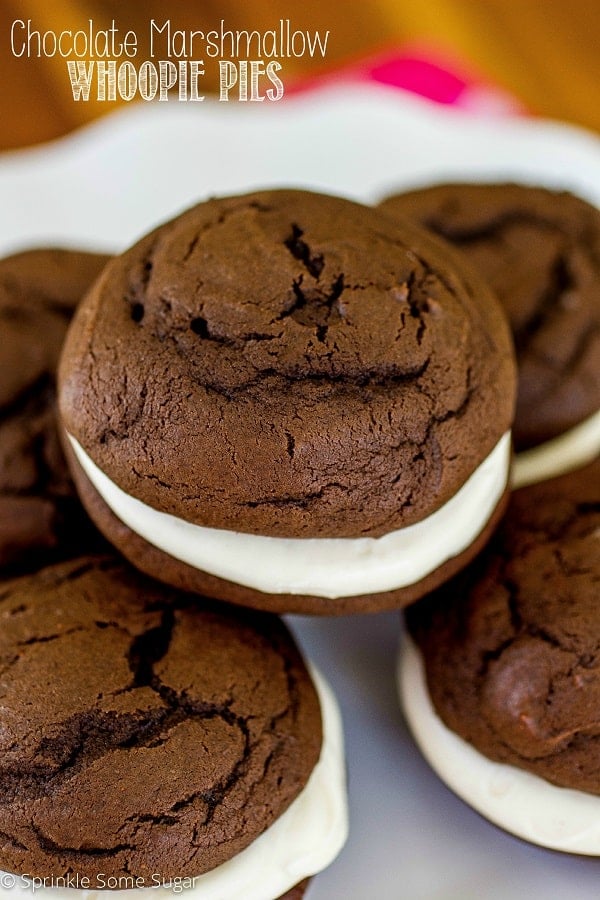 WHOOPIE PIES. I wish I could just end the post at that, because there are just no words to describe the glorious-ness that is a chocolate whoopie pie filled with marshmallow frosting. I made these as a little treat for Mike for when he got home from work and he was ranting and raving over them so much that he took all of them to work the next day so his co-workers could try. It's safe to say that they loved them because he came home with an empty container!
Really though, what's not to love? The adorable little cake/cookie/muffin top-like things (what are whoopie pies..?) are super soft and delicate with the most tender texture. They're so moist and the chocolate flavor is unreal! They are super easy to make, they're basically like making cookies with a stickier batter (like drop cookies).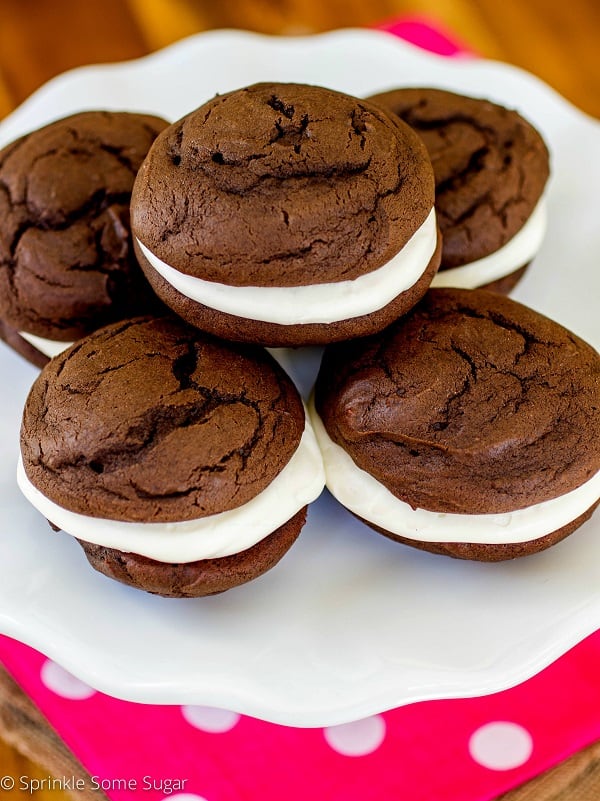 Then comes the best part - the marshmallow filling. Holy mother of the heavens. Creamy, not overly sweet and it ACTUALLY tastes like marshmallow. Slather a bunch in between two whoopie pie cakes(?) and I cannot even describe the explosion that happens in your mouth.
These are what they serve in heaven, I'm sure of it!
[pinterest]
Chocolate Marshmallow Whoopie Pies
Ingredients
*Chocolate Whoopie Pies*
1 ⅔

cup

all purpose flour

⅔

cup

unsweetened cocoa powder

1 ½

teaspoon

baking soda

1

teaspoon

salt

5

tbs

butter

room temp

3

tbs

vegetable shortening

1

cup

light brown sugar

1

egg

2

teaspoon

vanilla

1

cup

whole milk
*Marshmallow Filling*
½

cup

unsalted butter

room temperature

7

oz

marshmallow creme

2

cups

confectioner's sugar

¼

teaspoon

salt
Instructions
Preheat oven to 375 degrees. Line two baking sheets with parchment paper and set aside.

In a large bowl, whisk together flour, cocoa, baking soda and salt very well. Set aside.

In the bowl of your stand mixer (or in another large bowl using a hand mixer), cream butter, shortening and brown sugar together until completely smooth and no lumps remain. Beat in egg and vanilla until thoroughly combined. Turn mixer on low speed and alternate adding the flour mixture and milk and mix until batter is smooth, without over-mixing.

Drop one rounded tablespoon for each whoopie pie onto prepared baking sheets 2 inches apart. Using a cookie scoop or ice cream scoop is extremely helpful for this step. Bake for 8-10 minutes or until centers are set. You absolutely do not want to over-bake these or they will come out dry.

Allow them to cool for a few minutes on the baking sheets until they are cool enough to handle before transferring to a wire rack to finish cooling completely.

While the whoopie pie cakes are cooling, prepare the filling. In a large bowl, beat butter, marshmallow creme and salt until smooth with no lumps. Gradually add confectioner's sugar and beat filling until completely smooth and creamy. If you feel it needs to be thinner, add a little milk or cream. If it needs to be thicker, add some more confectioner's sugar. Once the cakes are completely cool, pipe or spread a thick layer of filling onto one cake and sandwich another on top. Repeat the process until they are all filled.

Chocolate Marshmallow Whoopie Pies will stay soft and fresh for up to 3 days stored in an airtight container at room temperature.
Chocolate whoopie pie recipe from Cookies and Cups.
[pinterest]