These donuts give you all of the same flavors of a gooey cinnamon roll in an easy to prepare, delicious baked donut!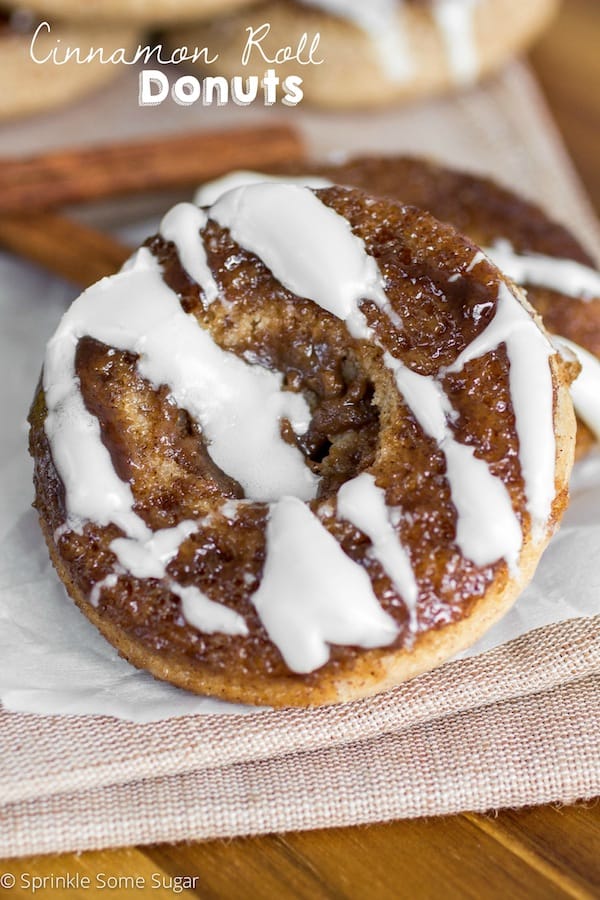 Baked donuts are something I discovered last year (talk about late to the party..) and they're now my absolute favorite way to make donuts. My little workhorse of a donut pan has been put to use for donuts like these and these. If you don't have one, you've got to get one! For under $10, you just can't beat it. I have a recipe on here for SUPER easy fried donuts (which is one of the most popular "recipes" on my site!), but baking them is just so much faster and more convenient. ESPECIALLY when you can have donuts that taste like cinnamon rolls. In under 30 minutes. I've seen a few variations of these donuts on the web, but this recipe from Buns In My Oven really caught my eye, hers look SO amazing. What's even better than the way these look, is how they taste. They really taste like cinnamon rolls! I was amazed. It's like cinnamon rolls and donuts got together and had a baby. And I'm totally not complaining!
The donuts are lightly spiced and the cinnamon topping just seals the deal for a true cinnamon roll experience. They come out so tender and delicious, I can't get enough! A generous drizzle of a sweet vanilla glaze on top doesn't hurt either.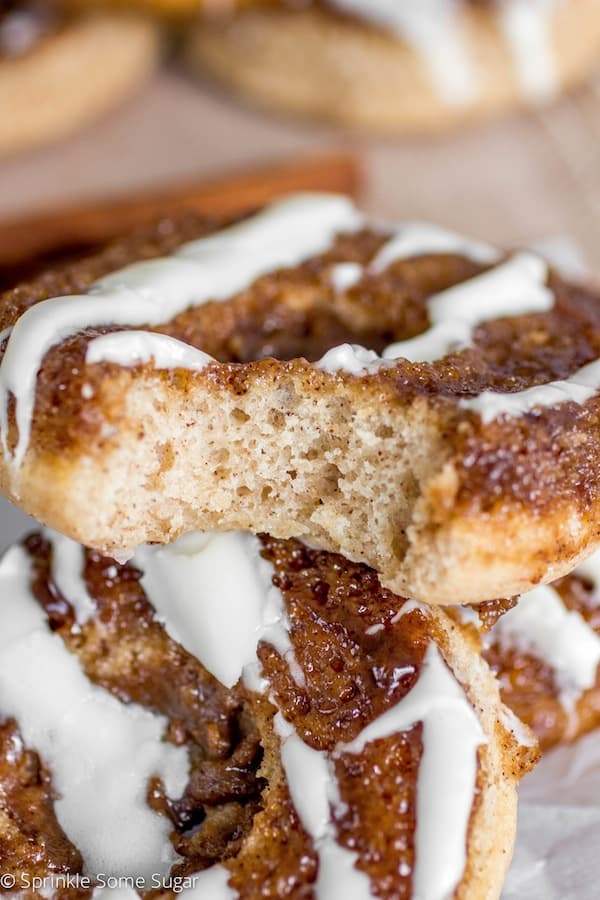 If you've been following my blog for some time, you know my crazy obsession for cinnamon rolls. You may also know how I loathe making them because they're just sooo time consuming. This recipe for cinnamon roll donuts just makes my obsession grow even more! You get all the flavors of a cinnamon roll without the hassle of making said cinnamon rolls. My lazy self loves the sound of that!
These donuts are going down as my all time favorite baked donut recipe (until I find a new one, which will be hard to beat this one) because they are one of the most delicious things I have ever eaten. The end. Make these now.
[pinterest]
Cinnamon Roll Donuts
Ingredients
*Topping*
1/4

cup

unsalted butter

4

tsp

cinnamon

1/2

cup

+ 2 tbs dark brown sugar

2

tsp

whole milk

2

tsp

corn starch

2

tsp

vanilla extract
*Donuts*
2

cups

all-purpose flour

3/4

cup

granulated sugar

2

tsp

baking powder

1/4

tsp

nutmeg

1

tsp

cinnamon

pinch

salt

3/4

cup

buttermilk*

2

eggs

1

tsp

vanilla extract

3

tsp

vegetable oil
*Vanilla Glaze*
1/2

cup

confectioner's sugar

2-4

tbs

heavy cream

or milk

1/2

tsp

vanilla extract
Instructions
Preheat oven to 325 degrees. Grease a donut pan (or two pans if you have) very well and set aside.

In a small saucepan over medium- low heat, melt butter, cinnamon, brown sugar, corn starch and milk together, stirring until completely smooth. Remove from heat and stir in vanilla. Set aside.

In a large bowl, whisk flour, sugar, baking powder, nutmeg, cinnamon and salt together. Make a well in the center and add buttermilk, eggs, vanilla and oil. Beat mixture until everything is completely combined, being careful not to over-mix (this will result in tough donuts). You want to stop mixing when everything is just combined. To make distributing the batter throughout the donut pan wells easier, pour batter into a large zip lock bag with one corner cut off.

Distribute some of the cinnamon topping throughout each well, about 1-2 tablespoons each (PLEASE NOTE: Do not over-do the cinnamon topping because it may result in it oozing up the sides of the donuts and out of the pan into the bottom of the oven. Do not add more than 2 tablespoons in each well.), then pipe donut batter on top of that filling them 3/4 to the top. Bake donuts for 10-12 minutes or until lightly browned and the tops spring back slightly when pressed with your finger. Allow donuts to cool for 5 minutes in pan before transferring to a wire rack to finish cooling. When you invert the donuts onto the wire rack, you may find that some of the topping doesn't stick, but the majority of it will. If you are concerned, just take a knife or spoon and spread it on top of the donuts.

If your donut pan has only 6 wells like mine, repeat the above steps and re-grease the pan for the next batch. You may even want to rinse the pan in between batches, but that's optional.

While the donuts are cooling, prepare the glaze by whisking confectioner's sugar, vanilla and heavy cream together, adding more (or less) heavy cream as needed to achieve the texture you like. I like mine to be fairly thick. Once donuts are completely cooled, go ahead and drizzle the glaze on with a spoon.

Cinnamon Roll Donuts are best served the same day but will stay fresh for 2 days stored in an airtight container at room temperature. The texture is a little rubbery on the second day, but they still taste delicious.
Notes
Notes:
You can create homemade buttermilk by using 3/4 cup whole milk (or any kind of milk) + 1 tbs white vinegar. Allow it to sit for 10 minutes until thickened slightly or "soured", then it is ready to use. I use this method in almost all of my recipes that require buttermilk.
Recipe from Buns In My Oven.
[pinterest]