[pinterest]
Today I woke up with a strange craving for cinnamon rolls. I guess that's not all too strange since they are my absolute favorite. I tried to make the craving go away, but being myself and having no will power what so ever, I really just needed them. But, I definitely did not feel like waiting for any dough to rise for a few hours, I wanted to eat them right away. So that meant I had to use a recipe that doesn't use yeast. I was a little nervous, but these came out so delicious!! Can cinnamon rolls really come out just as amazing without yeast?! The answer is, YES! They can! These are so soft and fluffy, I couldn't believe it. I wanted to make mine into muffins, but you can totally just put the rolls in a pan and bake them all together. Isn't that amazing though? No wait time and they STILL come out just as amazing. I still have a special place in my heart for my overnight cinnamon rolls, but these just really take the cake because they are JUST as good without the work and wait time!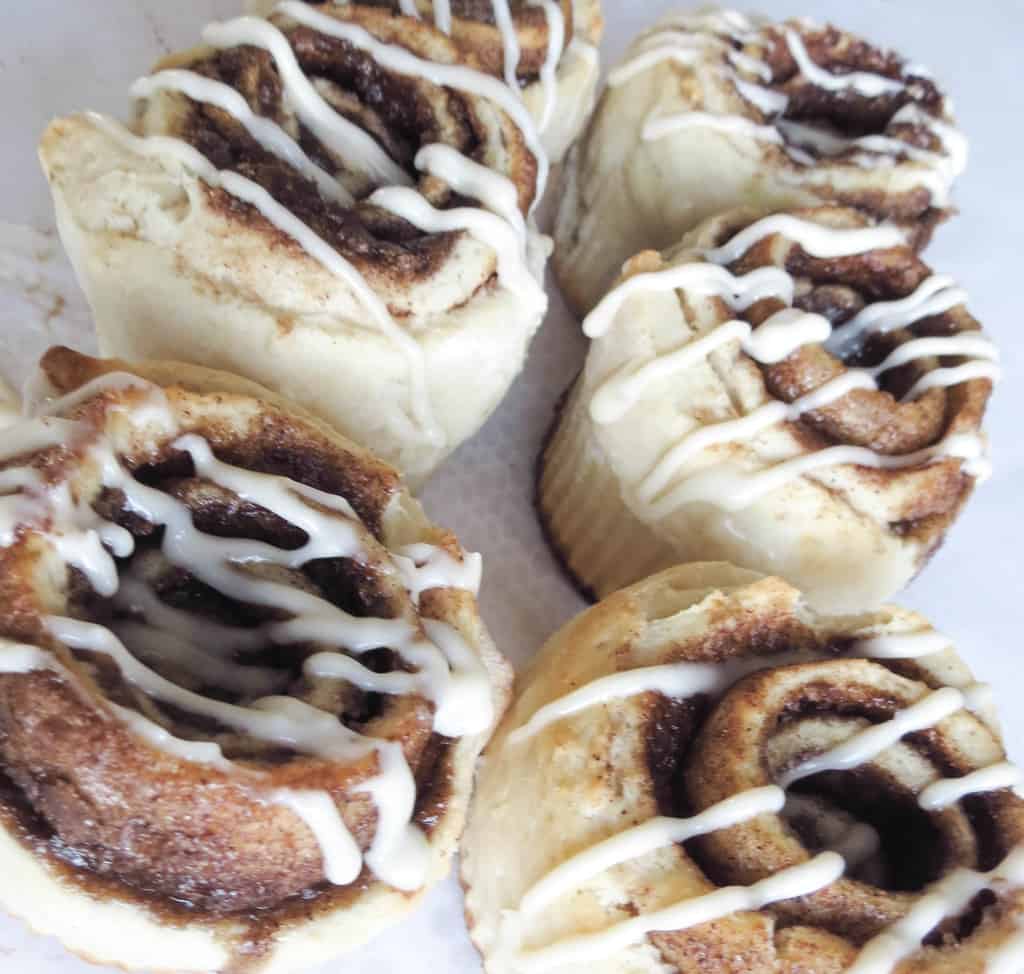 About the glaze. Ohhhh the glaze. I wanted to change up my favorite traditional cream cheese glaze and add a bit of maple syrup to it. I didn't add much, just a hint of maple does the trick. You can leave the maple syrup out but I highly, highly advise not to! Every drop of this glaze melts into every crevice making the muffins even more gooey and delicious. For the sake of presentation I drizzled it on pretty but you know right after the camera went away I ate one drowning in this creamy perfection. I just can't help myself, the glaze is the best part!
These are great if you have a last minute cinnamon roll craving like myself and don't have time or just don't want to wait for pesky dough to rise! Have these prepared, in the oven and in your mouth in less than 30 minutes! Trust me, you will not miss the yeast in these!
[pinterest]
Cinnamon Roll Muffins With Maple Cream Cheese Glaze
Ingredients:
2-1/2 cups + 1tbs all purpose flour
1/4 + 1 tbs cup granulated sugar
2 teaspoons baking powder
1/2 teaspoon baking soda
1/4 teaspoon salt
1 cup buttermilk
4 Tablespoons butter, melted
1 c + 3 tbs brown sugar
1 1/2 tbs cinnamon
1 tsp corn starch
3 tbs butter, very soft
+ 1 tbs salted butter, melted for brushing top
3 oz cream cheese, room temperature
1/4 cup salted butter
1/4 cup powdered sugar
1/2 tbs maple syrup
1/2 tbs vanilla
1-3 tbs milk
(I doubled mine to have extra)
Instructions:
Preheat oven to 425°. Line cupcake tin with foil liners and set aside. (You can probably just grease the tins instead of using liners, but I have never tried.)
For the Dough and Filling:
1. In a small bowl, whisk together the brown sugar, cinnamon and corn starch. Set aside.
2. In the bowl of your stand mixer fitted with dough hook, whisk together the flour, sugar, baking powder, baking soda and salt.
3. In a separate bowl, whisk together the buttermilk and melted butter. Add to flour mixture
4. Knead until dough just comes together. Take dough out and knead with your hands a bit. The dough should be sticky but able to be kneaded without sticking to your hands. If it is too sticky, add another tablespoon of flour.
5. On a liberally floured surface, roll dough out to create a 20x15" rectangle.
6. Rub the very soft butter onto the dough in every spot leaving a 1 inch line at the bottom for closure after rolling. Be careful not to tear the dough, the butter should be extremely soft.
7. Spread the brown sugar mixture over the butter until evenly distributed and press down to pack it down into place.
8. Roll dough up as tight as you can. If it tears a bit, just pinch and keep rolling.
9. Cut off the weird looking ends. Score dough every 2 inches and cut with a serrated knife. (Get out your measuring tape!) I have 11 rolls.
10. Place cut rolls into your prepared liners. Place pan into preheated oven and bake for 13-15 minutes or until the top is lightly golden and the the inside is cooked through. Mine were done in 15 minutes, but everybody's oven is different. While they are baking, prepare the glaze.
For the Glaze
1. Cream together the cream cheese and butter until smooth.
2. Add in powdered sugar until combined.
3. Pour in the vanilla, maple syrup and milk and mix until completely smooth. Start with 1 tablespoon of milk and go from there depending on how thin you want the glaze to be.
4. Pour your glaze into a decorating bottle (optional) and once the muffins are out of the oven and have cooled for a few minutes, drizzle them and enjoy!
https://www.sprinklesomesugar.com/cinnamon-roll-muffins-with-maple-cream-cheese-glaze/
Dough recipe adapted from In Jennie's Kitchen