[pinterest]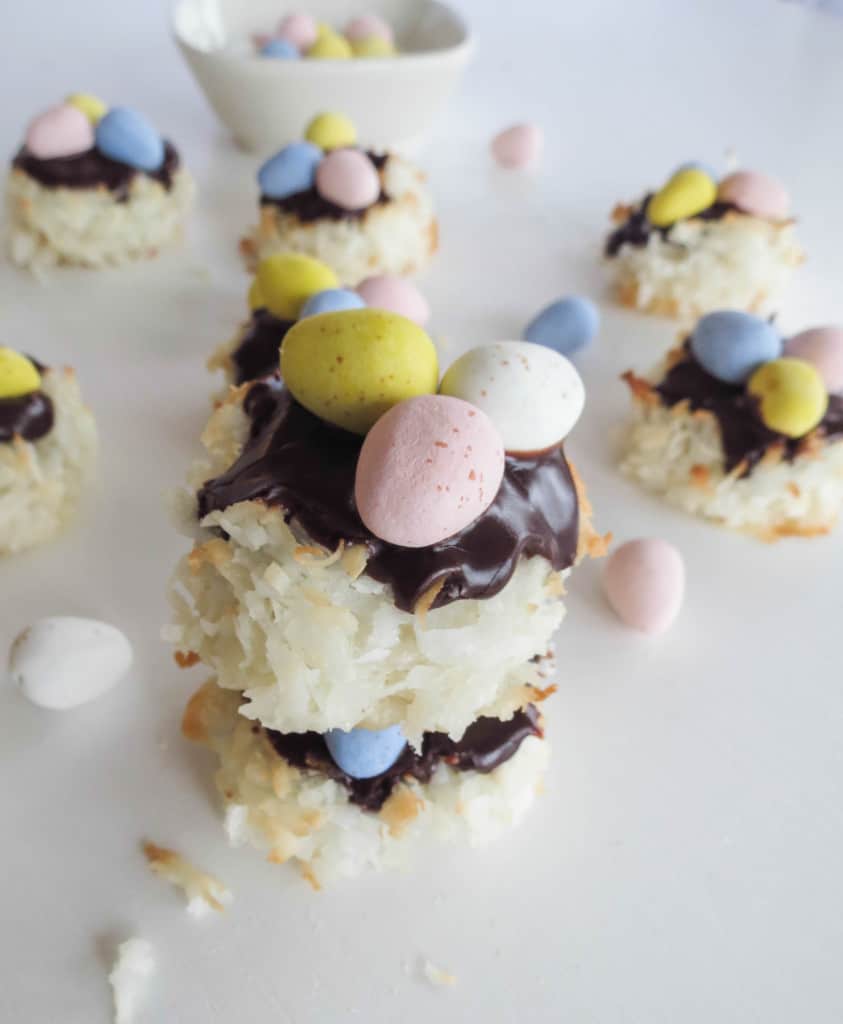 How cute are these little coconut macaroon nests? I love Easter so much so I usually go all out making cute little desserts. Every year when we were younger, my cousins and I would have a HUGE Easter egg hunt in my backyard. Like 100 eggs, it was so much fun! We got lots of candy and would all compare and trade at the end. I can't wait to keep the tradition going with my son! I also love anything with coconut and chocolate together, such a great combination! I love, love, love almond joys and mounds and these taste so similar! These are so moist on the inside just like those yummy candy bars. I wanted to make them look like nests for a cute Easter dessert, so of course I had to put some Cadbury mini eggs on top. Those things are so darn addicting I couldn't stop popping them in my mouth!
These macaroons are so easy to make too, just 4 ingredients! You just beat the egg whites, vanilla and sugar together for a couple of minutes, fold the coconut flakes in and scoop onto the cookie sheet to bake! So simple and so quick. You can have a whole batch of these under 30 minutes!
Once I scooped the cookies onto my cookie sheet, I made sure they were nice and firm and compact. Then, to make them shaped like a nest, before baking I pressed down with my finger to make a little indentation on top. While they were in the oven I got my chocolate ganache ready and chilled in the fridge a bit so it didn't get too thin and melty on top of the cookies. Just some semi-sweet chocolate chips and heavy cream is all you need. If you want them to taste more like a mounds bar, use dark chocolate. You can also dip the tops or bottoms in chocolate for something different. Or just leave them plain, they are just as delicious!
These are so moist, chewy and addicting. The sweet flavors of the vanilla and coconut together are wonderful. If you love coconut and you love chocolate, you will love these! These cute little nests will be the perfect addition to your Easter dessert table! If you want some more ideas for Easter desserts, you can make some Easter puppy chow, too!
[pinterest]
Coconut Macaroon Easter Nests
Ingredients
Macaroons

3

large egg whites

1/2

cup

granulated sugar

1

teaspoon

vanilla extract

14

oz

package sweetened shredded coconut

Chocolate Ganache

1

cup

semi-sweet chocolate chips

or bittersweet

6

tablespoons

heavy cream

1

bag Cadbury Mini Eggs - 3 eggs for each cookie
Instructions
Preheat oven to 325°. Line a baking sheet with parchment paper, set aside.

In the bowl of your stand mixer fitted with paddle attachment, beat egg whites, sugar and vanilla together for at least 3 minutes. You want the sugar to be almost dissolved and the mixture to be foamy and light in color. Fold in shredded coconut making sure it is evenly moistened. If mixture is too dry, add another egg white. Be careful not to make them too moist though, the egg whites will bubble up and spread while baking. If this may happen, just scrape around the edges of the macaroons and it will come right off.

Using a large cookie scoop, scoop about 1-2 tablespoons of batter. I like to scoop the batter into my hands and squeeze lightly back and forth so they are nicely compacted and perfectly round. Drop them on the baking sheet.

If you are making the nests like I did, press down the tops of the balls a little bit to create a slightly flattened top. Bake for 20 minutes or until tops are lightly golden brown. Rotate pan after 10 minutes to ensure even browning. If using, prepare chocolate ganache while they bake.

Chocolate Ganache

Melt chocolate chips in microwave for 30-60 seconds. Pour in heavy cream and mix until smooth. Let cool in fridge while the macaroons are baking until slightly thickened. Once macaroons are finished baking, immediately spoon about 1 tbs of ganache on top and smooth into a circle. Drop 3 Cadbury mini eggs on top while ganache is still wet so they stick.

Store in an airtight container for up to 5 days.
 Recipe adapted from Sally's Baking Addiction