Deep dark fudgy brownies topped with a creamy cookies and cream frosting. An oreo lover's dream!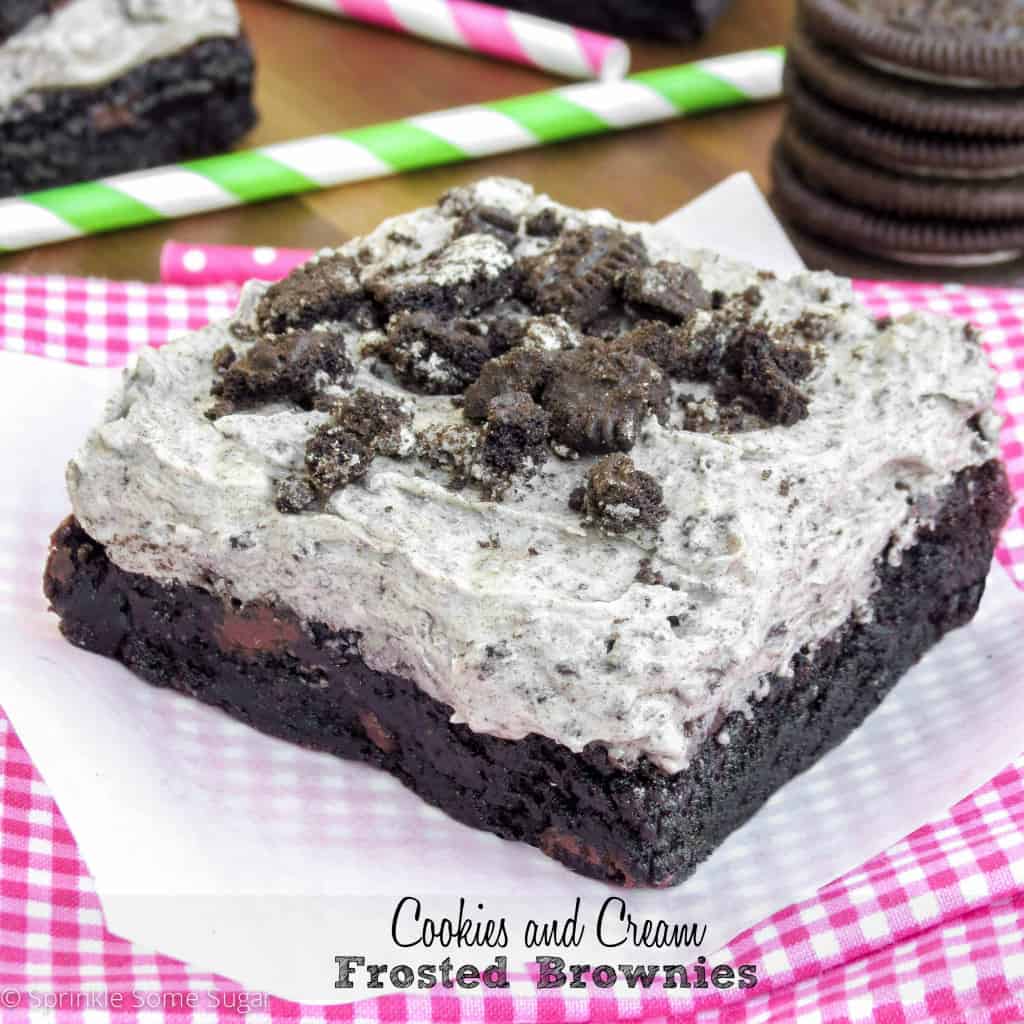 Super fudgy brownies stuffed with chocolate chips and oreos, topped with a thick layer of cookies and cream frosting. Oreo lovers, unite! These brownies are TOTALLY worth the extra hour on the treadmill. Used in this recipe is my favorite brownie recipe and my go-to cream cheese frosting. Super quick and easy to whip up!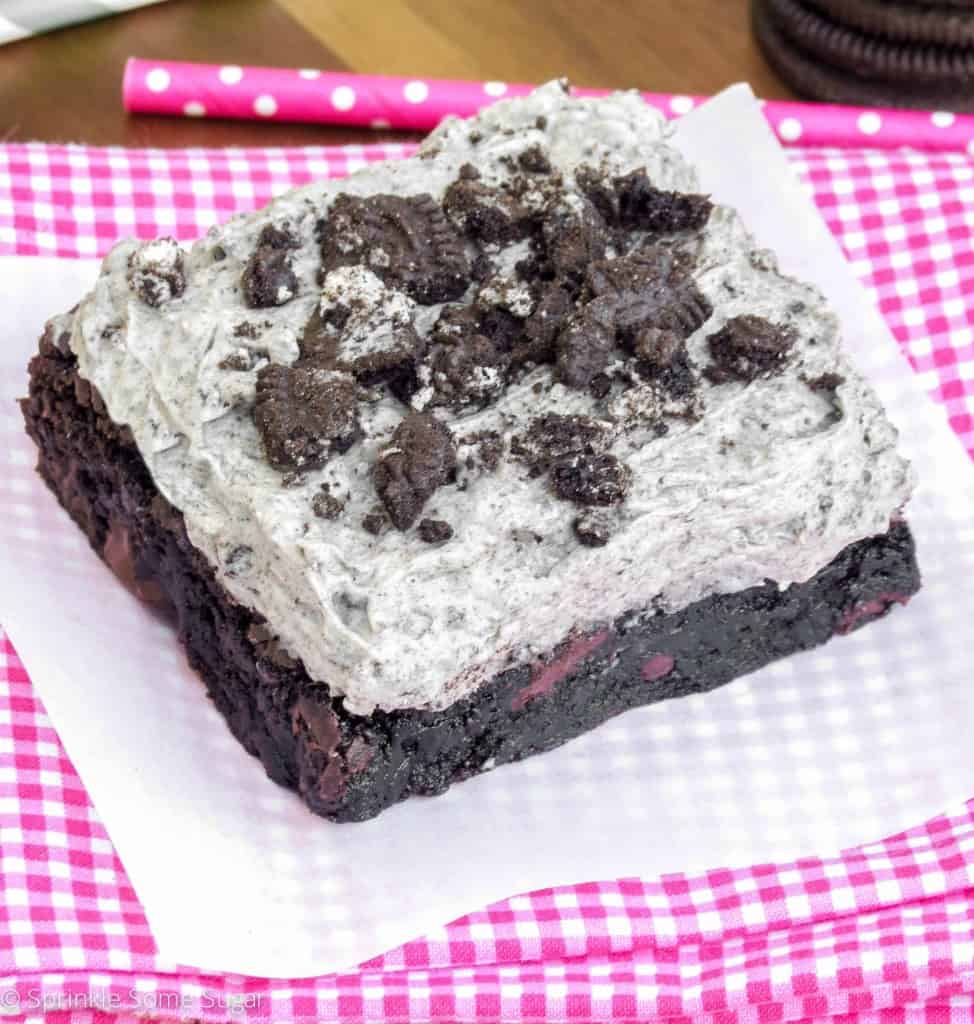 I've used this brownie recipe in many of my recipes, so I'm sure if you follow this blog, you know that they are my favorite! I've used them here, here and here. They come out perfectly fudgy every. single. time. They require one bowl, a spoon and a few ingredients you probably have in your kitchen right now. If you were wondering where the heck the oreos are since you can't really see them in the brownies in these photos, they basically melt into the brownies and you can hardly see them. BUT you can taste them and they add the most delicious layer of flavor! This time, I substituted some of the regular cocoa powder for ¼ cup of dark chocolate cocoa to deepen the chocolate flavor. These brownies are deeeep, dark, chocolate-y perfection!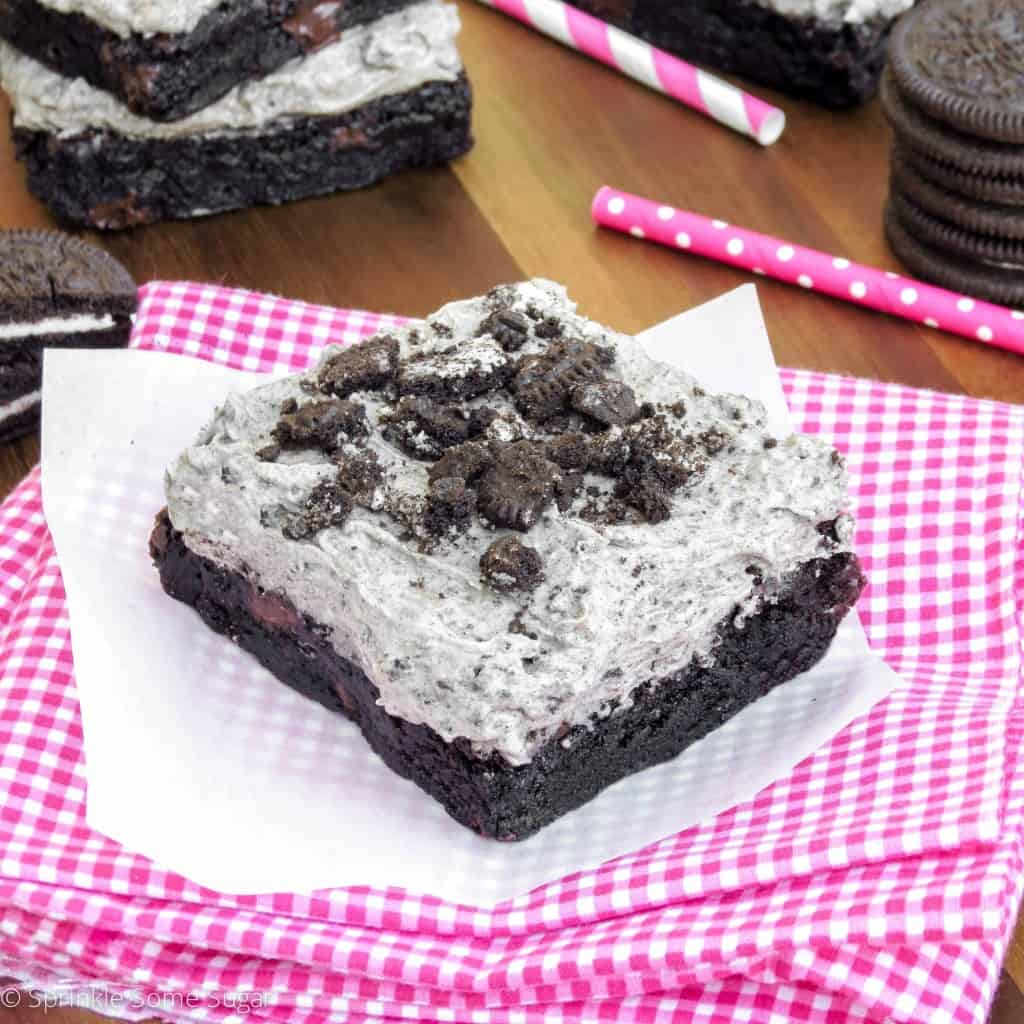 The cookies and cream frosting is so smooth, so creamy, so delicious I can't even stand it. I decided cream cheese frosting would be the perfect base to make a "cookies and cream" type frosting and I was so right! It's perfect. Oreos are my favorite store-bought cookie, I can practically eat the entire package in one sitting. I guess Mike and I were meant to be because I literally think he has an oreo addiction. He loves the mega stuf golden oreos and has them practically every single night with some milk. Another funny thing about oreos is my (almost-2-year-old) son LOVES the middle! He rips them apart and eats the cream in the center and pushes the cookies to the side? How did he even know the secret to eating oreos?!
These cookies and cream frosted brownies would be the perfect snack for the kiddos to come home from school to, I know I would be over the moon if I came home to these babies when I was growing up!
[pinterest]
Cookies and Cream Frosted Brownies
Ingredients
*Brownies*
10

tablespoons

unsalted butter

1 ¼

cups

sugar

½

cup

plus 2 tablespoons cocoa powder

¼

cup

dark cocoa powder

¼

teaspoon

salt

½

teaspoon

pure vanilla extract

2

eggs

½

cup

all-purpose flour

10

oreos

roughly chopped

¼

cup

semi-sweet chocolate chips
*Cookies and Cream Frosting*
4

oz

cream cheese

room temperature

¼

cup

unsalted butter

room temperature

2

cups

confectioner's sugar

sifted

½

teaspoon

vanilla extract

10

oreos

finely crushed or pulsed
Instructions
Preheat oven to 325 degrees. Line an 8x8" or 9x9" pan with parchment paper, set aside.

Place butter, cocoa and sugar in a large microwave-safe bowl and microwave for about 1 minute and 30 seconds, or until butter is melted. Mix everything together until smooth. Add in eggs and vanilla and mix until smooth. Pour in the flour and mix until just combined. Gently fold in chocolate chips and chopped oreos until evenly distributed. The batter will be very thick. Pour batter in prepared pan and spread into an even layer. Bake for 25-28 minutes or until a toothpick inserted in the center comes out mostly clean with a little bit of batter on the end. (This will ensure your brownies will be fudgy when they set!) Allow brownies to cool in pan for 10 minutes before transferring them to a wire rack to finish cooling completely before frosting.

While brownies are cooling, prepare frosting. Cream together the cream cheese and butter until completely smooth with no lumps. Add in the vanilla. Incorporate confectioner's sugar one cup at a time until light and fluffy. If you'd like a thinner frosting, add some cream or milk 1 teaspoon at a time to loosen it up. Fold in crushed oreos until evenly distributed throughout frosting.

Once brownies are completely cool, spread a thick layer of frosting on top. Cut into bars and serve.

Cookies and cream frosted brownies will stay fresh for up to 5 days stored in an airtight container at room temperature.
[pinterest]
[pinterest]