[pinterest]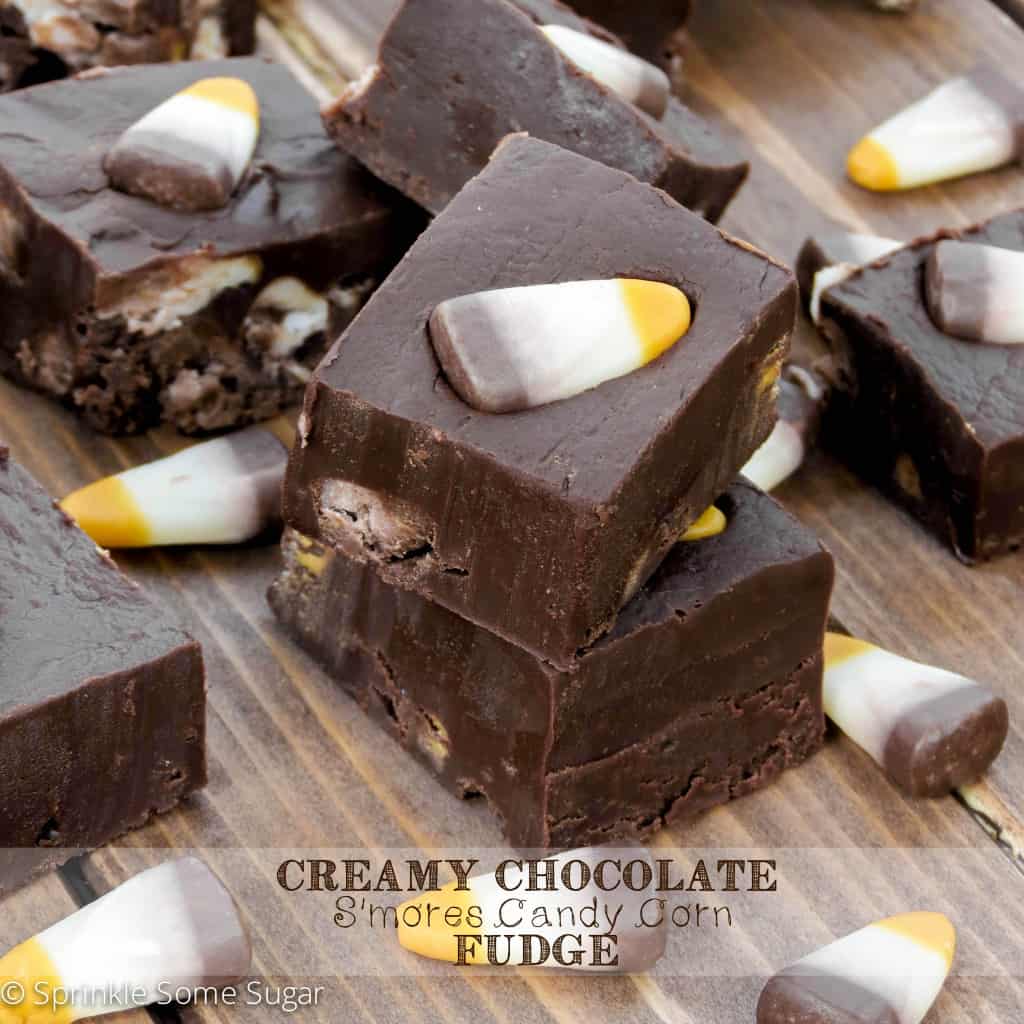 Okay, so, remember in my last post how I mentioned I was having computer problems and everything was fixed so I was back? Wellll, about 2 hours later I went back to my sleeping computer and it was off. It wouldn't turn back on. It was broken, YET AGAIN. We finally wiped the hard drive (losing 3 of my recipes edited photos!!!!!) and everything is running smoothly so far. I'm so sorry for my absence these past 2 weeks and I will make it up to you will some delicious fudge! This fudge is scary easy. Just a few simple ingredients and you get creamy delicious chocolate fudge and you can add anything you want to it. I added s'mores flavored candy corn because I found it at the store and why not.
I found my s'mores candy corn at Wal-Mart and there's a bunch of other flavors from this brand. Pumpkin spice, caramel macchiato, caramel and some others I can't remember or you can just use plain old regular candy corn. OR you can use any candy you'd like. OR just leave the chocolate fudge plain. It's up to you. Here's what the kind I used looks like:
The chocolate fudge is so incredible easy to make, you just melt everything together in a small saucepan and ta-da, fudge is made. No need for a candy thermometer or anything confusing and annoying. I don't particularly have the patience for stuff like that so this was perfect. And you won't believe how delicious it comes out! It tastes exactly like regular old traditional fudge, just with a shortcut. It's made with sweetened condensed milk.. how can it be bad?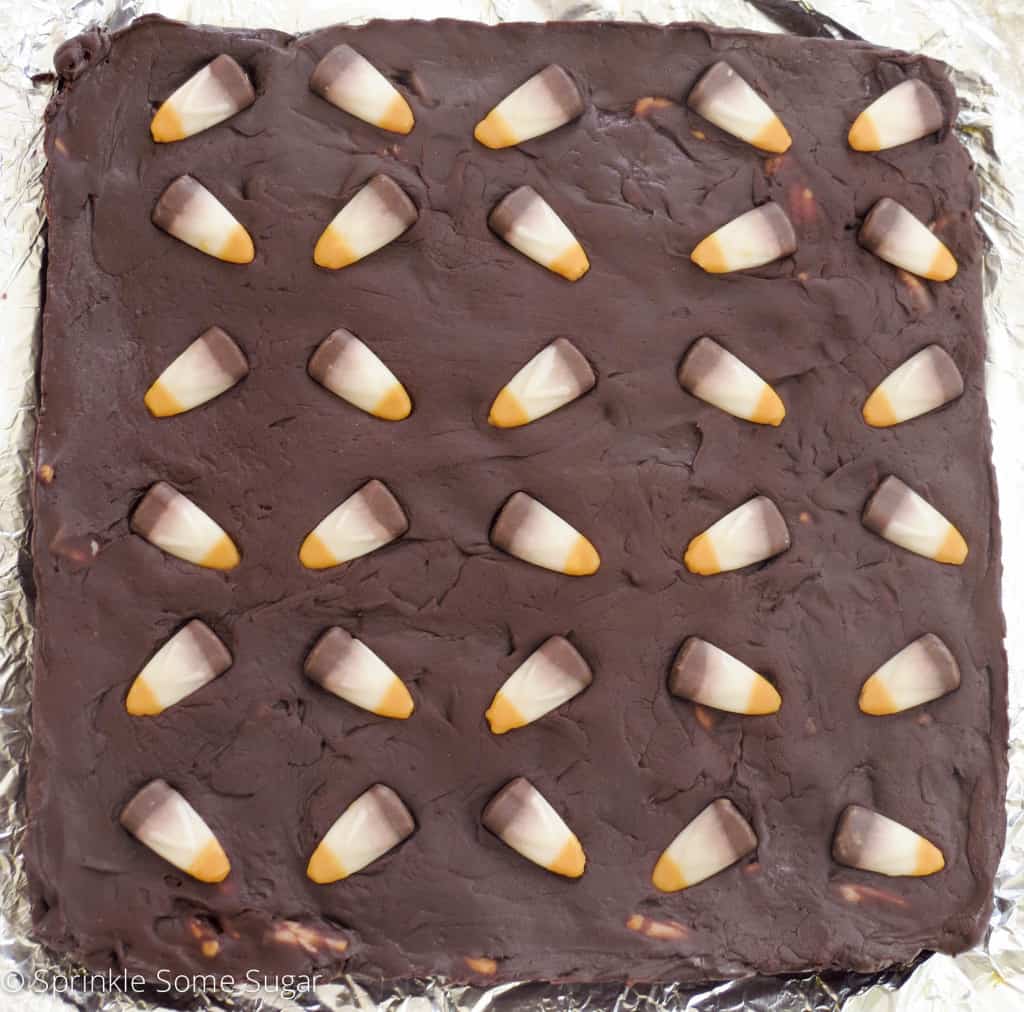 I used a mixture of semi-sweet chocolate and dark chocolate chips because I really wanted to have a bold chocolate flavor. I love my chocolate. These little squares come out super creamy and delicious. The s'mores candy corn is obviously the icing on the cake because, duh, it's S'MORES flavor. I couldn't stop eating them once I opened up the bag. Am I the only person on the planet who doesn't enjoy regular candy corn? It just tastes so boring to me. That's why when I saw these flavored ones I hopped right on it.
This fudge is perfect for holiday gifting and the mix-ins can be customized any way you'd like to fit the holiday you are celebrating!
[pinterest]
Creamy Chocolate S'mores Candy Corn Fudge
Ingredients
1 14

oz

can sweetened condensed milk

1 12

oz

bag semi-sweet chocolate chips

1

cup

dark chocolate chips

1/4

cup

unsalted butter

1

tsp

vanilla extract

1 1/2

cups

s'mores candy corn

or mix-in of choice
Instructions
Line a 9x9 pan with aluminum foil and spray very well with cooking spray.

In a small saucepan on low heat, add the sweetened condensed milk, all chocolate chips and butter. Melt everything together until smooth whisking constantly to prevent scorching the bottom. Once everything is thoroughly combined, stir in vanilla and fold in candy corn by hand. Pour mixture into prepared greased pan and spread out into an even layer. I spray the top of my rubber spatula with cooking spray to prevent sticking and help it spread easier with less work.

Cover fudge with plastic wrap and place in the fridge for up to 2 hours or until firm. Cut into squares and serve.

Fudge will stay fresh stored in an airtight container for 3-4 days kept in the refrigerator. Remove from refrigerator 30 minutes before serving to give it time to soften up a little bit.
[pinterest]