[pinterest]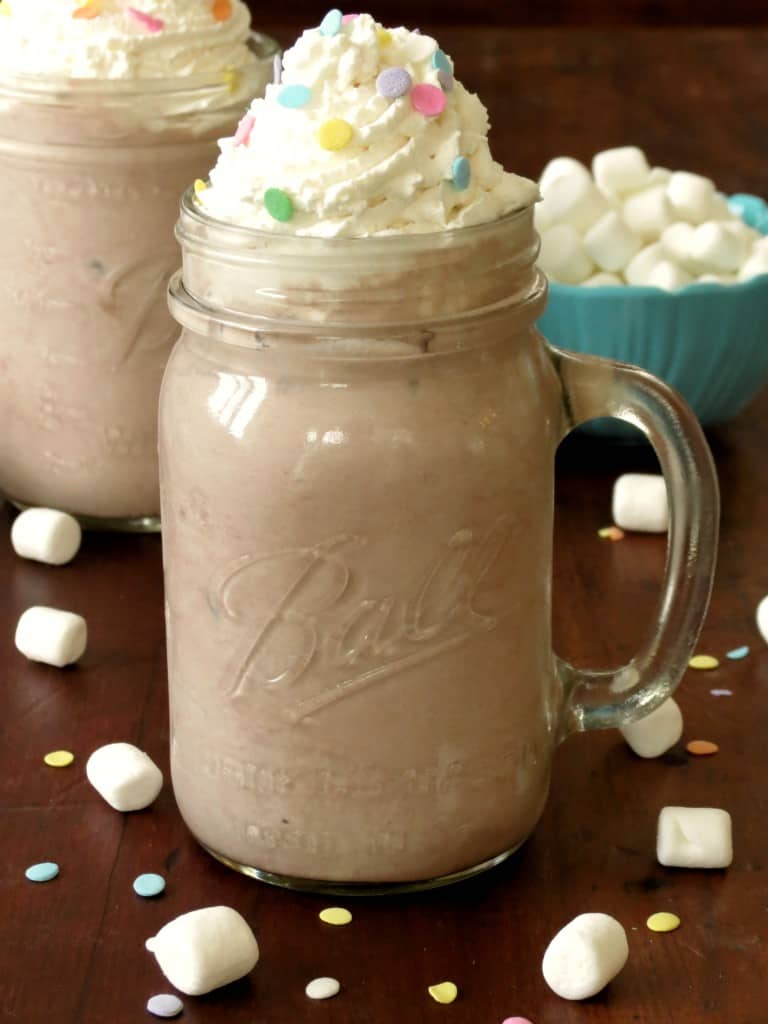 I hope everybody is having a great weekend! If not, I can help make it better: Frozen Hot Chocolate. If anybody is like me, sometimes in the winter you just don't feel like making homemade hot chocolate, so you stockpile those delicious Swiss Miss packets. Then, once the warmer weather comes, you see that same box sitting in the pantry filled with hot chocolate you never used. WELL, I have a solution for you! You can make this delicious creamy frozen hot chocolate! Last summer Dunkin Donuts used to have it, I'm pretty sure they discontinued it now at least where I live, but my boyfriend and I would get them all the time and were so sad to see them go! Now, I have made the best replacement. Plus, you can make it right in your kitchen, in under 30 minutes! It's absolutely delicious and perfect on a warm day.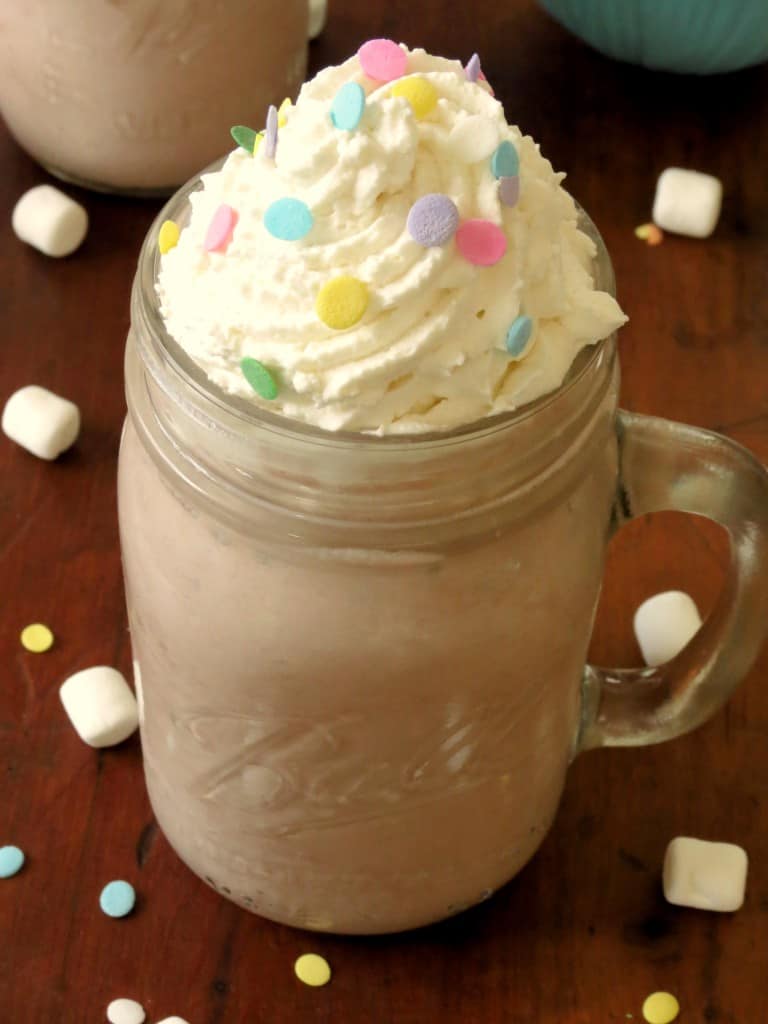 Side story: How was everyone's Friday night? Let me tell you about mine.. Mike was out of town for the night, so it was just John and I here. We were playing, being goofy and next thing ya know, he fell off the couch and whacked his head on the window sill. We ended up in the hospital and left with 2 stitches. :'( My poor little guy! Such a traumatizing experience for us both, I sobbed like a baby the whole time. When they give toddlers stitches, they wrap them up in what is basically a straight jacket so they can't move around and beat the nurses up. It was the worst thing ever to see him struggling! He was such a trooper though. His new favorite words to say are hi and bye so right after the stitches were over, the nurses gave him a bunch of stickers and he was a happy camper yelling hi and bye to them as they came and went, blowing them kisses. He's just the sweetest. He's not even 2 yet so I can't imagine what the years to come will bring with this crazy active little boy!!
Anyways, back to the frozen hot chocolate. I used heavy cream and whole milk to make it ultra creamy. Also used, were six whole packets of hot chocolate mix so it is so flavorful! I have had frozen hot chocolates before that are so watered down with milk that you can barely taste the hot chocolate, which is why I decided to add extra to make it super jam packed with flavor.
Top this delicious frozen drink with some homemade whipped cream and sprinkles of course, and you have perfection my friends.. perfection.
[pinterest]
Creamy Frozen Hot Chocolate with Homemade Whipped Cream
Ingredients
*Frozen Hot Chocolate*
1

cup

heavy cream

2

cups

whole milk

6

packets of hot chocolate mix
*Whipped Cream*
1

cup

heavy cream

2

tbs

powdered sugar

1/2

tsp

vanilla extract

optional sprinkles to granish
Instructions
Before you begin, place your metal bowl and whisk in the freezer to make sure it is very cold when you are ready to use.

In a large bowl, combine heavy cream, whole milk and all hot chocolate mix and whisk until completely combined and smooth. Keep whisking and the powder will eventually mix together and be completely smooth. Once mostly all of the powder is dissolved, pour into your ice cream maker and freeze according to manufacturer's instructions. I used my kitchen aid attachment and it took about 15 minutes. If you let it go too long it will be very thick, so don't over freeze it unless you want ice cream (which is equally delicious!).

While frozen hot chocolate is freezing, whip up your whipped cream. Take the metal bowl and whisk out of the freezer. Pour in heavy cream and whip until cream is stiff and soft peaks form. You can either do this by hand or with your mixer. Once the consistency is just right, add powdered sugar and vanilla and whisk again until fully combined.

Once your drink is done freezing, scoop it into mugs. Place whipped cream into a piping bag or zip lock bag and pipe whipped cream on top. Garnish with sprinkles or whatever you like. Best served immediately.
[pinterest]