A Creamy Frozen Mudslide is a delicious boozy milkshake that combines Bailey's Irish cream, Kahlua coffee liqueur, whipped cream vodka and ice cream for the ultimate dessert cocktail.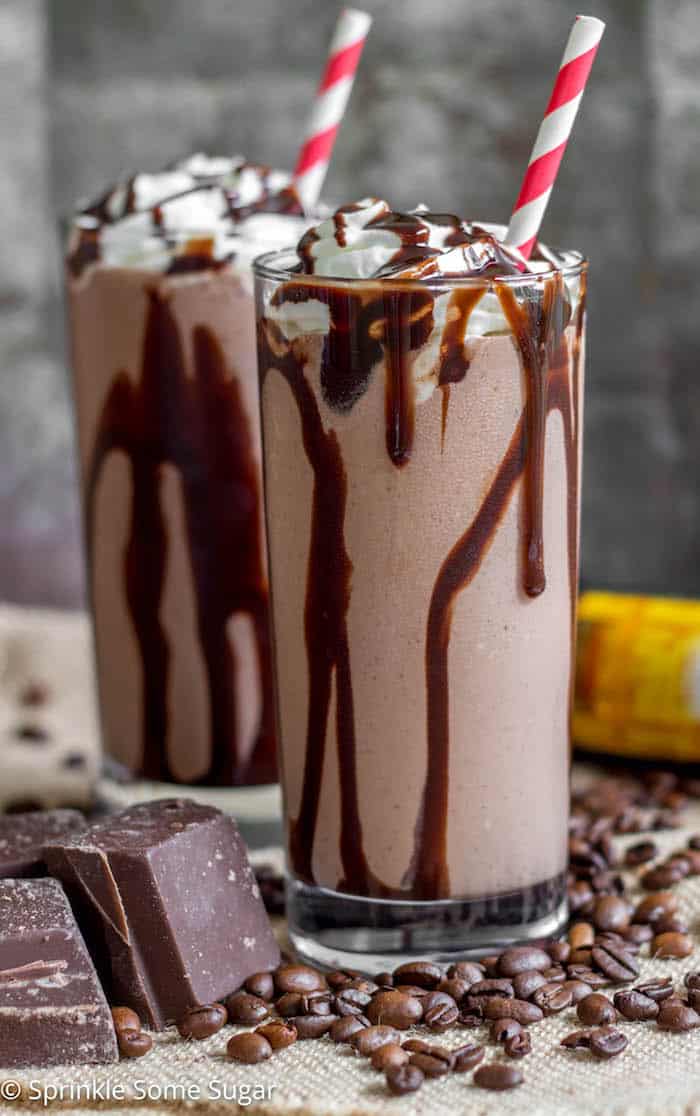 These creamy frozen mudslides are BASICALLY adult milkshakes. Ice cream + Bailey's + Kahlua + Vodka = so much yes. You barely taste the alcohol, which makes them easier to slurp right now. They are pretty dangerous so drink responsibly. ? You can adjust the alcohol to your personal taste, but the way I have it in the recipe is just perfect for me.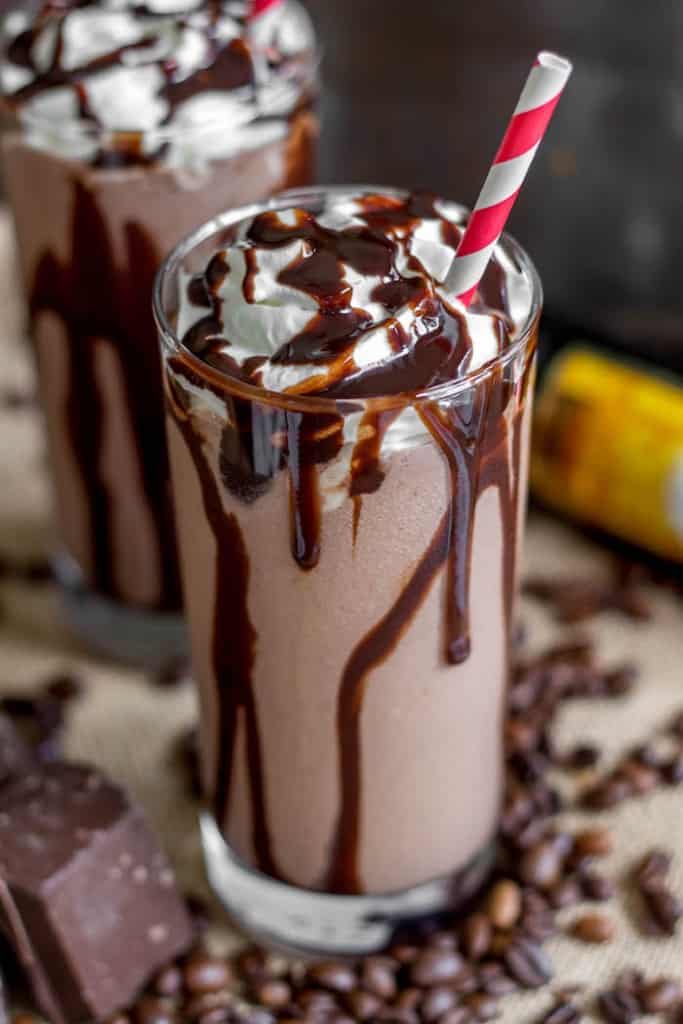 What ingredients are needed for a Frozen Mudslide drink?
Vodka: Whipped cream vodka is called for in this recipe, but vanilla, chocolate or caramel flavored vodka would be delicious too! You can also just use regular vodka.
Coffee liqueur is required to make a Mudslide. I use Kahlua, but you can use your favorite brand.
Irish cream: My favorite is Bailey's but again, use your favorite brand.
Chocolate syrup: Used in the recipe and drizzled on the inside of the glass before serving, which is optional.
Milk: Whole milk is used to help blend the milkshakes and dilute the alcohol a bit. You can leave the milk out and add extra alcohol if you'd like.
Sugar: I add dark brown sugar to mine to add a deeper depth of flavor.
Ice Cream: I use a mixture of chocolate and vanilla. You can use a single flavor or even coffee ice cream for a different flavor experience!
Garnishes: Whipped cream and extra drizzled chocolate syrup. Chocolate shavings are a nice addition, too.
How to make a Frozen Mudslide
Add all recipe ingredients to a blender, and blend util smooth.
Drizzle chocolate syrup in glasses of choice. You don't want to skip this part!
Pour contents of blender into prepared glasses.
Garnish with whipped cream, extra drizzle of chocolate syrup, etc.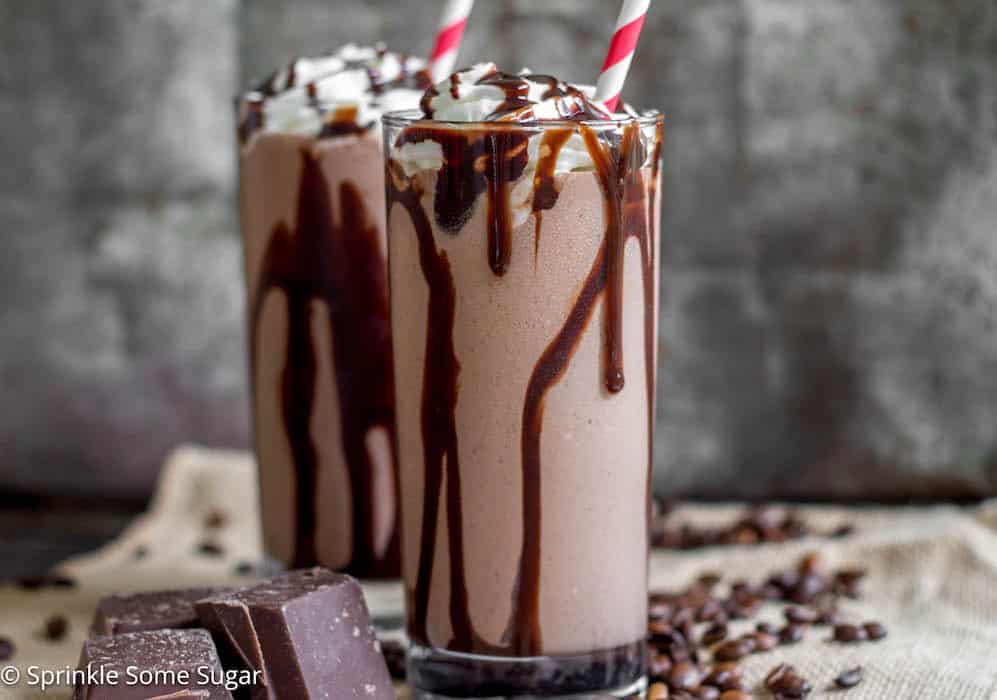 What is a mudslide?
A mudslide is a cocktail that features a dangerously delicious combination of coffee liqueur, Irish Cream and flavored vodka. It can be prepared on the rocks, blended with ice or frozen with ice cream.
Can I make a Virgin/Non-Alcoholic Frozen Mudslide?
Yes! I included a non-alcoholic version in the recipe. To mimic the flavors of the Kahlua and Bailey's, I use cold coffee and irish cream flavored coffee creamer. It's sweet and smooth with the same flavors of a mudslide.
How do I make a mudslide on the rocks?
I feel like this should be included! Don't want a milkshake? You can make this recipe on the rocks by just using a mixture of Bailey's Irish cream, Kahlua, Whipped Cream Vodka, Milk and ice. Add all ingredients in a cocktail shaker, shake it up vigorously and serve in chocolate syrup drizzled glasses, over ice.
How many calories are there in a Frozen Mudslide?
I'm here to tell you that calories don't count for this drink. Just kidding. But really, I'm not.
Can I make a lactose-free Frozen Mudslide?
Yup! If you're lactose-intolerant, you can still enjoy a frozen mudslide cocktail! Simply substitute the milk and ice cream with a a non-dairy alternative and use Baileys Almande instead of Baileys Irish Cream!
Difference between a Mudslide & White Russian
Mudslides and White Russians are often mistaken for one another because they have a very similar flavor. They both use a mixture of Vodka, Kahlua and dairy. The biggest difference between the two is that a White Russian typically uses some sort of dairy cream while a mudslide uses Irish Cream. Biggest similarity? They're both delicious! 🙂
Does a mudslide contain caffeine?
Yes, a mudslide is slightly caffeinated because Coffee Liqueur does contain caffeine. Though, in this recipe, very small amount compared to a cup of coffee.
Coffee liqueur does contain caffeine, so a mudslide is caffeinated. That being said, the amount of caffeine is extremely low. If you are using Kahlúa, this drink recipe contains less than 4 milligrams of caffeine. For comparison, an 8-ounce cup of brewed coffee contains between 100 and 200 milligrams of caffeine.
Click HERE to grab my FULL recipe over at Dixie Crystals!
More Cocktail Recipes you'll love: