[pinterest]
Easy peasy side dish.
So, the other afternoon I was really craving some asparagus. We had some with dinner the night before and we had a whole bunch left over that I didn't cook. You know what that means? Lunch for me! I ended up using what I thought would be a "side" for my meal because I love it so much. My family goes nuts over this and the fact that it is so easy to prepare is a win win for me! Up until about a year or two ago, you couldn't find me anywhere near asparagus. I was always afraid to try it because it freaked me out! Ha. But now I can't get enough and it's one of my favorite vegetables!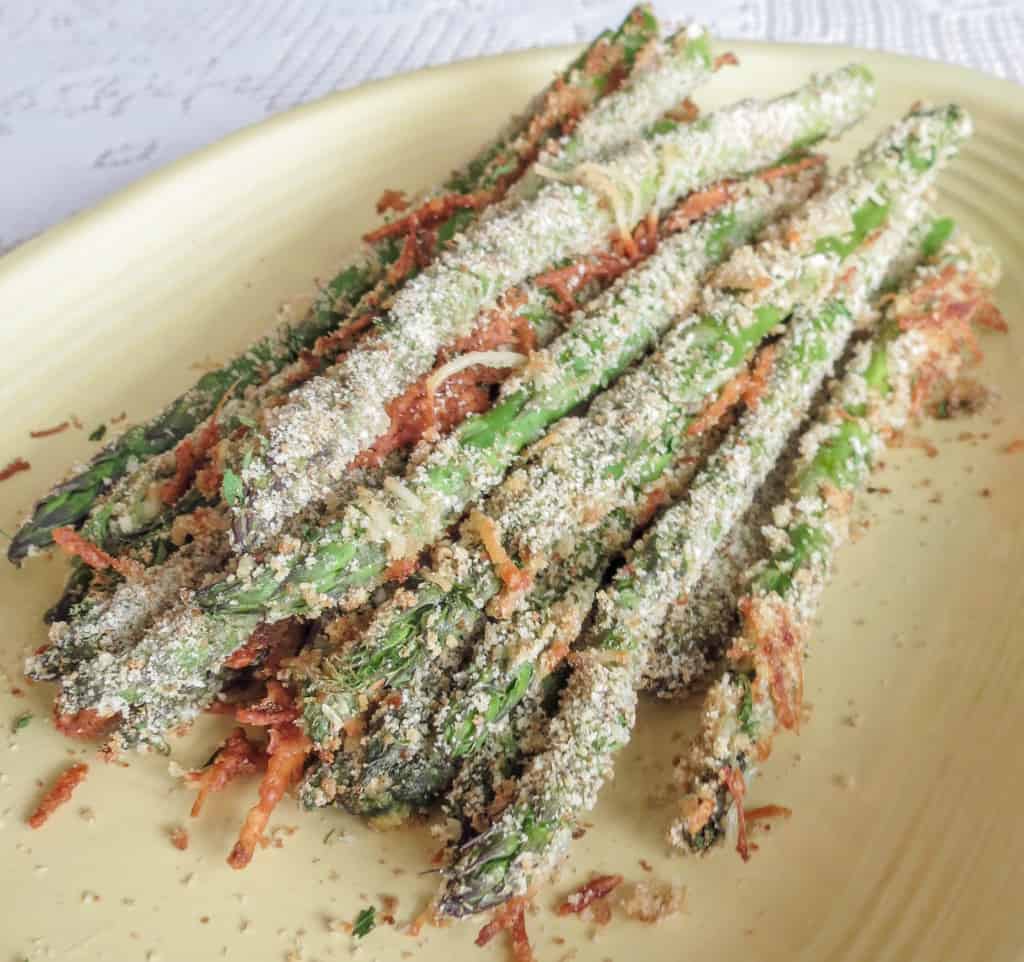 I like to serve mine with pretty much anything from chicken to pasta, this side dish is pretty versatile. I like to use seasoned breadcrumbs for these and I highly recommend using 4C, no other brand in my opinion compares, I use them for everything! I also use a mixture of shredded asiago, parmesan and romano cheeses - perfectionnnn. I can eat the whole container of that cheese. Feel free to only use one kind of cheese or whatever your favorite is, go for it. The crunch of the breadcrumbs and the saltiness from the cheese on the asparagus is just seriously so, so delicious! This is definitely one of mine and my families favorite side dishes!
[pinterest]
Crispy Baked Asparagus Fries
Ingredients
1

pound

asparagus

1 bundle, trimmed

¼

cup

flour

2

eggs

lightly beaten

¾

cup

italian breadcrumbs

½

cup

italian cheese blend

asiago, parmesan, romano, freshly grated

salt and pepper to taste
Instructions
1. Preheat oven to 425°. Either line a baking sheet with parchment paper or spray it with non-stick cooking spray, set aside.

2. Once your asparagus is cut, washed and dried completely, dredge in flour. Most will not stick but just do your best to get it on there.

3. Dip asparagus into eggs.

4. Place in breadcrumb/cheese mixture and roll around and pat to coat them completely. If some parts aren't sticking very well, that's okay.

5. Repeat those steps until all of the asparagus are breaded. Place on prepared baking sheet and bake for 12-15 minutes or until golden brown and crispy.