[pinterest]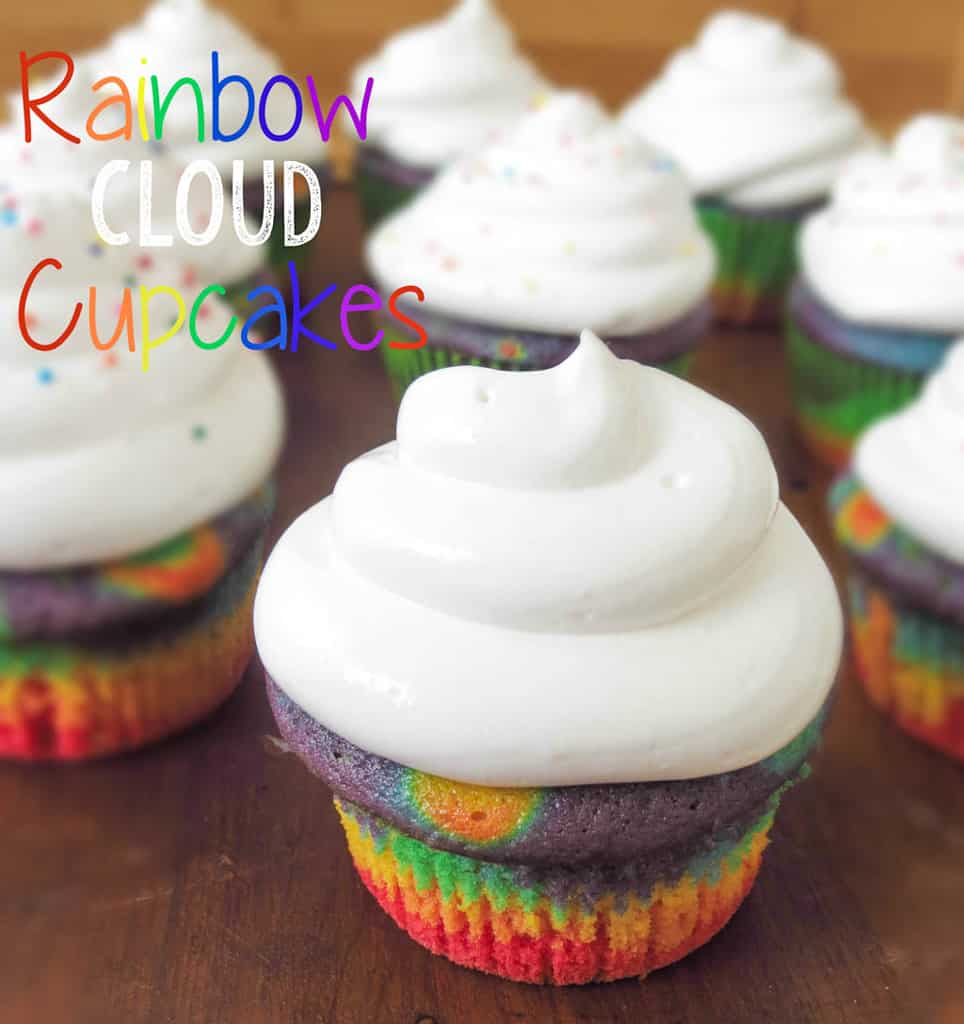 Happy St. Patty's Day everybody! I hope everyone has their green on so they don't get pinched! 😉 This morning I was so excited to start my St. Patty's Day menu that I started as soon as I got up. First I made some more Irish soda bread because the whole loaf I made yesterday was gone by this morning! Then, I was feeling like today was a cupcake kinda day, so I made rainbow vanilla cupcakes with marshmallow frosting. Seriously, this combination is AMAZING together! You can use this frosting on pretty much anything. This would probably be awesome on some chocolate cupcakes too! Or even frosting a cake with it. Mmmm, that is definitely on my to-make list!
The marshmallow frosting is so incredibly fluffy and creamy. I have been using this frosting for years and it tastes just like marshmallow fluff in frosting form! Everybody always asks if fluff is an ingredient in the recipe. But, nope! It's not, this is purely homemade. I have tried recipes in the past for marshmallow frosting and there is always butter in the recipe making it taste like a buttercream. This recipe has no butter at all so it really lets the marshmallow flavor shine! Ugh, it really is just to die for. I can honestly eat the whole bowl. I made sure to pile that delicious, sticky goodness high on top of my cupcakes. 🙂
These vanilla cupcakes, in my opinion are just the very best! They are super moist with a perfect light crumb but still can hold up to an enormous amount of frosting! (As you can see! ;)) I have another vanilla cupcake recipe I shared, but I honestly think this recipe is much better (sorry vanilla cupcakes) and this will definitely be new new go-to whenever I need a quick and easy cupcake that everybody will love! The cupcakes are supposed to simulate the "rainbow to the pot of gold" with the "clouds" being the frosting. 🙂 Kids will love these adorable cupcakes but especially, they will love to eat them! Can you even look at these cupcakes and not get instantly happy?! Each bite is a delicious, colorful wonderland.
I hope everyone has an amazing St. Patty's Day and everyone enjoys their corned beef and cabbage tonight! Yum! I know we will. 🙂
[pinterest]
Rainbow Cloud Cupcakes
Ingredients
Vanilla Cupcakes

1 3/4

cup

all-purpose flour

1

cup

sugar

1 1/2

tsp

baking powder

1/2

tsp

baking soda

1/4

tsp

salt

1/4

cup

unsalted butter

cubed, room temperature

2

eggs

1/3

cup

vanilla greek yogurt

or plain - or sour cream

1/4

cup

vegetable or canola oil

2/3

cup

buttermilk

1

tbs

+ 1 1/2 tsp vanilla extract

red

blue, green, yellow, orange food coloring

Marshmallow Frosting

2

egg whites

1/4

tsp

salt

3/4

cup

light corn syrup

1/4

cup

sugar

1

tsp

pure vanilla extract
Instructions
Preheat oven to 350°. Line a cupcake tin with paper liners and set aside.

For the Cupcakes

1. Whisk together flour, sugar, baking powder, baking soda and salt together.

2. Add in the cubed butter and mix for 2-3 minutes or until mixture looks very crumbly.

3. In a separate bowl, whisk the buttermilk and eggs together, then add into flour mixture and mix until smooth.

4. Add in the oil, greek yogurt and vanilla and mix until just incorporated and no bumps are noticeable. If there are a few, that's olay. Don't over mix.

5. Separate your batter with an ice cream scoop into 6 different bowls, 2 scoops each. Using your food coloring, make each bowl of batter a different color of the rainbow until your desired color is achieved.

6. Spoon a layer of the batter starting with red into each liner, making sure to coat the entire bottom. Repeat this step with each of the colors, layering on top of each. Fill the liners 2/3 full.

7. Place cupcakes into your preheated oven and bake for 14-16 minutes or until a toothpick comes out clean.

8. Let them cool for 2-3 minutes in the pan and then take out and let them finish cooling on a wire rack or counter. While they are cooling, prepare your frosting.

For the Frosting

1. In the bowl of your stand mixer, set with a whisk attachment, beat egg whites, corn syrup and salt together for about 3-5 minutes until there are stiff peaks formed.

2. At about 2 minutes slowly add your sugar in while mixer is running.

3. Once stiff peaks are formed, add in vanilla and mix until incorporated.

4. Once your cupcakes are COMPLETELY cooled, spoon your frosting into a zip top bag and cut off one corner. Pipe the frosting onto your cupcakes and garnish with some sprinkles, if desired.

Be sure to store these in an airtight container (I used a cupcake holder with a lid) so the frosting stays soft. Otherwise, it will become chewy.