Dark Chocolate Coconut Almond Granola. My favorite granola ever and it's actually healthy for you!
I've really been trying to eat healthy lately (ya know, the typical cliché New Years resolution..) and this Dark Chocolate Coconut Almond Granola has really been helping me out! I've been eating it everyday for the past month whether it be plain to snack on or with some milk for breakfast or lunch – I can't get enough of this stuff! It is seriously addicting and the real kicker is that it's actually healthy.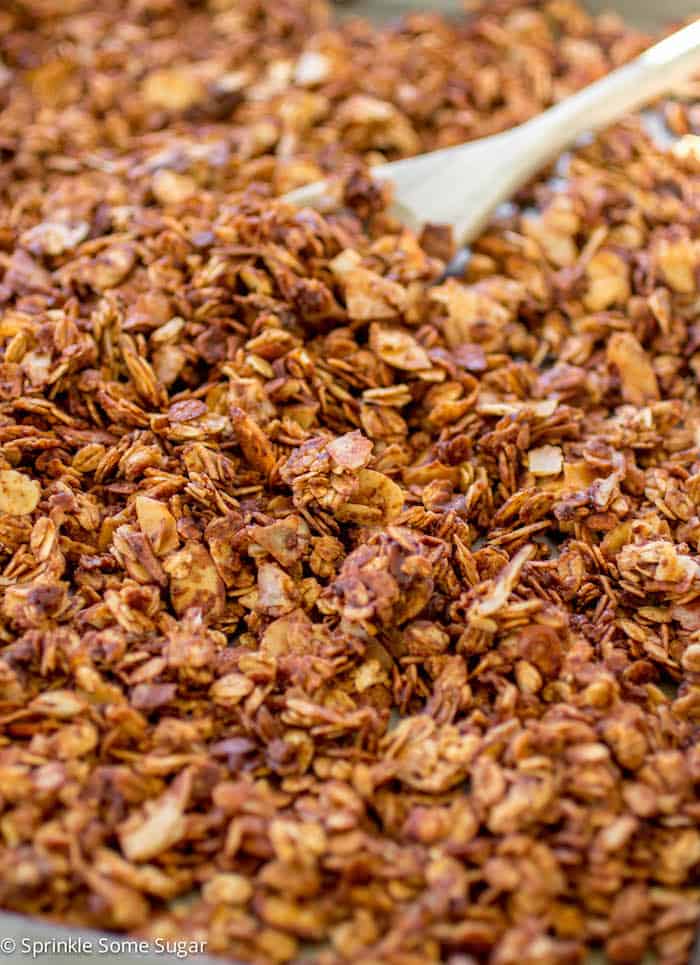 I tried this recipe from a batch of granola my brother-in-law's girlfriend brought over and knew I had to share it with you guys – with her permission of course! Christina has her own business dedicated to helping others achieve a healthier lifestyle so she's always creating sinful recipes that are secretly healthy. I'm lucky enough to be one of her taste testers! Be sure to check out her instagram page for lots of health, fitness and recipe inspiration: @itsmyfitlife and stay tuned for her website coming soon!
Onto the ingredients in the granola, we've got some crunchy rolled oats, sliced almonds for texture, coconut sugar and agave nectar for healthier sweetener options, coconut oil to help with texture, coconut shavings for sweetness and dark chocolate to make everything chocolate-y and delicious! I just love coconut and dark chocolate together. If you don't like coconut, you can feel free to substitute another add-in such as craisins or any dried fruit of choice.
This granola gets mixed up real quick and is baked low and slow in a 250 degree oven for a little over an hour. Once the granola comes out, you'll want to allow it to cool for about 5-10 minutes and then stir in the chocolate so it doesn't all completely melt in – which actually wouldn't be terrible because hello, chocolate-y goodness.
Dark Chocolate Coconut Almond Granola
Ingredients
3

cups

rolled oats

not quick oats

1/2

cup

coconut sugar

pinch

salt

1

cup

sliced almonds

1

cup

shredded sweetened coconut

1

cup

agave nectar

1

tbs

coconut oil

melted

3/4

cup

chopped cacao 72%

I use one of THESE bars
Instructions
Preheat oven to 250 degrees. Line a large rimmed baking sheet with parchment paper. Set aside.

In a large bowl, stir oats, coconut sugar, salt, sliced almonds and shredded coconut together well. Stir in agave and melted coconut oil until all ingredients are completely moistened.

Spread mixture onto prepared baking sheet and bake for 1 hour, stirring every 20 minutes.

Dark Chocolate Coconut Almond Granola will stay fresh stored in an airtight container at room temperature for up to 7 days.