These brownies. Omg. Am I the only one who hasn't had dulce de leche before? I saw lots of recipes for making your own dulche de leche and what not but it all sounds really intimidating and while I'm always up for a good challenge in the kitchen, I'm also lazy. So I opted for the store bought kind found at my grocery store (if you can't find it, it's most likely in the ethnic section) and really this stuff tastes amazing! It's like caramel on crack. The deep chocolate fudgy brownies are made even better stuffed and swirled with this magical spread.
The brownie recipe I used is my favorite go-to brownies, the same as these peppermint brownies, these cookie dough brownies or these peanut butter frosted brownies. All amazing due to this brownie recipe. So incredibly fudgey and so rich they just melt in your mouth. Add the creamy dulce de leche in the mix and they are made only even more perfect! Alternately, you could use caramel instead of dulce de leche (but why would you?!).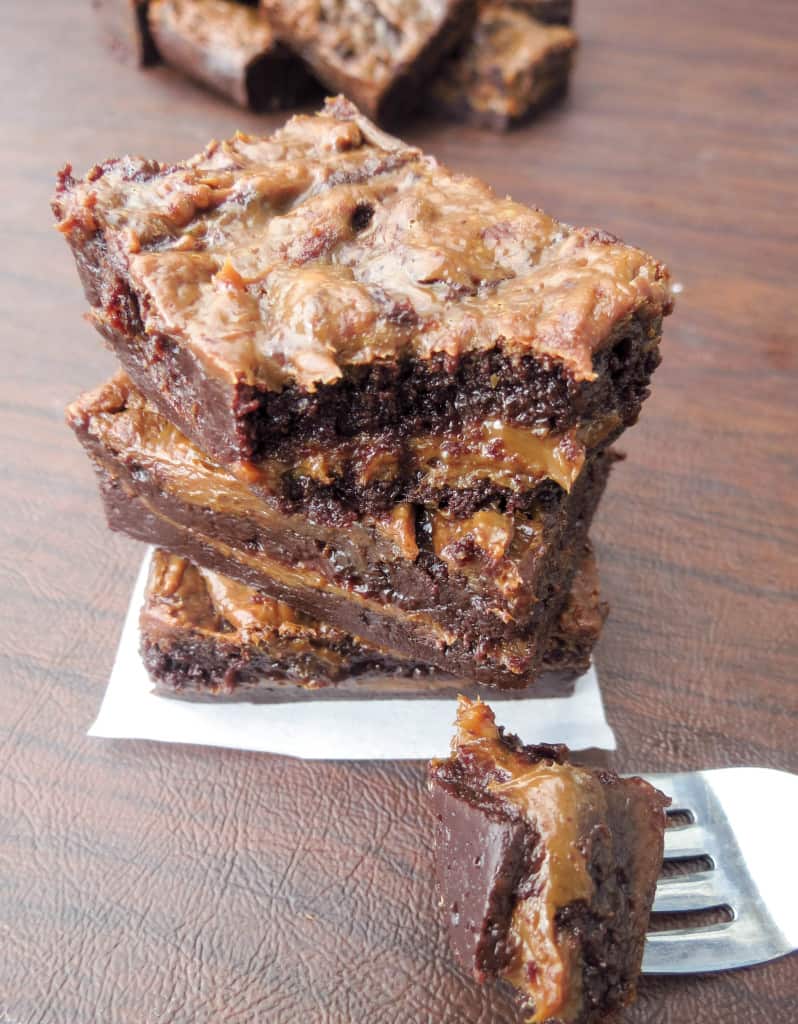 I added the dulce twice in my brownies. First, I split the brownie batter in half, spread one layer down then I spread a layer of dulce de leche on top and swirled it around a bit with a knife. Then, I added the remaining brownie batter and swirled some MORE dulce on top. (When you swirl the top, make sure you don't add too much and leave some space for the brownies to bake up. I didn't do that on my first batch and the middle stayed completely raw the entire time!) Talk about insanely rich. But they are insanely amazing. They bake for 30-35 minutes and once they are done, the edges will pull away from the sides and the middle will be only slightly jiggly.  It's kind of hard to tell when they are done because when a toothpick is inserted in the center it will not come out clean. The middle will be underdone, but this is what makes them fudgy. I let mine cool completely in the pan and then set them in the fridge for about 1 hour so they can set up. Doing it this way makes them sooo fudgy.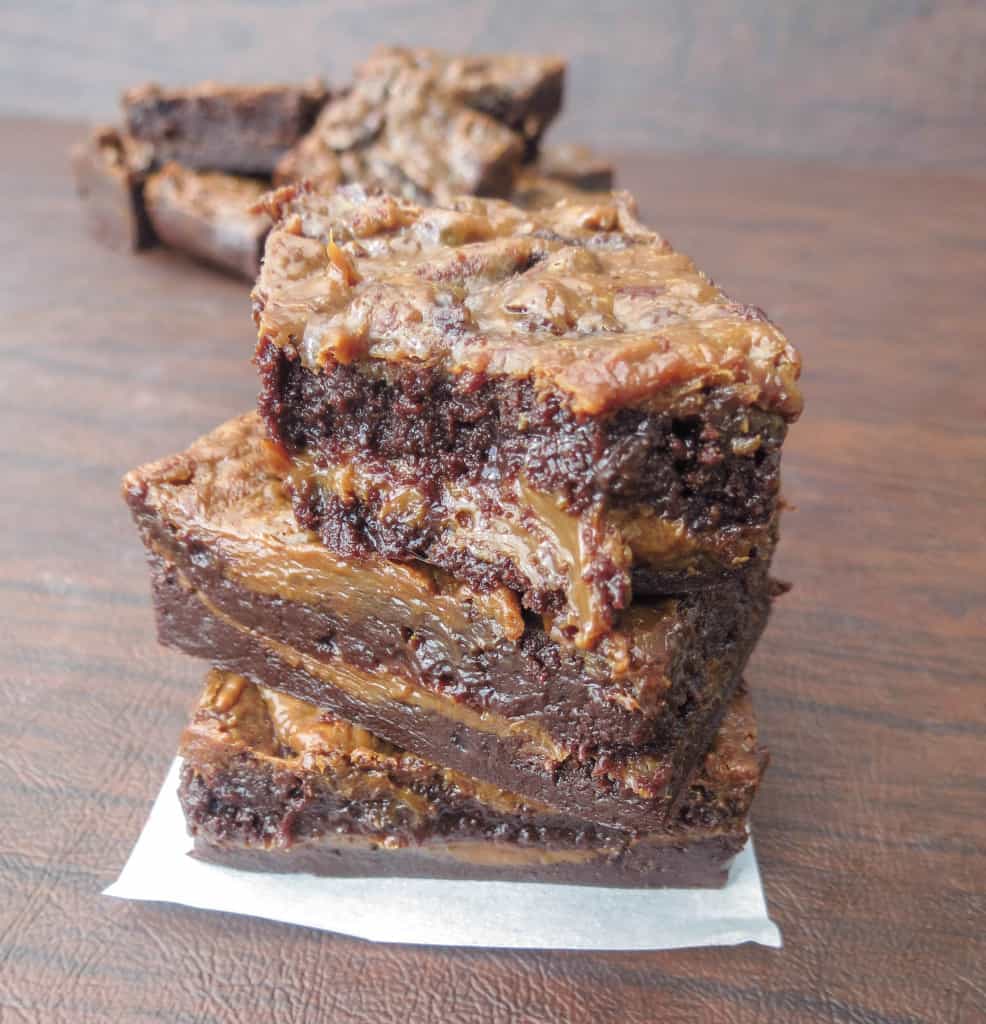 Cinco De Mayo is right around the corner and these brownies are perfect for a deliciously decadent dessert to celebrate!
Dulce De Leche Stuffed and Swirled Super Fudgy Brownies
Ingredients
10

tablespoons

unsalted butter

1 1/4

cups

sugar

3/4

cup

plus 2 tablespoons cocoa powder

1/2

teaspoon

pure vanilla extract

2

eggs

1/4

teaspoon

salt

1/2

cup

all-purpose flour

Prepared Dulce De Leche

homemade or store-bought (I used Nestle La Lechera Dulce De Leche - 13.4oz can)
Instructions
Preheat oven to 325°. Line a 8x8 baking pan with parchment paper, overlapping each side - this makes it much easier to pull out to cool and cut. Set aside.

Place butter, cocoa and sugar in a microwave-safe bowl and microwave for about 1 minute and 30 seconds, or until butter is melted. Mix everything together until smooth. Batter will be very gritty but will smooth out once eggs are added. Add in eggs and vanilla and mix until smooth. Pour in the salt and flour and mix until just combined. Then, mix some more until smooth and somewhat glossy. The batter will be very thick.

Pour half of the batter into your prepared baking pan and smooth it out until level. Dollop some dulce de leche on top of the batter and swirl gently with a knife. Spread the remaining brownie batter on top, making sure it is even and level. Dollop some more dulce on top (I like to make three vertical lines and swirl with my knife in 3 horizontal lines going over the vertical.) and swirl with a knife gently.

Bake for 30-40 minutes or until a toothpick comes out slightly moist with a little bit of batter left on it - underbaking is what makes them fudgy. Let them cool completely in the pan then set them in the fridge, covered, for 1-2 hours until they are set. Let them come to room temperature or you can serve them cold if you'd like.

Brownies will keep for up to 7 days in an airtight container.