[pinterest]
Another quick and easy Easter treat coming at you just in time for the festivities today! Happy Easter everyone! I hope everyone celebrating has an amazing day with friends and family with lots and lots of yummy food and desserts. Today we're going to be going to both my mother's and mike's mother's house to be able to see everybody. This is what usually happens on holidays now that we have our son so we can't leave anybody out! Lol. I whipped up this delicious treat in no longer than 30 minutes. That's all people! In 30 minutes you'll have this bark ready and out on the table for your guests. I don't know why but I have been on SUCH an oreo kick lately. (Stay tuned for a recipe this week!) I had some left over Cadbury mini eggs from when I made coconut macaroon nests (another great Easter goodie!), and I knew I wanted to use them in some kind of recipe before Easter because eating them plain is just.. boring. So! I decided to make this yummt bark using white chocolate, dark chocolate, oreos and cadbury mini eggs. Sooooo yum! You can really add anything you want to this bark or even leave it plain with just the two layers of chocolate! It's completely customizable and so, so easy – only 4 ingredients!!
The chocolate stays so smooth and creamy while staying slightly hard. The Cadbury eggs are obviously the star of the show here, but the oreos really make this bark pop! The crunch of the oreos is the perfect contrast to the smooth chocolate.
If you want a quick and easy treat that everyone will love, this is the way to go! Have a great day everybody.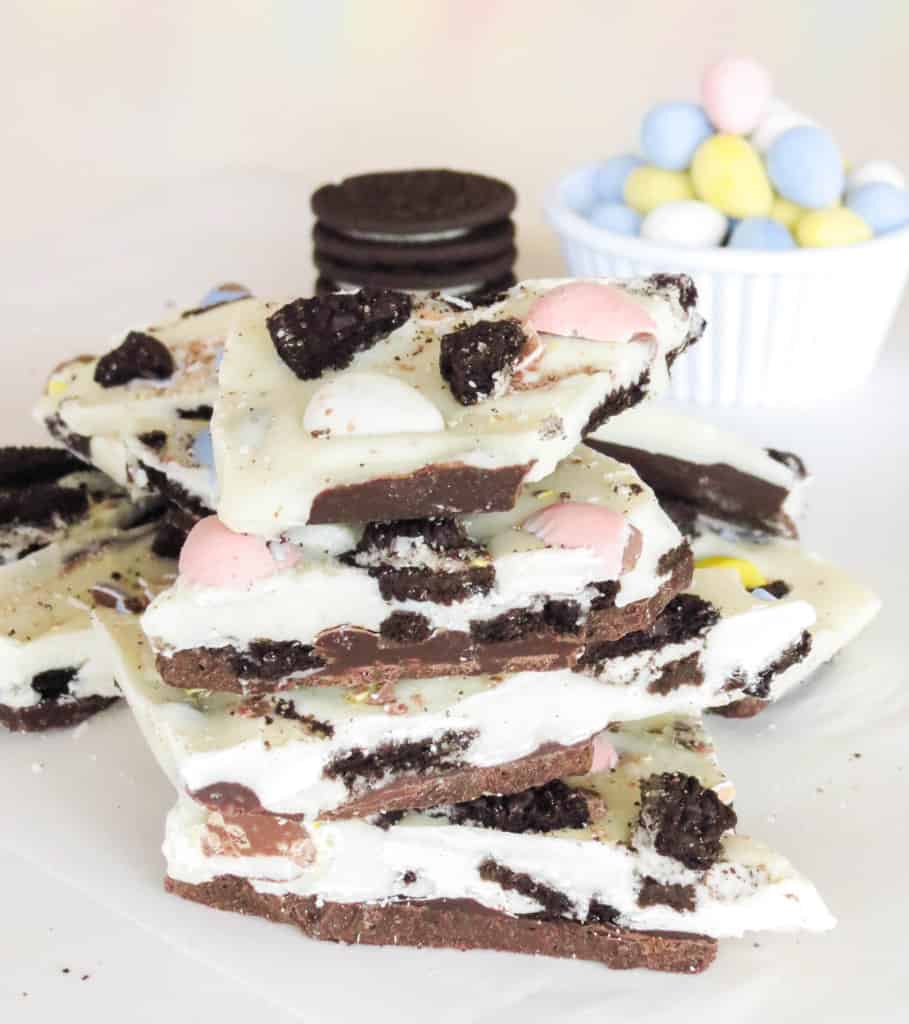 [pinterest]
Ingredients:
10 oz white chocolate chips
10 oz dark chocolate chips
4-5 oreos, cushed
8-9 Cadbury Mini Eggs, chopped
Instructions:
Line an 8x8 pan with parchment paper or aluminum foil, set aside.
Melt dark chocolate in microwave until smooth and pour into prepared pan. Sprinkle some oreos on top, press down so they stay put. Place pan into freezer for about 10 minutes. Melt white chocolate and spread it over top of the dark evenly. Work very fast because the white chocolate will start to harden from the bottom layer being so cold! Quickly sprinkle the chopped Cadbury eggs and remaining crushed oreos on top and press down so they stay put. Place in freezer for another 10 minutes or until the chocolate is completely hardened.
Break up bark with hands or cut with a warm knife to make clean cuts. (Heat knife under hot water then wipe off and cut while it's still hot - repeat after each cut.)
Bark will keep for up to 7 days in an airtight container.
https://www.sprinklesomesugar.com/easter-cadbury-oreo-bark-2/