With just a few simple ingredients, this apple cider comes together in no time at all and the result is amazing!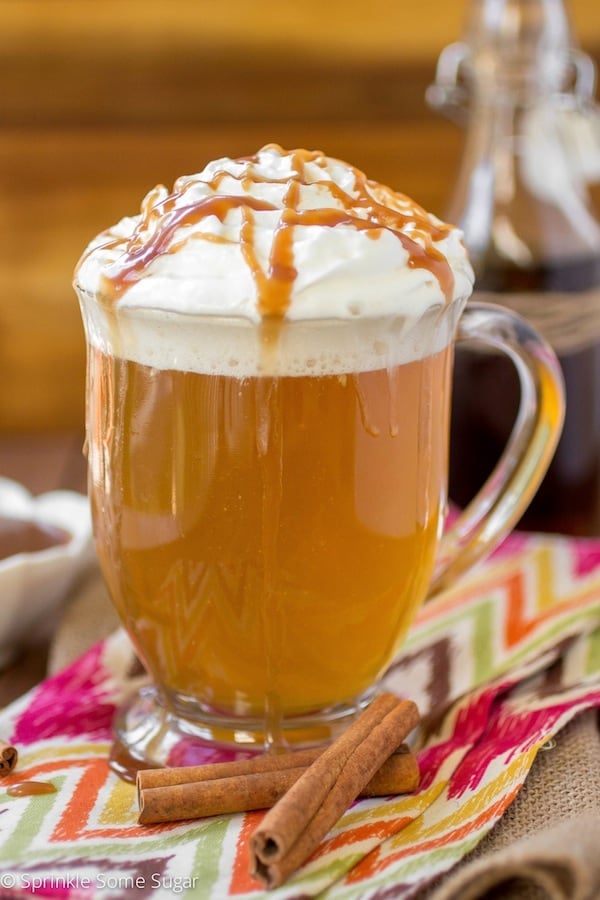 This easy caramel apple cider is one of my most favorite drinks for Fall! It is essentially apple cider but it's made with homemade cinnamon syrup and concentrated apple juice to make it super flavorful. Remember the cinnamon syrup I shared with you guys a few weeks back? It's the same one I used in this recipe. If you've ever been to Starbuck's and had their caramel apple spice drink, this is literally the exact same thing! Apple juice – check, cinnamon syrup – check, whipped cream – check and caramel drizzled on top – check! The only difference is that my apple juice isn't steamed, it is simmered on the stove until cooked down to half the size to make it super concentrated and extra flavorful.
This drink takes no time at all to make and extremely minimal prep work. You can make the cinnamon syrup ahead to have on hand and keep it in the refrigerator for the season. If you aren't making it ahead of time, you can make it while your apple juice is simmering because it will take almost the same amount of time for both to be done.
This is the perfect drink to enjoy while curled up on the couch by the fire during those chilly nights!
[pinterest]
Easy Caramel Apple Cider
Ingredients
6

cups

apple juice

1

recipe cinnamon syrup

whipped cream

optional

caramel

optional
Instructions
In a large pot, bring apple juice to a gentle boil then turn heat to low and simmer for 20 minutes or until it reduces to half. Pour into mugs and stir 2-3 tbs of cinnamon syrup into each serving or as much as you desire. Top with some whipped cream and a drizzle of caramel.
[pinterest]