Officially the most addicting snack ever. The end.
Brrrrrr. It is FREEZING here in New Jersey. It's been snowing almost everyday! Did I mention how much I loathe the snow? And the cold, for that matter. I really need to move to like, California or something. I would be fine with never seeing snow again! When it's cold like this, I love to make little snacks to pick on. (Everything in moderation, right? 😉 ) These French Toast Muddy Buddies are absolutely the most addicting snack ever. Who knew that plain old Rice Chex cereal could turn into something so amazing? Whoever created the muddy buddy/puppy chow idea, I love you. Actually, while we're on that subject.. what do you guys call this stuff? Muddy buddies? Puppy chow? I never know what to call it so I kind of call it both. This snack mix is supercharged with cinnamon and maple flavor. To really go with the whole french toast theme, I used french toast cereal in the mix. I happened to have some in my pantry, which originally gave me the inspiration for this recipe!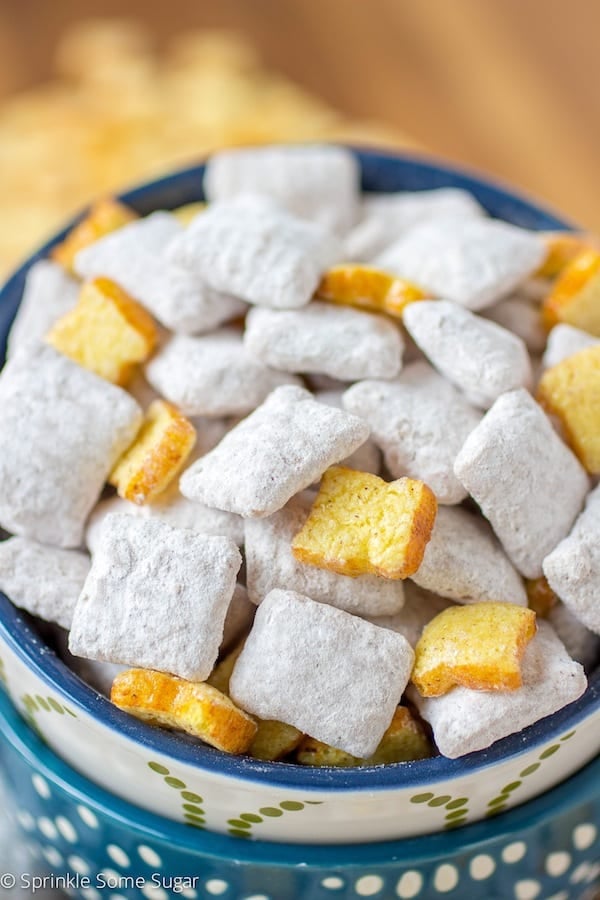 Wait, rewind.. have you ever had french toast cereal? Doesn't it remind you of your oh-so-sugary childhood?! I can't believe that brought it back. I have just been staring at it in my pantry for about a week so I finally decided to just use it in a recipe rather than have a big bowl of the sugary stuff. It is so, so freakin good though and goes just perfectly with the flavors of this snack mix! I really, and I mean really tried to stay away from this stuff but it is just so. addicting. I kept coming back for "just one more handful.. just one more handful" and before I knew it almost every time I would pass this delicious stuff staring me in the face on the counter, I was picking at it. That's when I gave it away to some of my family because I clearly have no self control.
You will love the flavors of cinnamon, maple and of course french toast in these yummy muddy buddies. This is the best combination I've made yet!
[pinterest]
French Toast Muddy Buddies
Ingredients
4

cups

Rice Chex Cereal*

8

oz

vanilla Candiquik

3

tsp

cinnamon

divided

1

tsp

maple syrup

1 1/2

cups

confectioner's sugar

1

cup

French Toast Cereal
Instructions
Measure out cereal into a large bowl and set aside.

In a large zip lock bag, add confectioner's sugar and 2 teaspoons of cinnamon. Mix it up so cinnamon is evenly distributed and set aside.

In a separate microwave-safe bowl, melt candiquik in the microwave until completely smooth and pourable. Stir in 1 teaspoon of cinnamon and maple syrup. Pour this mixture onto the rice chex cereal and quickly but gently stir to coat every piece entirely. Be sure to get every last crevice if you can because the sugar will not stick on parts that aren't covered well.

Carefully dump mixture into zip lock bag with sugar and cinnamon, close the bag, and shake back and forth until all cereal has a nice even coat of sugar. This step is optional, but I like to dump the mixture into a strainer and give it a little shake to remove excess sugar.

In a large bowl, layer the french toast cereal and muddy buddies together and serve.
[pinterest]