[pinterest]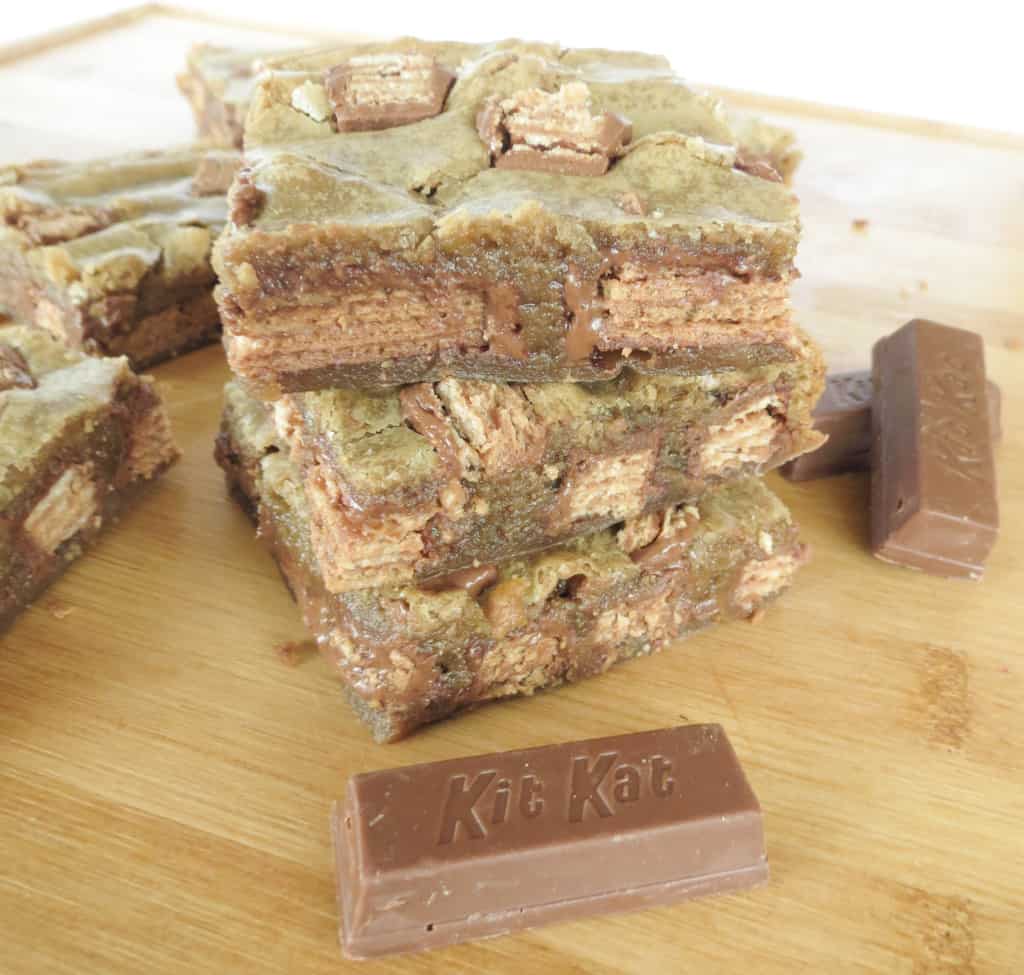 How amazing are kit kat bars? I had a big bag of mini kit kats still sitting in my pantry from christmas (yes, those are the kinds of things that get stuffed in my stocking) that were just begging for me to stuff them in some gooey blondies! Blondies are a great bar to use for any left over candy you want to get rid of. I have made some with m&m's also, but they taste amazing with absolutely anything in them! They have some pretty basic ingredients that everyone usually has in their pantry already which makes them even more perfect! With only 6 ingredients, plus whatever add-ins you'd like to throw in them, they literally come together in under 5 minutes plus baking time. And because they use melted butter, there is no mixer required! Even easier! One less thing I have to clean is an amazing bonus in my book.
The brown sugar in these blondies caramelizes while baking, creating some amazing caramel undertones, lending so much incredible flavor. If you haven't had a blondie before, you need to make these immediately. I am a complete chocoholic at heart and was iffy about ever making blondies because I always thought that they could never compare to chocolate brownies. But boy, was I wrong! They are so amazingly chewy and when I bake mine, I underbake them just a bit so they stay nice and chewy. Just like I do with any of my cookies. These are one of my favorite go-to treats when I am either crunched for time or just want an easy delicious bar!
To make these, you mix up the ingredients in no time at all, spread half of the batter into a parchment lined pan, then scatter some kit kat bars in rows. I made a border around the pan and then made straight rows filling in the square going in the same direction. They won't completely line up and that's okay, just make sure you leave a bit of room on the edges so the batter can fill around the bars and meet the batter on the bottom half. Once the kit kat bars are placed, press down a bit so when you add the second layer of batter, they don't move around as much. The batter is extremely thick, so spreading it over the kit kats is a little annoying, but if you do a little bit a time you'll be fine. Once all areas are covered and you can't see any kit kats, sprinkle some chopped kit kats on top and press down. Bake for the recommended amount of time and let cool completely before cutting into them.Now, all you have to do is cut them up and enjoy! 🙂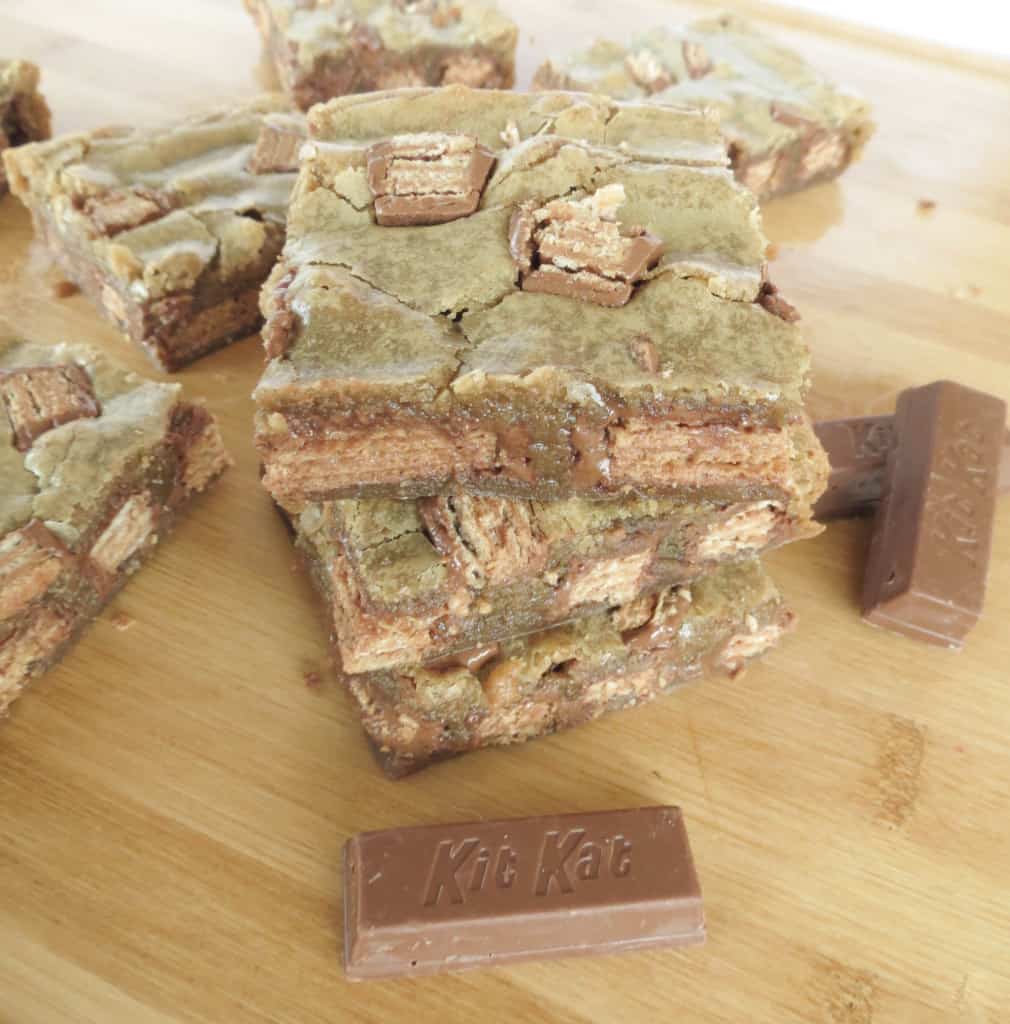 The kit kats stay crunchy and the chocolate around them gets nice and melty and soft. Every bite is gooey and delicious!
[pinterest]
Gooey Kit Kat Blondies
Ingredients
1/2

cup

unsalted butter

1

cup

light brown sugar

2 1/2

tsp

vanilla

1

egg

1

cup

flour

optional pinch of salt

28-30

mini kit kat bars

singles
Instructions
Preheat oven to 350°. Line a 8x8 baking pan with parchment paper and set aside.

In a microwave safe bowl, heat butter in microwave until completely melted. With a spoon, stir in brown sugar until smooth. Add in egg and vanilla until combined. Incorporate the flour and mix until just combined. Spread half of the mixture into prepared baking pan and make sure top is level. Place kit kats on top. I made a square border around the pan (leave room around the edges for the batter to fill around them) and then placed the rest in straight lines filling the square in one direction. If they all don't line up, that's okay it won't make a difference. Once the kit kats are where you want them, press down a bit so they stay in place better when smoothing the second half of batter on top.

Start spreading the rest of the batter on top. Do this in small sections as the batter is very thick and it makes it much easier spreading it in bits and pieces. Make sure to cover all kit kat areas and around the edges where you left room.

Place in preheated oven and bake for 25-27 minutes. (Mine were done in 26 minutes.) They will appear to be not done, but they will firm up as they cool and be nice and chewy. Once done, let them cool in pan for about 10 minutes. Pul them out by the parchment paper hanging over the sides and let them cool another 10 minutes. Cut them up into bars and enjoy!