Soft, chewy cookies that have a double dose of delicious minty flavor!
Christmas is right around the corner you guys, I can't even believe it! We almost have all of our Christmas shopping done, we just need to get a few more things for John and we're done! It's a miracle. I banged out all of our shopping 2 days ago. 5 hour mall shopping trip with a toddler and he was an angel the entire time, I was amazed. Christmas time is my favorite time of year. Everything is so cozy and all of the decorations and lights just make me SO happy. Lets be real though, the main reason I love Christmas is for the baking! Cookies are being baked out the wazoo around here and I'm loving every second of it. I named these cookies "Grinch Mint Chocolate Chip Cookies" because well, for the most obvious reason, they're green color and for the fact that the Grinch is one of my favorite movies! They are so chewy, so soft and they taste like your favorite minty ice cream.
Speaking of  the Grinch, you guys HAVE to watch this video my cousin Trevor made from some quotes of the movie! His videos are hilarious and this one had me rolling because he's so good at impersonating him. LOL, I just watched it again and I'm cracking up.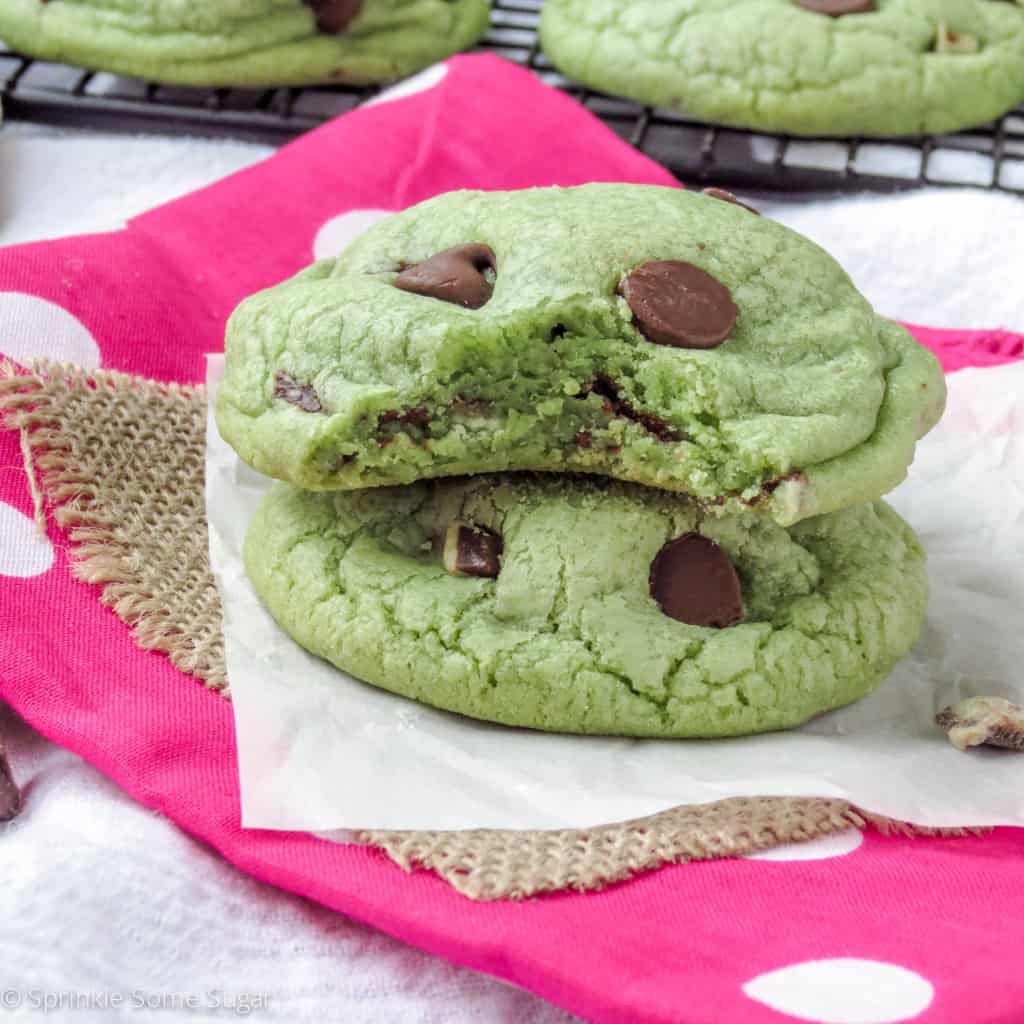 Another one of my cousins, Michelle, actually gave me the idea for these cookies. She is a huge lover of my chocolate chip cookies and makes them all the time but one batch she got creative and added peppermint extract and told me I HAD to try it because they tasted just like mint chocolate chip ice cream. So, of course I listened because it's my favorite and she was right, they're a cookie version of it! So, shout out to Michelle for being the brains behind these delicious cookies! Love ya cuz! Wanna know a funny inside joke kinda thing we have together? When we were younger, remember everyone would be all like bffleaea + a million other letters and stuff like that? Well, we were cousins, but we were best friends too so we came up with "bc4e" : best cousins forever. HA! And we still use it today as a joke sometimes. We're funny.. I know.
The cookies are perfectly minty due to the peppermint extract and to up the minty flavor I threw in some Andes mint chips. I added in some green food coloring just for fun, but you can feel free to leave it out if you just want a plain colored cookie. They're so super soft, chewy and I just know you're going to love them!
[pinterest]
Auto Draft
Ingredients
3/4

cup

unsalted butter

melted

3/4

cup

light brown sugar

1/4

cup

granulated sugar

1

egg

1

yolk

2

cups

all-purpose flour

1

box instant vanilla pudding MIX

1

tsp

baking soda

pinch

salt

1/4-1/2

tsp

peppermint extract

green food coloring

optional

1/2

cup

Andes mint chips

found in the baking aisle

1/2

cup

semi-sweet chocolate chips
Instructions
Preheat oven to 350 degrees. Line two baking sheets with parchment paper, set aside.

In a large bowl, combine both sugars and melted butter and mix until smooth. Add egg, egg yolk, vanilla, peppermint extract (start with 1/4 tsp and add more from there - the stuff is extremely potent!) and green food coloring until desired color is achieved. Stir until completely combined. Pour in pudding mix, flour, baking soda and pinch of salt and stir until just incorporated. Don't over mix. Fold in Andes mint chips and chocolate chips (I reserve about 2 tbs of each to press into the tops of dough balls before baking) until evenly distributed.

You may chill your dough for 30 minutes for thicker cookies (chilling is best for hot days). If not chilling, roll dough into 2 rounded tablespoons of dough and place 1 1/2-2 inches apart on baking sheets. If you reserved chocolate chips or mint chips, press into the tops of cookie dough balls now. Bake cookies for 11-12 minutes. Cookies will be underdone but will set up when they cool and stay very soft. Allow them to cool on baking sheets for 7-10 minutes until able to be handled without breaking apart before transferring to wire racks to finish cooling.

Grinch Mint Chocolate Chip cookies will stay soft and fresh for up to one week stored in an airtight container.
[pinterest]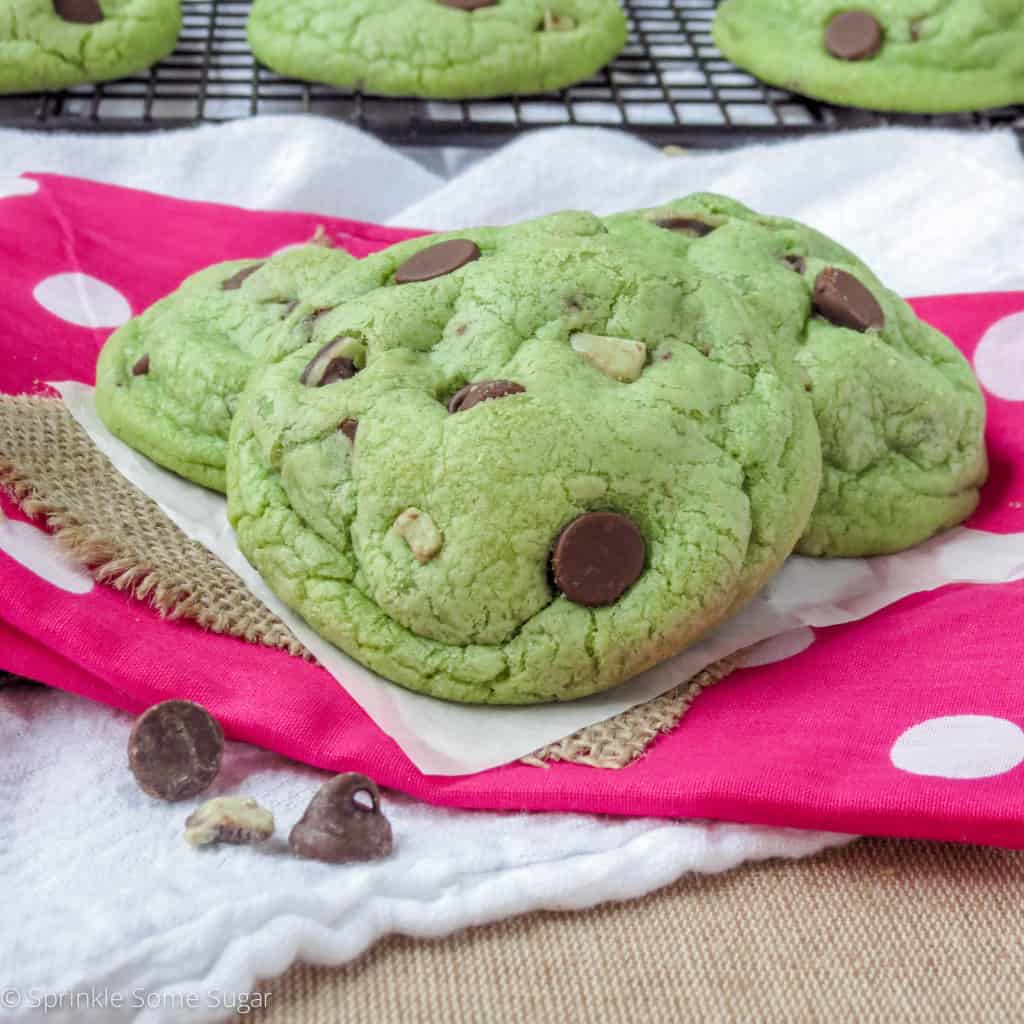 [pinterest]