A buttery vanilla cake loaded with sprinkles and topped with a creamy vanilla frosting.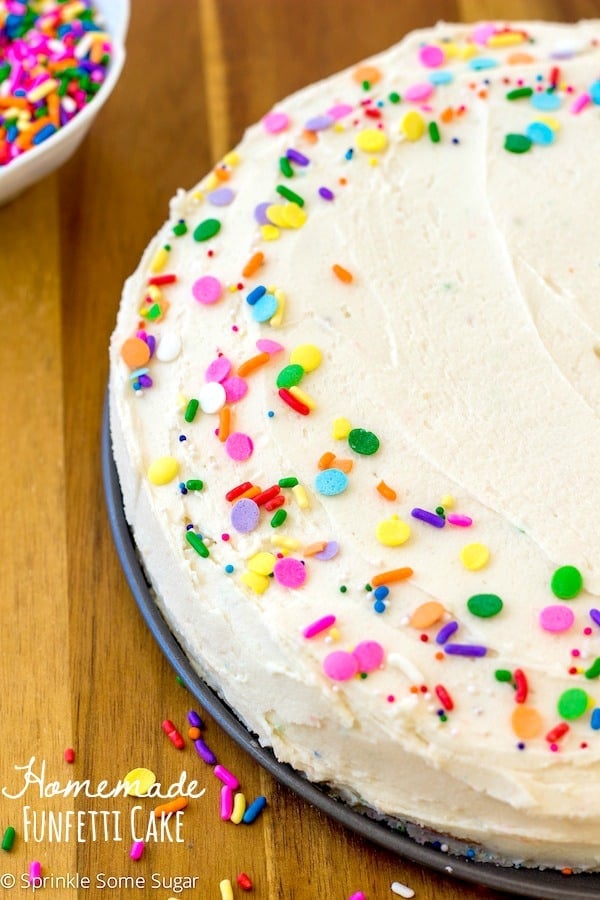 If you asked a whole room full of people what their favorite kind of cake was, I bet more than half would answer with "funfetti." I know I would! It is my favorite kind of cake and I am a sucker for the boxed funfetti mixes because I mean really, they are too delicious to not make every once in a while. What if I told you that you can make a from scratch version without a super long list of ingredients of un-pronounceable words that tastes is even better? Everything is better homemade. Fact.
Baking anything with sprinkles instantly makes my day better. And this coming Sunday (the 12th!) is my birthday, it seems like the perfect time to post something that makes me happy! 🙂 This recipe is the same one I used for my homemade funfetti cupcakes. You may not know this, but sometimes it's difficult to interchange a cupcake recipe to make into a cake and vice versa but this one was a winner! I tested it twice just to make sure and it came out perfect each time.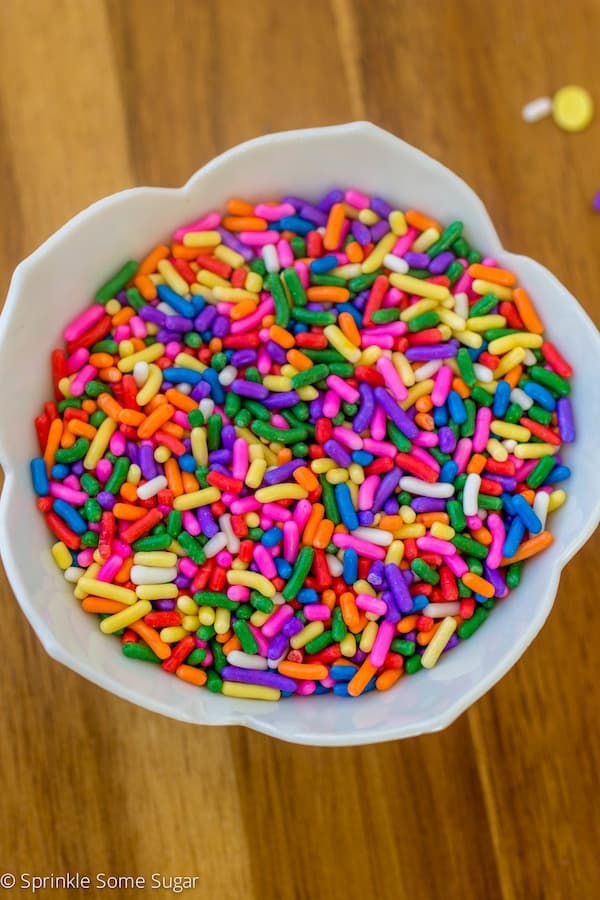 The cake is super moist just like the cupcakes and the flavor is just incredible. It is so buttery and vanilla-y, it's delicious. I had to force myself away from the cake when I was done shooting these photos. Ahem.. maybe I actually ate the slice you see here. And another piece after dinner.
I love anything funfetti. Funfetti ice cream? SO good. Literally the best ice cream I have ever, ever, ever made.
The fluffy vanilla frosting is my favorite part because a funfetti cake isn't complete without the vanilla frosting! I used my favorite recipe that I use all the time whenever vanilla frosting is needed. It's no-fail and super delicious! I use a mixture of unsalted and salted butter because I feel when you use the two together, it gives the perfect amount of salt to balance the sweet with an added pinch of salt to the batter. If you don't have both on hand though, feel free to just use unsalted butter and adjust the salt to your liking. Also, heavy cream is used for the creamiest texture but you may also use half and half. Using milk is okay too, but it will not be as creamy. See? I always have options for ya.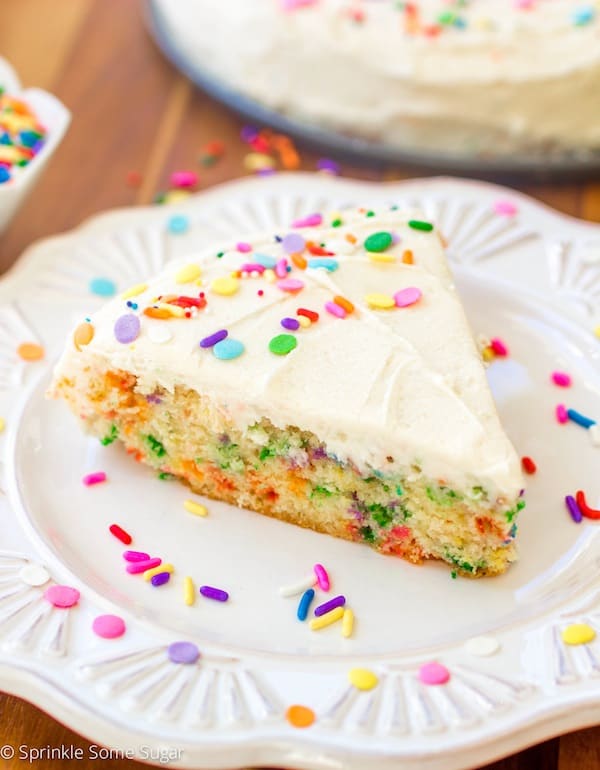 Ditch the box mix people, because you're in for a real treat!
[pinterest]
Homemade Funfetti Cake With Fluffy Vanilla Frosting
Ingredients
*Funfetti Cake*
1 1/2

cups

all-purpose flour

1

cup

granulated sugar

1 1/2

tsp

baking powder

pinch

salt

1/2

cup

unsalted butter

softened

1/2

cup

sour cream

I use full fat

1

egg

2

egg yolks

2

tsp

vanilla extract

1/2

cup

sprinkles

NOT non-pareils
*Fluffy Vanilla Frosting*
1/2

cup

unsalted butter

softened to room temperature

1/2

cup

salted butter

softened to room temperature*

4 1/2

cups

confectioner's sugar

2-4

tbs

heavy cream

2

tsp

vanilla extract

pinch

of salt or to taste
Instructions
Preheat oven to 350 degrees. Grease, flour and line 1 9" round baking pan with parchment paper. Set aside.

In the bowl of your stand mixer, whisk - using a regular whisk or the whisk attachment - the flour, sugar, baking powder and salt together very well. Change to the paddle attachment. Make a well in the center and add the softened butter, sour cream, egg, egg yolks and vanilla. Beat on medium speed until just combined and smooth. Do not over-mix! Fold in sprinkles by hand. Pour batter into prepared baking pan. Bake for 30-35 minutes. Check on the cake at 20 minutes and if you notice the top is browning too fast, cover the pan loosely with aluminum foil and bake until done. Cake is done when a toothpick inserted into the center comes out clean. Allow to cool in the pan for 20 minutes on a wire rack, then invert cake onto the wire rack out of the pan to finish cooling completely.

While cake is cooling, prepare the vanilla frosting. Beat the butter on medium speed with a hand or stand mixer until smooth with no lumps. Turn the mixer on low speed and add the confectioner's sugar, cream, vanilla and salt. Once the sugar is combined, turn to high speed and beat frosting until light and fluffy. If it seems too thick, add more cream and if it is too thin, add more confectioner's sugar. Once the cake is cooled completely, frost and decorate as desired. You may have some leftover frosting depending on how much you use.

Homemade Funfetti Cake With Fluffy Vanilla Frosting will stay fresh and moist for up to two days stored in an airtight container at room temperature.
Notes
Notes:
*I like to use a mixture of salted and unsalted butter in my vanilla frosting because I think it gives it the perfect balance of salt. If you don't wish to use both, you may use only unsalted and adjust the salt to your liking.
*You can also make this recipe into 12 cupcakes.