A perfectly tender, buttery, vanilla cupcake topped with the creamiest Nutella frosting. One word: Heaven.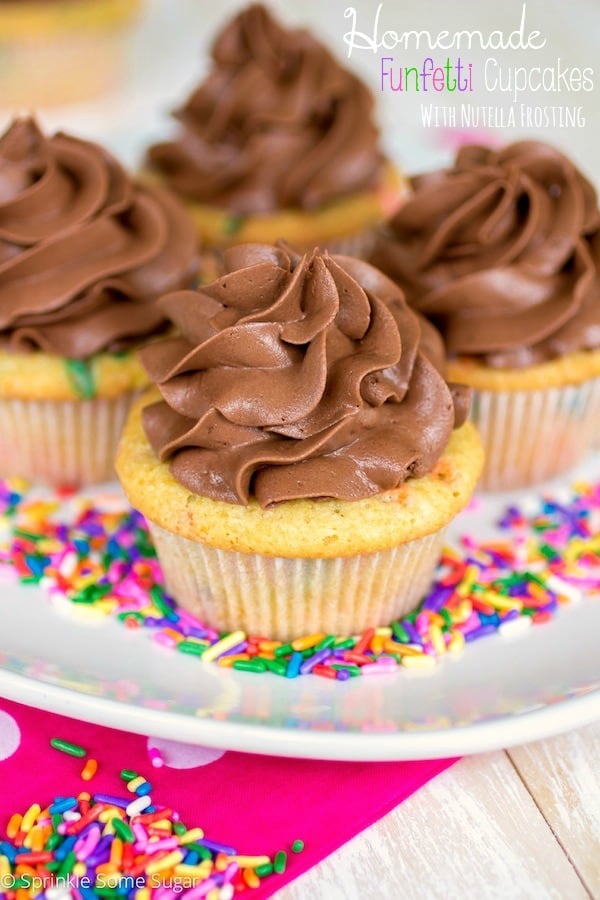 Oh my word. I have been searching for the perfect vanilla (yellow) cupcake for FOREVER. The search is finally over. Every recipe I have tried doesn't come out exactly how I like. Some will come out tasting pretty good, but have a crappy texture – or vice versa. This recipe has changed the game. They are absolute perfection! A perfectly buttery + vanilla flavor with a perfect delicate, light crumb. A+ in both taste and texture! And obviously, an over abundance of SPRINKLES. Because sprinkles make everything better.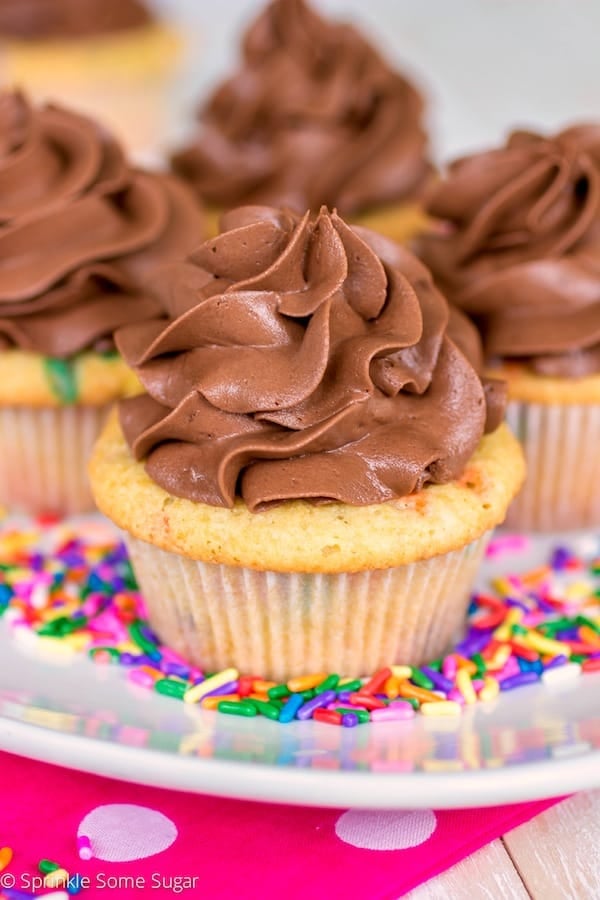 I paired these cupcakes with a Nutella frosting. Because, why not? I was going to go with a regular chocolate frosting but then I remembered a recipe using Nutella frosting I posted a while back. It was one of the first recipes ever posted on my blog. Wanna see? Don't laugh. You better not laugh. *cringing* Those cupcakes were GOOD though. Anyways, I tweaked that frosting recipe bit and it's SOO good. I mentioned the other day how I started a diet. It's been torture not being able to eat the things I make! I just taste test, make sure it's good and that's the end. This frosting though.. I just couldn't help myself! It was so freaking delicious I could have sat there and ate the entire bowl with a spoon.
I love the texture of these cupcakes so much! They are delicate and soft, but can stand up to lots of frosting. The flavor is out of this world! A good homemade vanilla cupcake is so hard to come by. Especially when it's so easy to go to the store and buy a box of funfetti mix (I still love you). But these cupcakes taste even better than the box! They taste so buttery, and are loaded with extra yummy vanilla flavor. They're everything you're looking for in a vanilla cupcake.
Two tips I have for you: Don't over-mix the batter and do not overfill the liners! These rise quite a bit so if you fill them too much, they will spill over the sides. Less is more in this case.
These Homemade Funfetti Cupcakes With Nutella Frosting are so perfect for a special celebration or if you just really need a pick-me-up because for me, I know sprinkles instantly brighten my mood! 🙂
[pinterest]
Homemade Funfetti Cupcakes With Nutella Frosting
Ingredients
*Funfetti Cupcakes*
1 1/2

cups

all-purpose flour

1

cup

granulated sugar

1 1/2

tsp

baking powder

pinch

salt

1/2

cup

unsalted butter

softened

1/2

cup

sour cream

I use full fat

1

egg

2

egg yolks

2

tsp

vanilla extract

1/2

cup

sprinkles

NOT non-pareils
*Nutella Frosting*
1/2

cup

Nutella

1/2

cup

unsalted butter

softened

2

tbs

cocoa powder

1

cup

confectioner's sugar

2

tbs

heavy cream + more if needed
Instructions
Preheat oven to 350 degrees. Line muffin tin with paper liners, set aside.

In the bowl of your stand mixer whisk - using a whisk or even the whisk attachment - the flour, sugar, baking powder and salt together very well. Change to the paddle attachment and beat softened butter, sour cream, egg, egg yolks and vanilla on medium speed until just combined and smooth. Do not over-mix! Fold in sprinkles by hand. Distribute batter evenly into liners abut 2/3 full. Do not go any higher than that or they will spill over the sides. Bake for 18-22 minutes or until the tops spring back and a toothpick inserted into the center comes out clean. Allow to cool in the pan for 5 minutes or until cool enough to handle and transfer to wire rack to finish cooling completely before frosting them.

For the frosting, cream butter and Nutella together until smooth and no lumps remain. Add cocoa and confectioner's sugar and beat again until smooth. Add heavy cream one tablespoon at a time until your desired consistency is achieved. Once cupcakes are completely cool, go ahead and frost them.

Homemade Funfetti Cupcakes With Nutella Frosting will stay fresh for up to 4 days stored in an airtight container at room temperature.