Insanely flavorful and absolutely amazing. Totally worth the effort it takes to make them!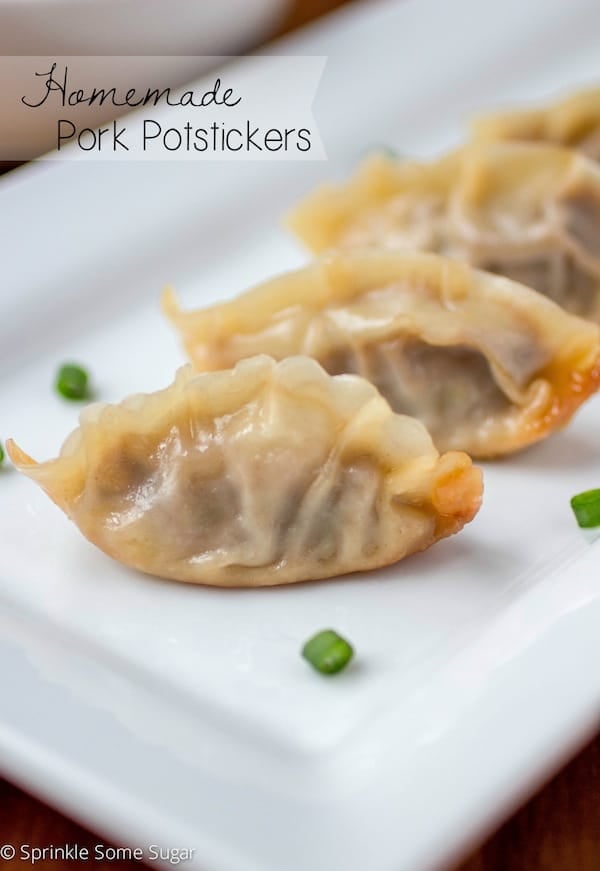 Sometimes I get these crazy cravings for foods. Like, so bad that it will consume my thoughts until I finally cave and make it. This has happened with these chocolate chip muffins, truffle brownies and basically everything you see here on this little old blog… BUT, making homemade potstickers have been stuck in my mind ever since the first time I laid eyes on them at PF Changs a few years back. Every single time we go there, there's not even a question about what we're getting as an appetizer. And, I kid you not people, these really do taste JUST as amazing as theirs! If not, better. I was amazed.
I have made these little bite sized pieces of heaven twice in two weeks. They're so freakin' delicious that after I took these photos I miiiiight have eaten the entire platter you see here. I won't admit to it though.
As amazingly scrumptious as these babies are, I will say that preparing them is very tedious. As in, grab a chair and sit down because you'll be there them for a while. Just kidding, it really doesn't take THAT long and it's not hard work either. Just lots of filling, folding, pleating, filling, folding, pleating.. Again and again and again. And to make the work harder for myself, I can only find square won ton wrappers where I live and to me the square ones don't look as pretty as the finished product that the round ones give. So, each one I cut with a round cookie cutter to make them circular. I swear I really have issues.. Ha! So, if you can find round ones, that's great. If not, you can still use the square ones, they will just have to be folded differently.
I just like to keep it simple when it comes to this filling because simple is best when it comes to these potstickers in my opinion. If I went crazy with adding all kinds of vegetables, I'm not sure they would taste as good. The only "vegetable" used in them is cabbage just to give them a little bit of texture. And I have to say, it's seriously awesome. It really tastes authentic. *pats myself on the back* Feel free to add finely sliced carrots, mushrooms or anything you'd like to the filling to make it your own.
If you want an insanely delicious dish to impress your family or special guests, these homemade pork potstickers are totally it.
[pinterest]