This shop has been compensated by Collective Bias, Inc. and its advertiser. All opinions are mine alone. #FallMrCoffeeMoments #CollectiveBias
A coffeehouse style iced caramel spice coffee made easy in your home with a few simple steps!
I have the most super simple recipe for you guys today! It's my new favorite way to drink coffee every morning. I'm the kind of iced coffee drinker that it doesn't matter if there is snow on the ground and it's below 0 degrees.. you'll always find me with an iced coffee in my hand! Although, I have been venturing out a bit with hot coffee trying to make myself like it ha ha but I alwayssss come back to iced. First, lets talk brewing coffee. Brewing coffee has always been such a daunting task for me because I seriously ALWAYS make the worst coffee. It's always either too weak or way too strong.
I'm going to let you in on a little secret – whether I am drinking hot or iced coffee, I keep this Mr. Coffee® Easy Measure 12 Cup Programmable Coffee Maker coffee maker on my kitchen counter and I use it every. single. day. Let me tell you, it is SUCH a game changer! It's so easy to use and not complicated at all and comes out perfect every time. I never could get the correct ratio of coffee : water but using this system makes it fool proof! Mr. Coffee® makes it super simple to make great coffee so we can all get on with our day! (Well caffeinated, that is.)
Some key features that I want you guys to know about before we get onto the recipe for this delicious coffee.. The color coded measuring system is super easy to follow and gives you guidance for the right coffee ground to water ratio for a consistently better tasting cup of coffee.
Two awesome things I love about this machine is it will automatically shut off in 4 hours – you know I have super mom brain with a newborn in the house. And the other thing is the freshness reminder that pops up as an illuminated display and tells you how much time has passed since you brewed the coffee!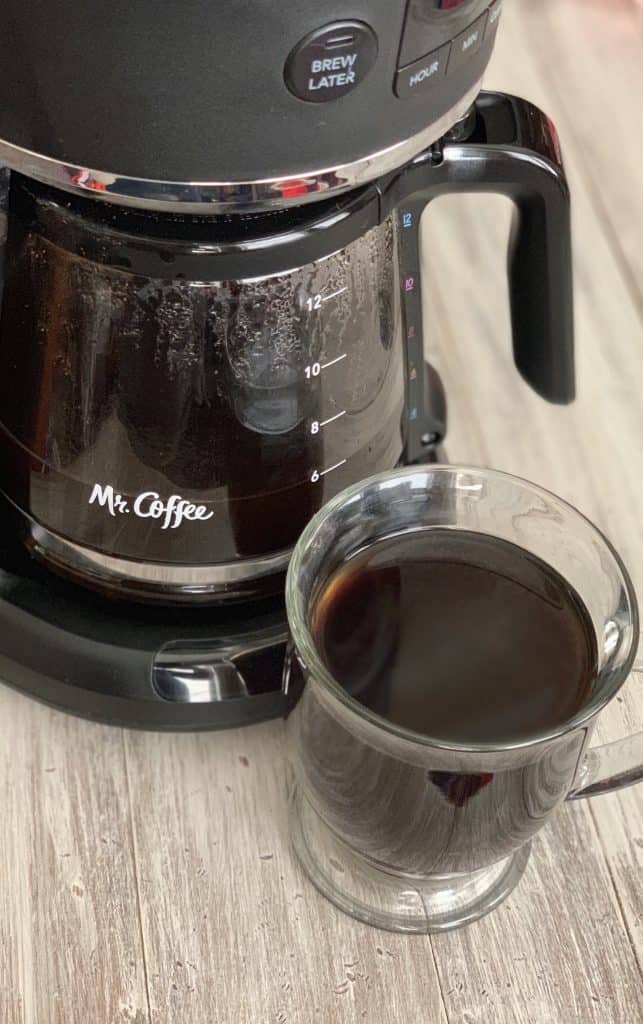 For this iced coffee, I like to brew a big batch of coffee and stick it in the fridge to get cold. You can pour it right over ice cubes while it's hot, but you'll have watered down coffee. OR if you're fancy and have coffee ice cubes, there's a good solution to non-watered down coffee! Once the coffee is cold, drizzle some caramel in a glass, add some cinnamon coffee syrup (you can find my recipe HERE), ice cubes and pour in the coffee! I like to add a splash of caramel coffee creamer to give it a little more flavor but you can use plain cream or milk.
Top it off with some whipped cream and garnish with caramel and you've got yourself a caramel spiced iced coffee!
Iced Caramel Spice Coffee
Ingredients
1

cup

cold coffee

1-3

tbs

cinnamon syrup

caramel topping

ice cubes

creamer
Instructions
Brew a fresh pot of coffee and place in refrigerator to make cold. You could skip chilling if you have coffee ice cubes or if you don't mind watered down coffee.

Once cold, take a large glass and drizzle the sides heavily with caramel topping, add cinnamon syrup and ice cubes. Fill it up with cold coffee and splash some creamer to finish it off. Give it a good stir. Top with whipped cream and a drizzle of caramel topping, if desired.
You can snag one of these
Mr. Coffee® Easy Measure coffee maker was awarded as an Editor's Pick at the 2019 Good Housekeeping
Housewares Show!
#NewellHomeRefresh