These are pretty much Summer wrapped up in a tasty little treat! Such bright and fresh flavors.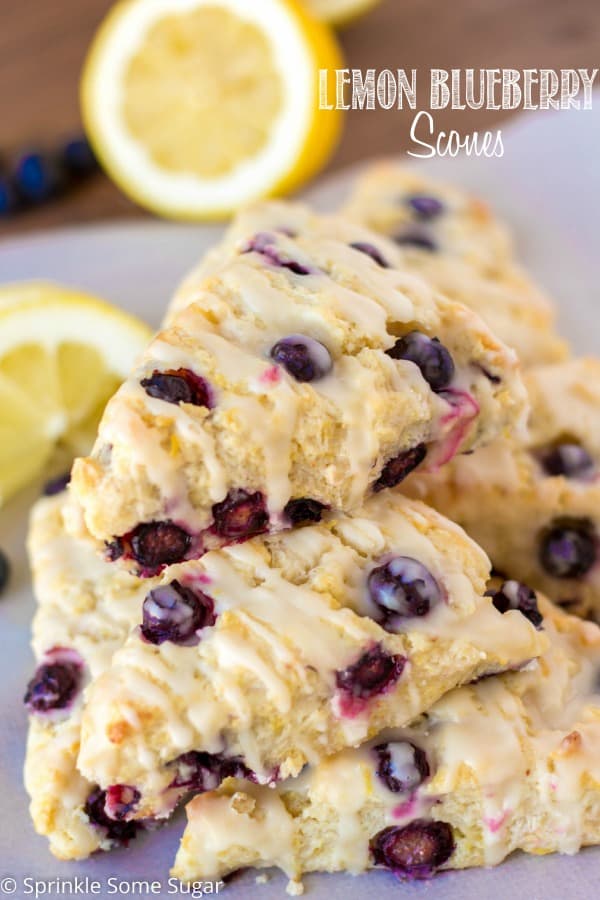 A few months back, I tried my hand at homemade scones (please forgive the photos..). Before then, I was always intimidated by the thought of making these delicate little treats but I'm here to tell you it is so easy! The only trick to making scones is that you need to be extra gentle and not over-work the dough because that will result in a tough, brick of a scone. Yuck. Be super gentle and you'll have tender, perfect slightly crumbly scones every time. Homemade scones are so much better than store bought, not to mention a whole lot cheaper!
When I made these Fresh Orange Scones for Mike on his birthday, you guys totally fell in love with them as much as we did. Ever since I made them (about 20 times since then…..), I have been wanting to switch out the orange for lemon but just never got around to it. Well, my friends. I got around to it last week and threw some blueberries in the mix for some ultra fresh flavors and they were ridic.
Lemon and blueberry just screams summer to me. So fresh, so perfect together. There's something about the combination of lemon and blueberry together that I love ohhh so much. The sweetness of the berries and the tartness from the lemon compliment each other so well. These are pretty much Summer all wrapped up in a tasty little scone.
Mike, who is not a breakfast eater loves when I make scones for breakfast and will scarf down 4 at once if I don't stop him. I love making these on the weekends, for brunches or for birthdays for a special breakfast treat!
[pinterest]
Lemon Blueberry Scones
Ingredients
*Scones*
1/3

cup

sugar

zest of two large lemons

2

cups

all-purpose flour

1

tsp

baking powder

1/4

tsp

baking soda

1/2

tsp

salt

1/2

cup

unsalted butter

frozen

1/2

cup

sour cream

1

large egg

1

cup

fresh blueberries
*Lemon Glaze*
3

tbs

unsalted butter

melted

1

cup

confectioners' sugar

1/2

tsp

vanilla extract

2-4

tbs

freshly squeezed lemon juice
Instructions
Preheat oven to 400 degrees and set oven rack to the middle position. Line a baking sheet with parchment paper, set aside.

In a medium-sized bowl, gently toss flour, baking powder, baking soda and salt. Set aside. In a separate small bowl, whisk sour cream and egg until completely smooth. Set aside.

In a large bowl, stir sugar and lemon zest together until sugar is moistened and zest is evenly distributed. Pour in flour mixture and toss to combine. Grate frozen butter into mixture. Using your hands, work in the butter until the mixture resembles a coarse meal. Gently stir in sour cream mixture until just about combined. Very carefully stir in the blueberries, being careful not to squish them. Do not over work the dough! Again, very gently press the dough against the sides of the bowl a few times and form a ball. The dough will be sticky at first but will come together as you form it.

Place dough on a lightly floured surface and lightly pat into an 8" circle about 3/4" thick. Use a very sharp knife to cut into 8 triangles (like a pizza). Transfer triangles onto prepared baking sheet in a circle shape, leaving about 1" between each one.

Bake scones for 15-17 minutes or until the tops begin to golden. Don't take them out too early or they will be too soft. Allow them to cool for 10 minutes on the pan before transferring onto a wire rack to finish cooling completely. During this time, prepare glaze. Stir together melted butter, confectioner's sugar, vanilla and lemon juice until smooth. Once completely cooled, go ahead and either dip the tops of the scones into the glaze or drizzle it on top with a spoon.
[pinterest]
e847ca7b7c82a4c2ae71dd9b0b75d52f40dad20abff44f234e