These deliciously sweet and tart lemon meringue parfaits are a super fun twist on a tradition lemon meringue pie!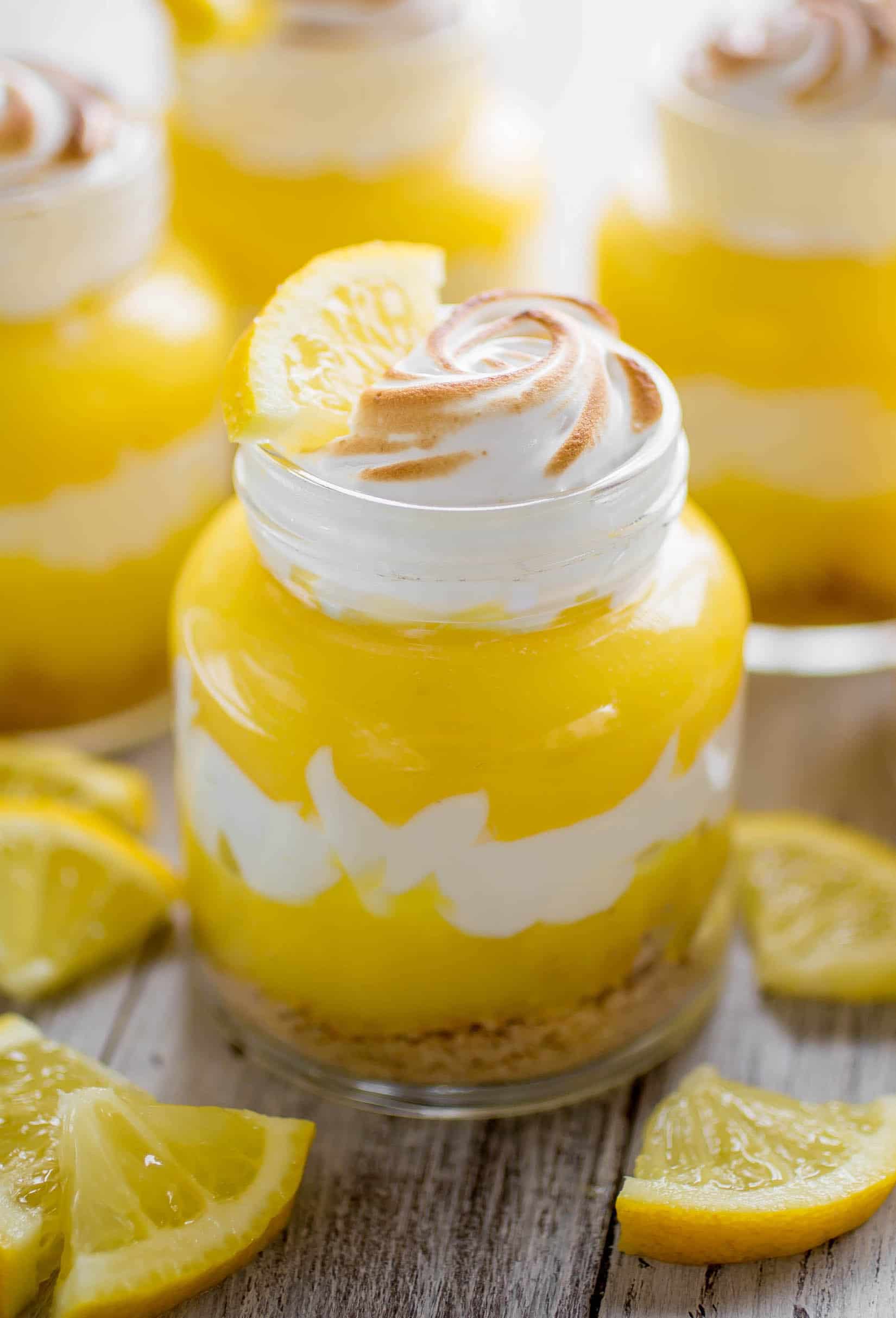 Here we go with another mini dessert! I think I'm a little bit obsessed. Last week I posted my mini Oreo cheesecakes and today I'm sharing these Lemon Meringue Parfaits! Funny story about these parfaits.. I recently got a culinary torch, you know those tiny torches you use to toast stuff like meringue or marshmallows and stuff? This was the first time I've used one, so I filled it up with the butane and wanted to test it out. Without thinking, I tested it out where the butane was still in the air and POOF a big ball of fire came at me – singed my hair, eyebrows, eyelashes and the hair on my left arm. I also had a paper towel in my hand that lit on fire which I flung behind a bookcase so I had to run and put that out. This was all at about 9:00am. That was a SUPER FUN morning. Haha!! Just a day in the life over here. So here is your warning: USE CAUTION WHEN USING A CULINARY TORCH! Don't be like me. *face palm*
Anyways, these lemon meringue parfaits. They are relatively easy to make and super delicious. You'll make homemade lemon curd which is the best stuff ever – nice and tart with a touch of sweetness. The yolks will get tempered for this curd and if for any reason you think the eggs cooked a bit in the curd, don't even worry about it. Just push it through a fine mesh strainer to ensure there are no cooked pieces. I normally do this every time because even when I think its perfect, there are always a couple of pieces that cooked.
For the meringue, I like to temper the egg whites before beating them for caution with the raw eggs so that is the way I have the recipe instructions. If you do not mind raw egg whites, you can totally bypass the egg white tempering and go right into beating the meringue. Meringue is the most delicious stuff ever! If you've never had it before it tastes like the best marshmallow fluff you've ever had.
You'll assemble the little parfaits by crushing up some graham crackers and putting a spoonful into the bottom of each glass. Start layering the lemon curd then meringue, lemon curd, meringue until you get to the top of the glass. Toasting the top of each parfait is optional, I just think it gives them that extra authentic lemon meringue pie flair!