[pinterest]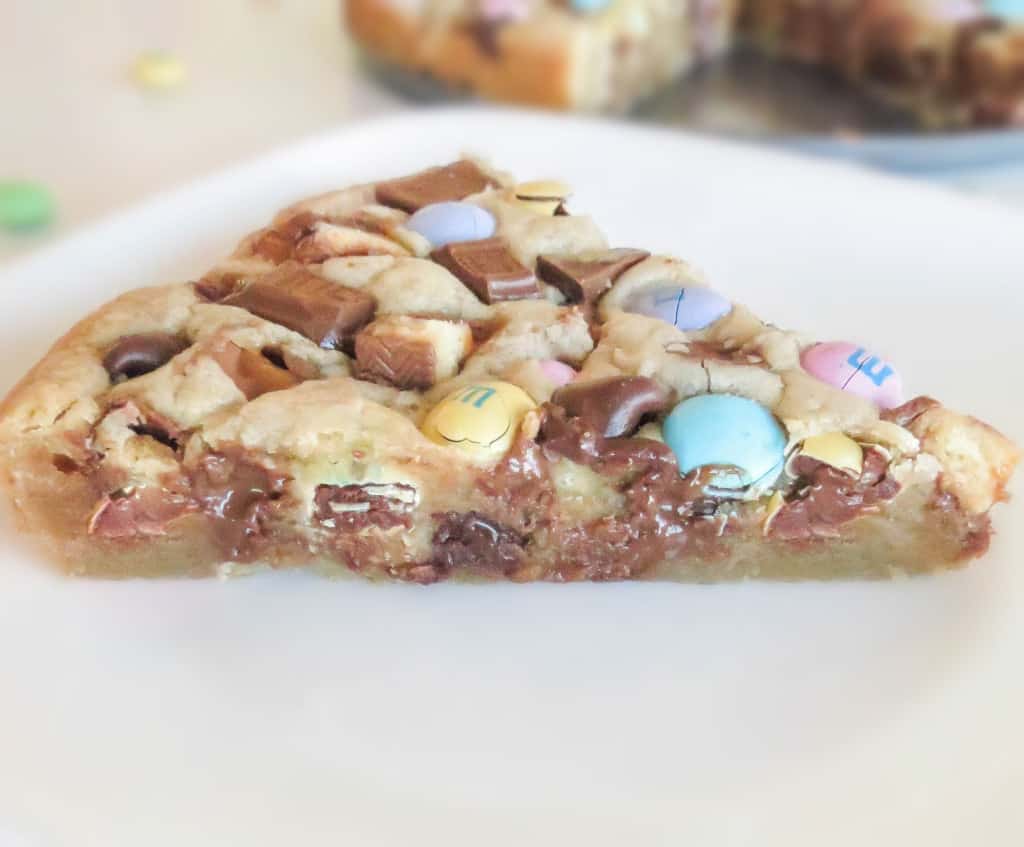 This cookie cake is just unreal. Some of my favorite candies in what is essentially one ginormous cookie! This cookie cake is super soft and chewy. If you are lazy like me, you will love this. Instead of waiting for the dough to chill and rolling individual balls, you can get everything done in minutes! No chilling, no rolling a bagillion balls of dough, just make the cookie dough and pack it into the pan – piece of cake! (Cookie cake, that is. 😉 ) From bowl, to oven, to table in 30 minutes! This cookie dough is the perfect canvas to add any mix-ins you'd like. I made s'mores bars last weekend and had a whole chopped hershey bar begging to be used, so I threw that in there with everything. I also threw in some chopped twix, m&m's and chocolate chips. Too much? No way! Feel free to use whatever you'd like or whatever you have on hand.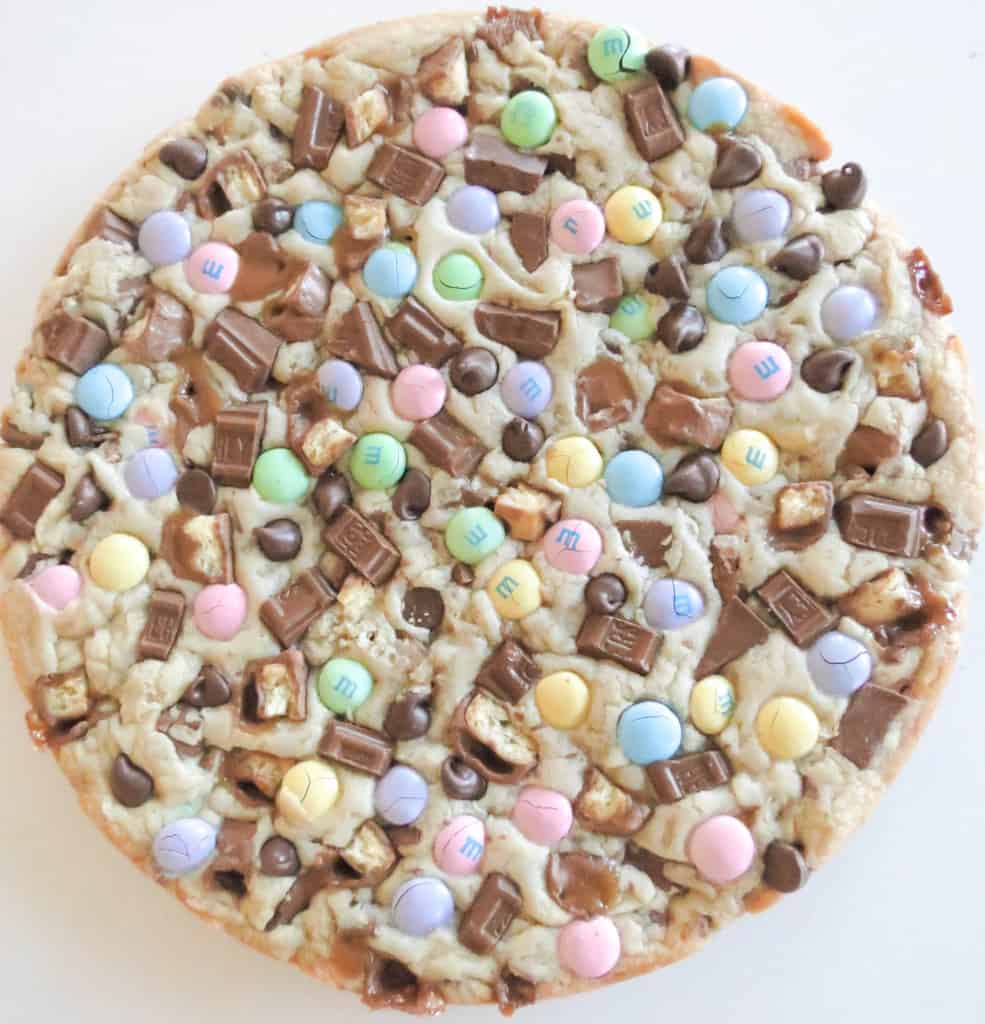 I love the way the twix gives it a slight crunch and then in some bites you get a melty, gooey bite of caramel! So good. You can use this recipe as an excuse to use up any candy you have laying around the house!
I used no leaveners in this recipe because I wanted it to be as dense and chewy as possible. No cakiness here! I also used all brown sugar because it lends a very soft cookie. I based it off of my favorite chocolate chip cookie and this cake just is pure cookie heaven. This is without a doubt, going to be your new favorite dessert. It's easy, has extremely simple ingredients and it's so quick to put together!
Honestly, what is better than a giant, chocolate filled, soft-baked cookie that is the size of a cake? I think nothing.
[pinterest]
Loaded Soft and Chewy Twix + M&M Cookie Cake
Ingredients
1/2

cup

unsalted butter

1 stick, melted

1

cup

light brown sugar

packed

1

egg

2 1/2

teaspoons

vanilla extract

1 1/3

cups

all-purpose flour

1 1/2

tsp

corn starch

1/4

cup

semi-sweet chocolate chips

1/2

cup

M&M's

1/4

cup

hershey bar

chopped

1/2

cup

twix

chopped
Instructions
Preheat oven to 350° Spray a 9" round springform pan (that's what I used), baking pan or pie dish very well with non-stick spray and set aside.

In a large mixing bowl, mix melted butter and both sugars together until smooth. Add in eggs and vanilla and mix until smooth. Pour in the flour and cornstarch and mix until just combined - you don't want to over mix.

For the mix-ins, I reserved about 2 tablespoons of each to press into the top of cookie cake before baking, but that's optional.

Fold in the chopped hershey bar, chocolate chips, twix and M&M's and mix until evenly distributed. Turn the dough out into prepared pan and smooth until even and level. Press remaining candy into top of cookie cake where ever you desire.

Bake for about 20-23 minutes or until toothpick inserted in center comes out clean or with a few moist crumbs. This creates a very soft, under baked cookie center with chewy edges, but if you like your cookies a little more well-done, you can bake for longer. Allow to cool cool for about 20 minutes before slicing and serving so the chocolate has time to set a little.

Cookie cake will stay fresh for up to 7 days in an airtight container.