[pinterest]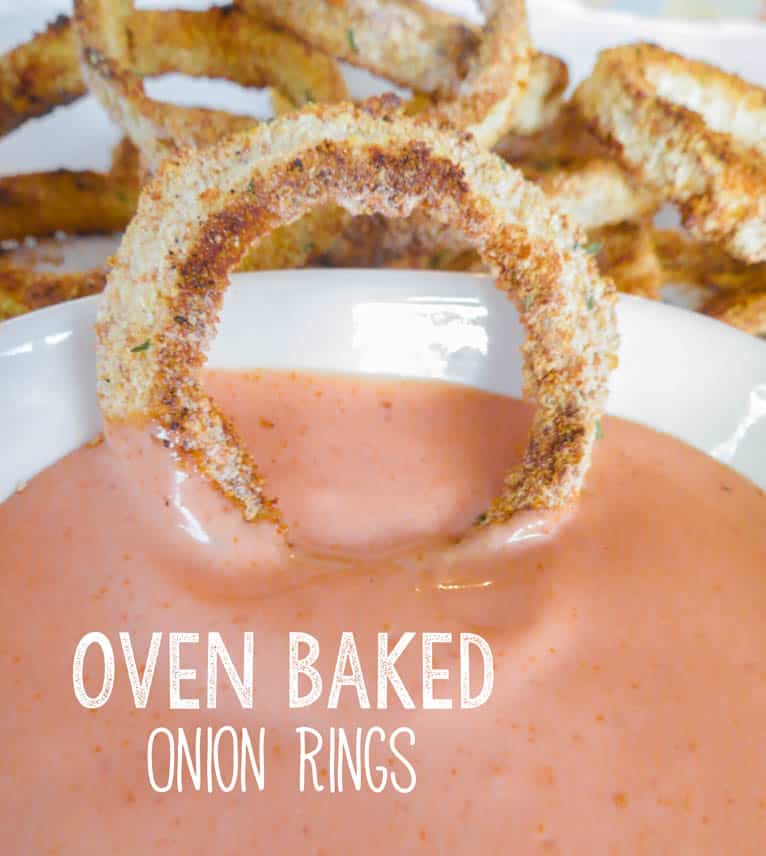 Onion Rings that are baked rather than fried - nice and crunchy on the outside with a tender onion on the inside. That's what we aim for when having onion rings, right? Next to french fries, onion rings are my favorite accompaniment to a nice cheeseburger, or really just about anything. I even love eating them by themselves. Making them at home, you can do that. I made mine around dinner time and they were unintentionally my dinner. I could NOT stop eating them until they were all gone! Well, I did share some with my mom, but that's about it. 🙂 We can all agree that onions taste a million times better when they are battered, fried and dunked in enormous amounts of ketchup. This time, instead of frying they are baked and trust me, you will not even be able to tell the difference! The only difference is that there is no gross oil after taste (ew!). And, I think that's a good thing, right?
I  usually just dunk mine in some good old ketchup because it is my absolute favorite, I will dunk anything into ketchup. But, I wanted something a little bit more flavorful and tangy. I made the simplest sauce, only 3 ingredients! Ketchup, mayo and hot sauce. And let me tell you, it is YUMMMMM-O! Seriously, this is the absolute perfect dipping sauce for onion rings. I actually use it for pretty much anything that is breaded. It's so, so good!
To make these, I cut up my onions into rings about ½ inch thick then let them soak in buttermilk for about 3 hours. The longer you soak, the more tender they will be. If you want to skip the soaking step, you can, just know your onions may not be as tender. Next, get your breading ingredients together. I used 4C seasoned bread crumbs instead of traditional panko. Feel free to use whatever kind you want, I just love the flavor of 4C. I used them on my baked asparagus fries too! I also added some cornmeal to add to the crunch factor, plus a bit of flour to add some body. Once the onions are done soaking, dip them one by one into the eggs, then immediately into the breading mixture. It should look something like this. ↓ (please excuse the chipped nail polish! 🙁 )
Place them in a single layer on a parchment lined baking sheet. Repeat the dipping and breading process until all onion slices are ready. Spray them with non-stick spray and bake for about 15 minutes, flipping them over and re-spraying with cooking spray half way through. Spraying with cooking spray will make sure the breading is adhered and they will also help them brown better. Bake time may be different for everyone, just bake them until they are your desired level of crispiness. Not too long though, you don't want the onions inside to overcook and be crunchy!
Trust me, you will not miss deep fried onion rings anymore! These are extremely addicting. Consider yourself warned!
[pinterest]
Oven Baked Onion Rings
Ingredients
Onion Rings

1

white onion

cut into ½ inch slices

1

cup

buttermilk

for soaking

¼

cup

all-purpose flour

1 ½

cup

seasoned bread crumbs

½

cup

cornmeal

¼

tsp

paprika

¼

tsp

garlic powder

2

eggs + 2 tbs milk

non-stick cooking spray

Tangy Dipping Sauce

¼

cup

ketchup

3 ½

tbs

mayo

1

tbs

+ ½ tsp hot sauce
Instructions
For the Onion Rings

1. At least 3 hours ahead of time or overnight, place your cut up onions into buttermilk and let them soak covered tightly in the refrigerator. Soaking the onions will tenderize them.

2. Once onions have soaked, preheat your oven to 425° and line a baking sheet with parchment paper, set aside.

3. Next, get your breading ingredients together. Combine the breadcrumbs, cornmeal, flour, paprika and garlic powder in one bowl and mix them all around until everything is evenly distributed.

4. In another bowl, lightly beat the eggs and milk together.

5. Take onion slices out of buttermilk and dip into eggs. Immediately submerge them into the breadcrumb mixture being sure to coat the onion entirely. Place in a single layer onto prepared baking sheet and repeat the dipping and breading process until all onion slices are ready.

6. Before going into the oven, spray the tops of the onions with some non-stick spray. This will ensure that the breading is adhered and will help the browning process.

7. Bake for about 15 minutes, flipping the onion rings half way through and re-spraying with cooking spray. Judge the onion ring's doneness by your liking. If you like them more crispy, bake longer, if you like them less crispy, then bake less. While they are in the oven, get your dipping sauce ready.

For the Dipping Sauce

1. Combine ketchup, mayo and hot sauce in a small bowl and mix until combined.

2. Once onion rings are ready, let them cool for 2-3 minutes on hot pan, then transfer to a plate.

3. Dig in!