These Apple Cider Mojitos are the perfect cocktail to sip on transitioning from summer to fall!
Fall is approaching, guys! And I cannot explain how excited I am for it. Being pregnant during this heat has been b-a-ruuuu-t-al. Funny that I'm posting an apple cider mojito recipe while pregnant, huh? Ha! I have to be prepared, ya know? Just kidding. And don't worry, I didn't test these myself – although, it was hard notto.Mojitos are one of my favorite cocktails to make so I took my favorite basic recipe, fall-ified it up and had a few of my trusted taste-testers try them out for me. Nothing but rave reviews! These mojitos are the epitome of fall in a glass and I cannot waaiiiiit to have one myself! Two more weeks to go and this belly will be gone and I can whip these up for myself.
…
Recent Posts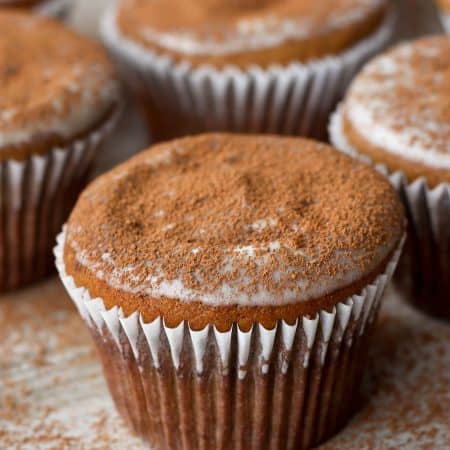 Tiramisu Muffins that are filled with the traditional tiramisu flavors of espresso, cocoa, and mascarpone! Tiramissuuuuuuuuuu! One of my favorite Italian desserts of all time that I don't get to enjoy more often than I should. These muffins have all of the flavors you know and love about traditional tiramisu. I mean, well, minus the lady fingers….