[pinterest]
Okay I will admit that I have a slight obsession with crumble bars. They're one of my favorites and I love making them when I have lots of fruit in bulk or just need to use it up (like blueberries or strawberries). A few weeks ago, back in the midst of August when peaches were perfectly ripe and in season, my son, aunt, cousins and I all went peach picking! I'm such a bad blogger because I completely forgot to share these with you! Just the other day I was going through my pictures that needed to be edited for blog posts and I saw these and couldn't believe I forgot about them! Peaches are one of my favorite summer fruits so I was SO excited to pick them fresh. At the farm, I picked the most beautiful, big, juicy peaches I could find.
These bars are amazing and the filling is perfectly sweet and lightly spiced from the cinnamon. Definitely some amazing flavor combinations going on here! The filling tastes like a yummy peach pie. The bottom is almost short-bread like and then it is divided in half and transforms into the crumb topping you see on top. Suuuuper buttery and yummy! You can obviously cheat here and use some peach pie filling, but that's no fun, now is it?
This recipe is super simple and easy and whips up in no time. I especially love it because the ingredients are all common things you most likely have on hand already! They are so versatile too, you can use any kind of fruit you'd like in these bars. I just love them!
[pinterest]
Peach Crumble Bars
Ingredients
*Crust/Crumble*
½

cup

granulated sugar

½

cup

brown sugar

1

teaspoon

baking powder

3

cups

all-purpose flour

1

cup

unsalted butter

cold and cubed

1

egg

pinch

salt

Peach Filling

5

cups

diced peaches

about 7 peaches

1

tbs

lemon juice

½

cup

all-purpose flour

1

cup

granulated sugar

pinch

salt

½

teaspoon

cinnamon

¼

teaspoon

ground nutmeg
Instructions
Preheat oven to 375°. Grease a 9×13 inch pan, set aside.

In a large bowl, whisk together sugar, flour salt and baking powder. Using your hands, fork or pastry cutter, cut in the butter until it resembles a coarse meal. (I like to use my hands.) Mix in the egg until fully combined. Press half of dough into the prepared baking pan and bake for 7 minutes.

While the crust is baking, gently stir together the peaches and lemon juice. In another bowl, whisk together the flour, sugar, salt and spices. Stir both mixtures together very gently until peaches are fully coated. Once crust is done, spread peach mixture over the warm crust and crumble the remaining dough over the filling. No need to make this absolutely perfect, it's looks nice when some peaches show through. Place back into oven and bake for another 35-45 minutes or until top starts to turn slightly golden. Once done, allow them to cool for 20 minutes before cutting.

Bars will stay fresh for up to 5 days stored in an airtight container at room temperature or up to 7 days stored in the fridge. They will get soft after day 1, but this doesn't affect the flavor at all.
[pinterest]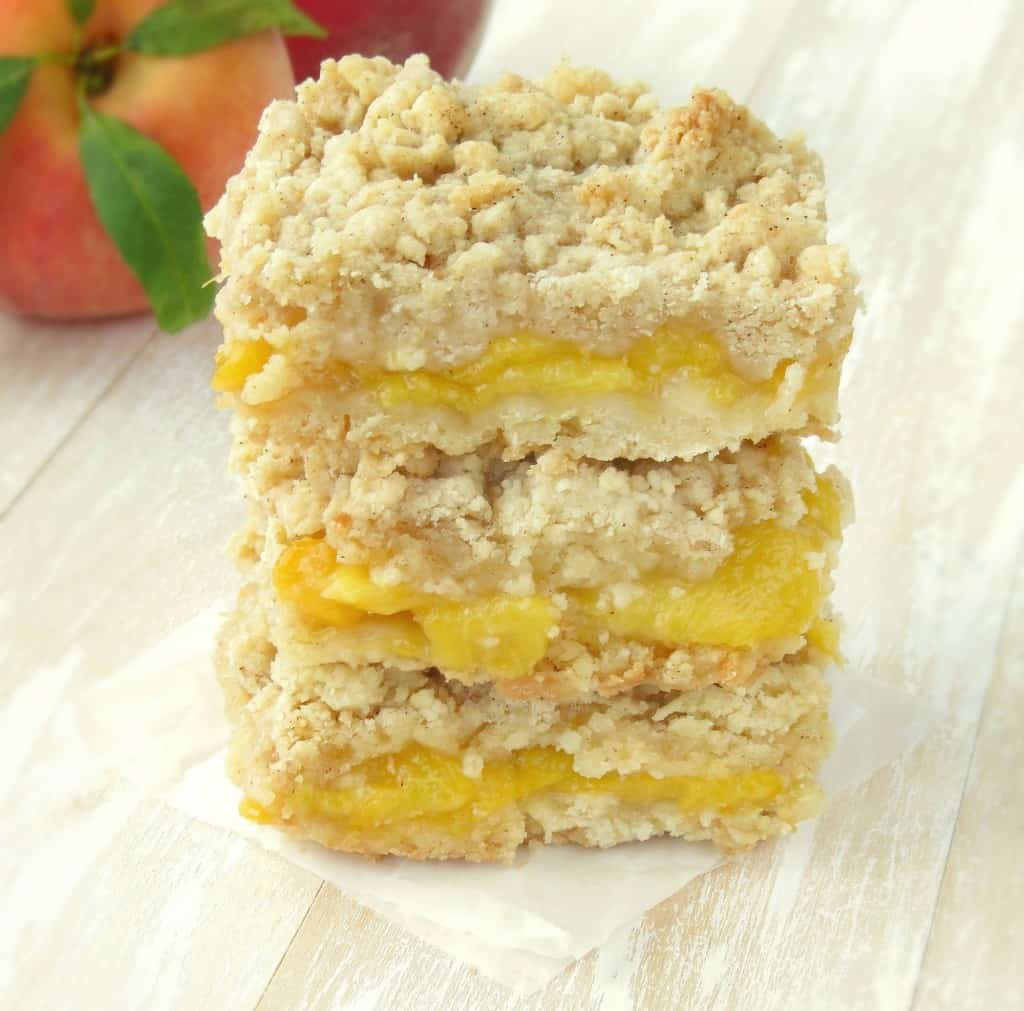 [pinterest]