[pinterest]
Happy Labor Day weekend to everybody! I hope everyone is enjoying this nice long three day weekend with their families, I know I am! It's always so nice when we get an extra day to spend with Mike! Onto more important things though.. these Peanut Butter Swirl Brownies. Nobody would ever know these brownies are made from a box mix. Seriously, the amount of oooh's and ahhh's I got from these proved it to be true. I originally made these for my cousin Michelle because we went over her house two weekens ago and she requested "something crazy.. something peanut butter.. something with oreos." Wellll, I took her ideas and combined them into one and BAM.. these brownies were born. Aren't I the best cousin ever? I knew I had to re-make them to share with you guys since I got such amazing feedback!
The brownies are extremely moist and fudgey. See how dark in color they are? SO chocolatey! The chocolate chips you see pictured come in the brownie mix. Once the brownie batter is mixed, I folded in some chopped oreos. I left mine pretty large and chunky because they somewhat dissolve into the brownies and you may not be able to see them BUT you will taste them. After they are baked and cooled completely, I topped them off with a simple chocolate ganache glaze swirled with a little bit of melted peanut butter. Nothing fancy here, just a few no-fuss ingredients!
This recipe is seriously so easy and the results are MIND blowing. The peanut butter swirl makes them look so pretty and perfect.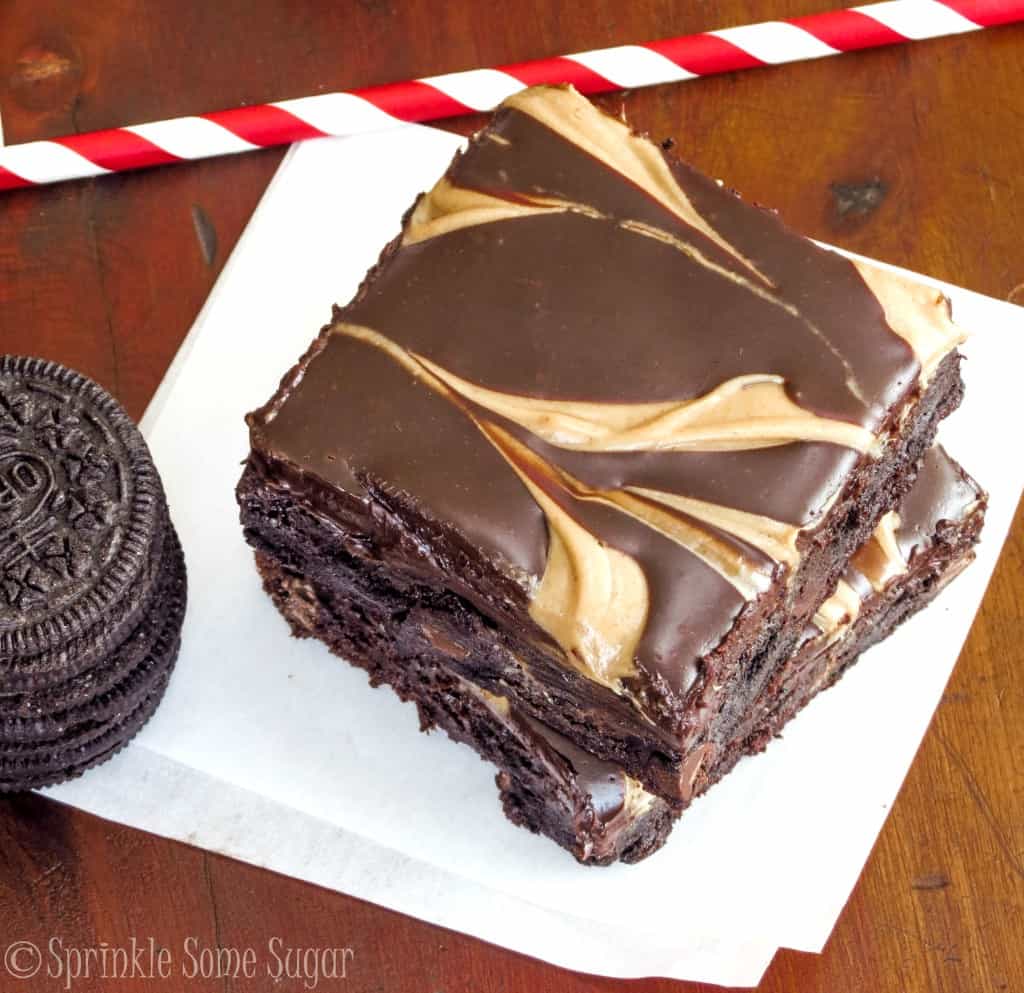 The brownies do require a little bit of chill time to set the glaze on top or else it will be a runny mess. I like to chill mine in the few hours and then 30-45 minutes before serving I take them out to come to room temperature so the glaze gets nice and soft and the brownies also soften up again.
Some of the comments on these were that they were the best brownies they have ever tasted! By the time dessert rolled around and it was time to sing Happy Birthday, HALF of the darn pan was gone! Some sneaky fingers made their way into the pan before they were served (one of those people being myself – whoops!) and as soon as they were served, people were "reserving" their pieces on their plates. Ha ha ha brownies will really make you crazy. Especially these.
Stop what you're doing and just go make these right now.
[pinterest]
Peanut Butter Swirl Ganache Brownies
Ingredients
1

box brownie mix

I use Ghiardelli Triple Chocolate Fudge Brownie Mix

+ ingredients on box

12

oreos

roughly chopped

1/4-1/2

cup

peanut butter

melted slightly

1 1/2

cups

semi-sweet chocolate chips

1/2

cup

heavy cream
Instructions
Preheat oven to 325 degrees. Line a 9x9 baking pan with parchment paper and set aside.

Prepare brownie mix as stated on box adding all ingredients required. Fold in chopped oreos and spread batter in prepared baking pan. Bake brownies for 30-35 minutes or until a toothpick inserted in the center comes out slightly moist still with some batter on it. (This is what makes brownies fudgy!) I usually bake my brownies 10 minutes shorter than the time stated on the box. Once brownies are down, set them on a wire rack still in the pan to cool completely. I place mine in the refrigerator to speed this step up.

While brownies are cooling, prepare ganache glaze. Place chocolate chips in a large bowl, set aside. In a small saucepan, heat cream until very hot. Pour heavy cream over chocolate chips and shake the bowl to completely immerse them. Let sit for about 5 minutes without touching then whisk until they chocolate becomes velvety smooth. You want it to have a slightly thick consistency to ensure it is going to set up. Measure peanut butter and microwave for a couple of seconds to melt slightly only until pourable. (The thicker it is, the harder it is going to be to swirl but you don't want it to be too thin and run.)

Once brownies are completely cooled, pour chocolate ganache on top and spread to distribute. Pour peanut butter in 4 vertical lines across the pan. Swirl knife through the vertical lines horizontally, creating a swirled effect. Cover and place brownies in the refrigerator so the glaze has time to set up, about 2-3 hours. Take out 30-45 minutes before serving to let them come to room temperature.

Brownies stay fresh for up to 4 days stored in an airtight container.
[pinterest]
[pinterest]