[pinterest]
Peppermint Pattie Fudge Cookies. These are hands down, my new favorite cookies!
These cookies are super thick, fudgy and have so much peppermint pattie flavor. If you are like me, you probably hoard these things. Peppermint patties are my weakness. Well, pretty much anything with a chocolate and mint combo will win me over and steal my heart. Ever since I made my Peppermint Pattie Brownies, I've been hooked on trying to create new things that that include or taste like my beloved peppermint patties.
I made these cookies as a test run when I made my Thick, Chocolate Fudge Almond Joy Cookies. I wasn't sure how they were going to come out if I just slapped some peppermint pattie chunks on top of them, but let me tell you, these are my greatest creation yet!!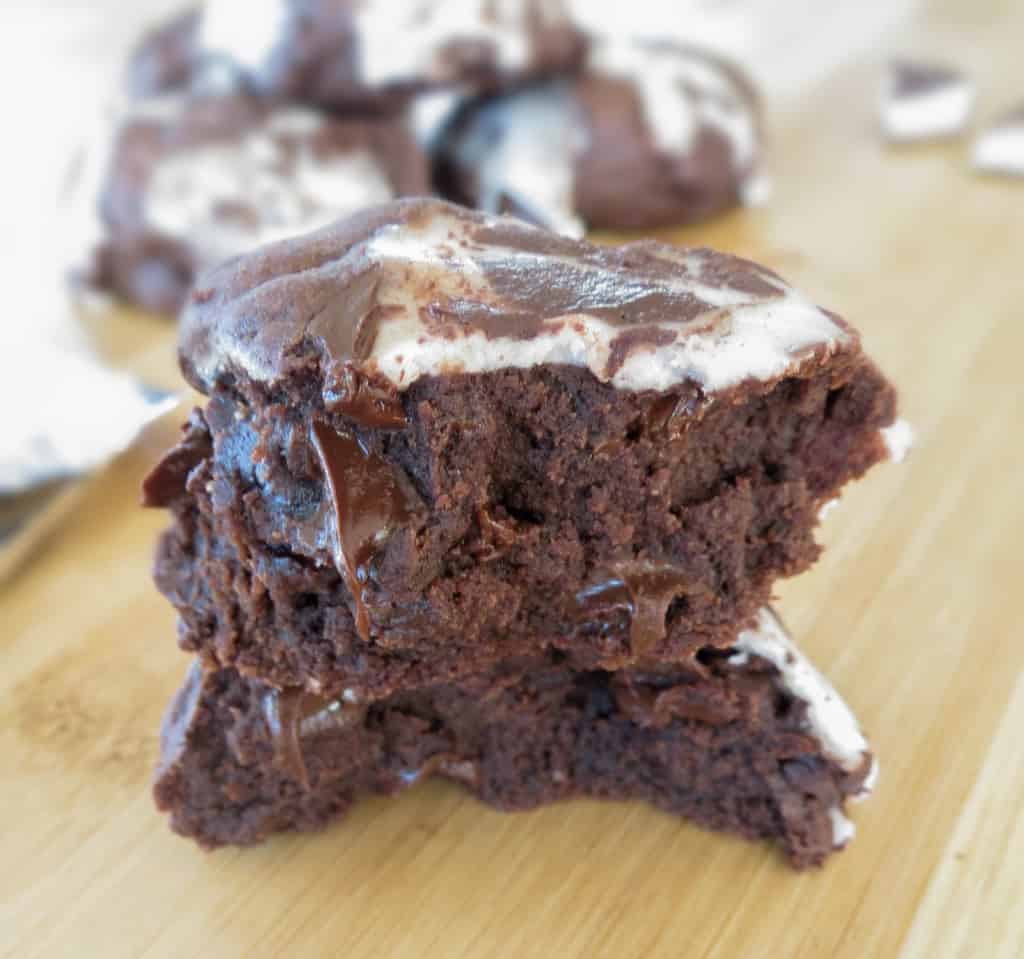 These cookies are so simple. You just get the dough together and let it chill a bit in the fridge. Then, when you are ready to put them in the oven, roll them into balls and press down a bit because these cookies pretty much hold the shape that you make them. Once they are the shape you'd like, cut up a peppermint pattie. I cut mine into 6 triangles, once down the middle then across and again diagonally each way. Using one peppermint pattie candy for each cookie, press the little triangles into the cookie. I pressed one on top, then the rest on the sides. No need to be neat here, just press them on where you want them. When they are done baking, they will have slightly melted off a bit on the baking sheet, but you just have to do a little bit of clean up around the cookies and it breaks right off. It is gooey, melty peppermint heaven in a cookie.
The chocolate pudding in these cookies keeps them so chewy and supple. They are almost fudge-like. I really can not say enough good things about these cookies except for, if you are chocolate/mint obsessed like I am, you absolutely need to make these right now! And trust me, you will not be able to stop eating these.
[pinterest]
Peppermint Pattie Fudge Cookies
Ingredients
3/4

cup

unsalted butter

melted half way

1

cup

dark brown sugar

or light

1

egg

1 yolk

2

tsp

vanilla

1/2

cup

+ 1 tbs cocoa

1/2

cup

instant chocolate pudding mix

no 'cook n serve'

1

tsp

baking soda

1 1/3

+ 1 tbs flour

1

tsp

corn starch

3/4

cup

semi-sweet chocolate chips

bittersweet would be great too

17-20

peppermint patties
Instructions
1. Preheat oven to 325°. Line a baking sheet with parchment paper and set aside.

2. In the bowl of your stand mixer, combine half melted butter and brown sugar until smooth.

3. In a separate bowl, whisk together pudding mix, flour, corn starch, cocoa and baking powder, set aside.

4. Add in the egg, yolk and vanilla and mix until smooth.

5. Pour in the dry ingredients slowly and mix until just combined.

6. Fold in the chocolate chips until evenly distributed.

7. Chill your dough for at least 30 minutes in the refrigerator. Dough may be very hard, but this will ensure that they will be nice and thick. Once you start working it with your fingers, it will soften up.

8. Roll dough into small balls, about 1 - 11/2 tbs each, and flatten with fingers on baking sheet. The way you shape your balls is pretty much how they will stay because they mostly keep their shape.

9. Cut up a peppermint pattie. I cut mine down the middle, across, and diagonal both ways making 6 little triangles. Press one triangle on top and the rest on the sides. No need to be neat, just place them anywhere on the sides.

10. Repeat the last step for all of your cookies, then place in preheated oven and bake for 10 minutes.

11. When done, they may appear to be a bit under done, but they will firm up as they cool and be super fudgy. If there is some peppermint pattie that has melted off onto your baking sheet, just break it off, it will come right off.

12. Let them cool on baking sheet for about 10 minutes then move to wire rack or counter to finish cooling.