[pinterest]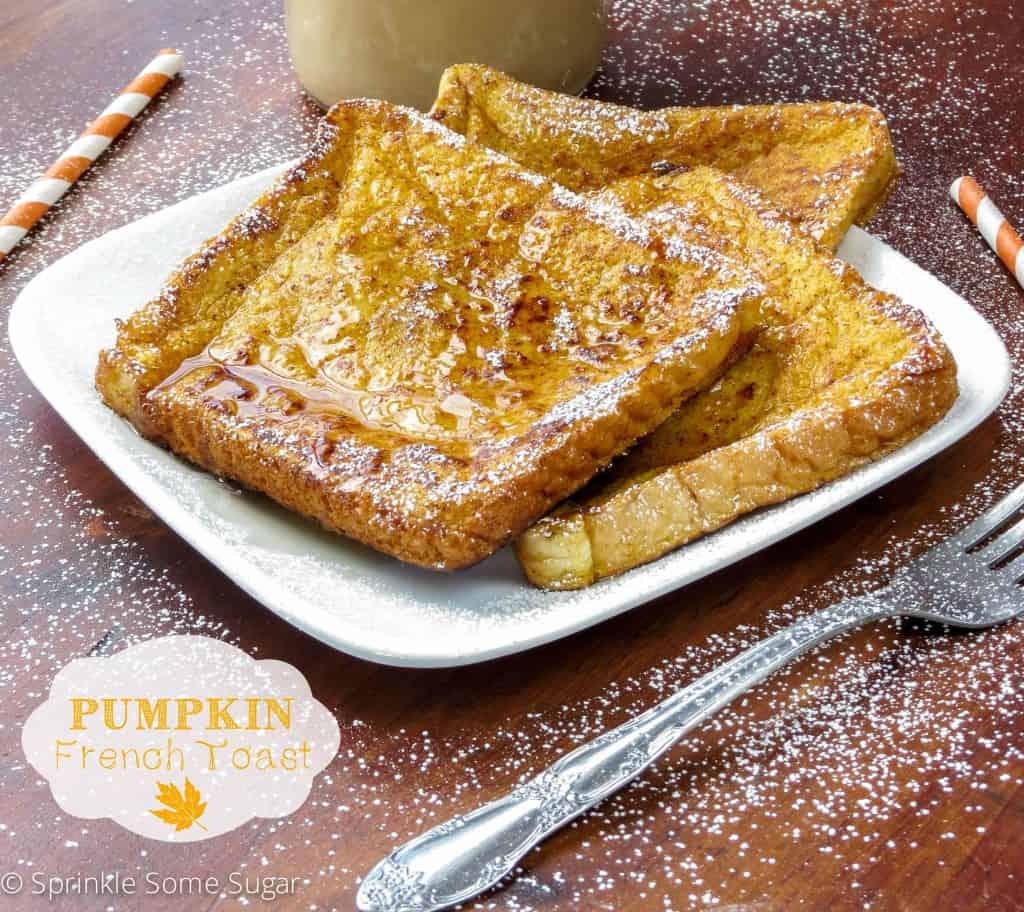 So, this weekend was pretty awesome. Sunday we went to the Philadelphia zoo! We went with Mike's family and besides the weather being grossly humid, we had a blast! The gorillas were my favorite. They're HUGE! I never knew how giant they were until this guy was laying right in front of us on the other side of the glass. My son had so much fun looking at all the animals, especially the monkeys! It was really awesome. Isn't he the cutest?! He got completely SOAKED from this fountain.
Side note: Don't zoos make you kinda sad? The whole keeping the animals behind glass and stuff is a little depressing to me. But anyways, we had a really great time and can't wait to go back! Afterwards, we went to Krispy Kreme (YUM) and Cracker Barrel. I've never been to Cracker Barrel before and it was aaaa-freaking-mazing. Speaking of amazing food... This pumpkin French Toast I'm sharing with you guys today will knock your socks off! Kick off pumpkin season the right way with this deliciousness. It's never too early for pumpkin!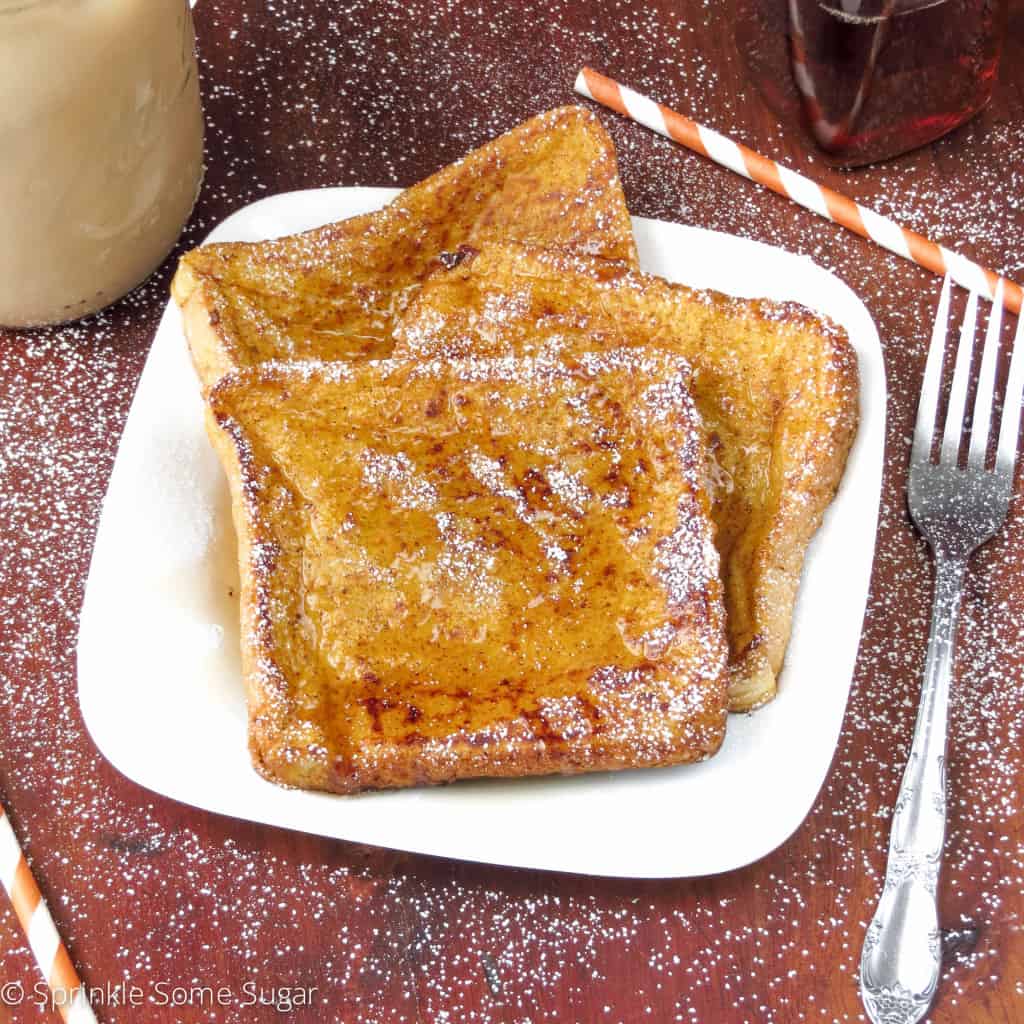 You guys, I can't even describe how amazing this french toast is. It's going to be made every single week over here because it is so, sooo good! You have a little sweetness from the pumpkin plus all of the added spices really bring the french toast over the top and pack SO much flavor! You can play around with the spices if you don't want as much flavor, but I absolutely love it the way it is. I have already made it 3 times in the past 2 weeks. I had to be sure it was perfect to share with you guys! (At least that's what I kept telling myself.)
I would eat this every single morning if I could. Now that I think about it, I probably will. Plus, it makes your house smell AMAZING.
This pumpkin french toast is a MUST make for fall!
Pumpkin French Toast
Ingredients
¾

cup

milk

3

eggs

½

cup

canned pumpkin pure

NOT pumpkin pie filling

1

tbs

brown sugar

1

teaspoon

vanilla extract

¾

teaspoon

cinnamon

½

teaspoon

pumpkin pie spice

15-20

slices

of bread

powdered sugar - optional

maple syrup - optional
Instructions
In a large bowl, whisk all ingredients together until everything is combined. You may have to re-whisk in between each dip because the spices will rise to the top.

Heat a large skillet or griddle to medium-low heat and spray with cooking spray or use butter.

Once pan is hot, dip slices of bread on each side quickly and depending on your pan fit them accordingly without over-crowding because this may make it difficult to flip. Let them cook on each side for about 2 minutes each or until they are lightly browned. Remove and place them on a plate or a wire rack while you finish preparing the rest. Depending on the size and thickness of bread you use, you may get more or less than I did. The bread I used is rather small, so I got more out of my batter.

When all of your batter is used, serve the french toast warm with maple syrup and sprinkle powdered sugar on top.

French toast will stay fresh for up to 2 days stored in an airtight container in the refrigerator. Heat them up for about 30 seconds in the microwave.
[pinterest]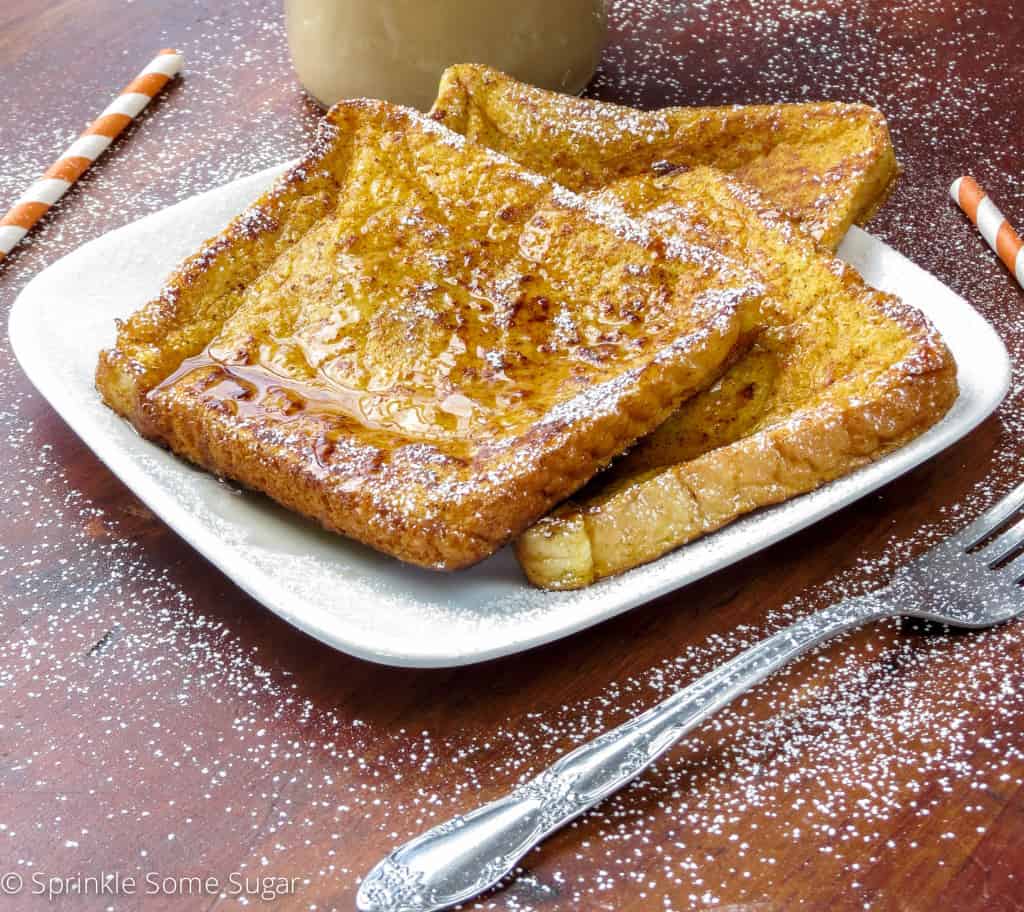 [pinterest]