This shop has been compensated by Collective Bias, Inc. and its advertiser. All opinions are mine alone. #DelightfulMoments #CollectiveBias
These mini desserts are the perfect creamy Fall treat!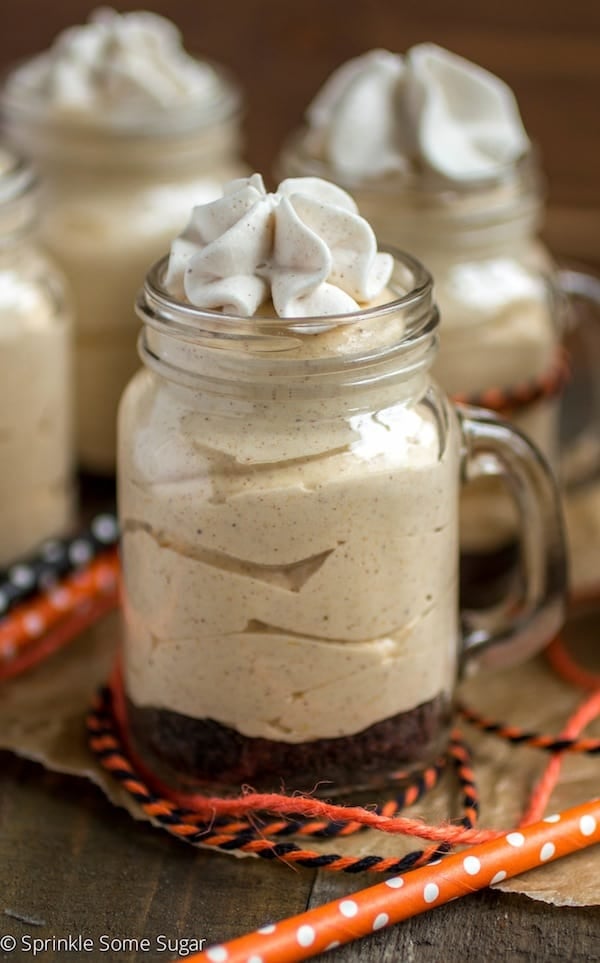 One of the things I love most about Fall which I've said a billion times but I'll say it again.. pumpkin spice everything! What I love the most is pumpkin coffee whether it's pumpkin spice flavored coffee or pumpkin spice creamer dumped into my coffee. The brand of coffee creamer I love the most and it's the only one I buy is International Delight. They have so many ridiculously delicious flavors and they just so happen to have a Pumpkin Pie Spice flavor so you know I snatched that one right up. I'm telling you, it makes the most delicious addition to your morning coffee. Perhaps it might even be better with a pumpkin donut on the side. Just sayin'. Not only can you use creamers in your coffee, but you can use them in your dessert too! These Pumpkin Spice Cheesecake Shooters I'm sharing with you today have some International Delight Pumpkin Pie Spice creamer in them and they are crazy delicious. They're like a creamy dreamy mixture of pumpkin pie and cheesecake in miniature size! So good.
By the way, how cute are mini desserts? I just love them. I just made some caramel cheesecake shooters over the weekend for my cousin's bridal shower and they came out amazing! Everybody loved them and the cheesecake portion of the shooters is from my no-bake caramel turtle cheesecake! Just doubled about a trillion times to fill up 85 little shooter glasses. The best part about individual mini desserts is well, obviously that you don't have to share! But really, they are just an adorable and different way to present the no-bake cheesecake filling instead of making say, a pie or something.
The "crust" of the shooters are just some Oreos pulsed very fine and since they are pulsed with the creme in the middle, that adds just enough "wet" without adding any butter because you want to have a nice loose pack down into the glasses and it creates the perfect consistency on it's own.
The pumpkin spice cheesecake is no-bake which makes these little shooters a breeze to make. It's SO creamy and flavorful due to the International Delight Pumpkin Pie Spice creamer, the heavy hand of spices, brown sugar and the pumpkin puree. The brown sugar cannot be substituted because it gives the cheesecake such richer and deeper flavor. Also, don't substitute the creamer either, it gives the shooters the creaminess they need and obviously adds to the spicy pumpkin flavor. I picked up everything I needed at Walmart and they keep these creamers in the refrigerated bin type displays. Here is an example of where mine were located for a better visual:
I topped these shooters with some homemade whipped cream spiked with a little bit of the International Delight Pumpkin Pie Spice creamer and cinnamon just to kick the spicy flavor up a notch. I literally could have just sat there and eaten this whipped cream with a spoon. It's delicious and you neeeed to make it. Making homemade whipped cream is a cinch to make. Just whip up the cream and in this case, the creamer too, then once the stiff peaks form, add all of the other ingredients and then bam. Homemade whipped cream! So good.
These pumpkin spice cheesecake shooters are sure to impress your guests!
[pinterest]
Pumpkin Spice Cheesecake Shooters
Ingredients
*No-Bake Pumpkin Spice Cheesecake Filling*
8

oz

cream cheese

room temperature

5

tbs

International Delight® Pumpkin Pie Spice Creamer

4

tbs

pumpkin puree

NOT pumpkin pie filling

6

tbs

light brown sugar

2

tbs

granulated sugar

1 1/2

tsp

cinnamon

1/2

tsp

nutmeg

1/8

tsp

cloves

4

oz

whipped topping

such as Cool Whip
*Pumpkin Spice Whipped Cream*
1/2

cup

heavy cream

2

tbs

International Delight® Pumpkin Pie Spice Creamer

1

tbs

confectioner's sugar

1/4

tsp

cinnamon

1/4

tsp

vanilla extract
Instructions
In a food processor, pulse 6 Oreos until fine. (Each shooter has about 1 tbs of crumbs which is about as much as one Oreo.) Set aside.

In a large bowl, beat cream cheese and coffee creamer until smooth with no lumps. Mix in pumpkin puree, both sugars and spices until smooth and creamy. Fold in whipped topping. Set aside. If you want to use a piping bag with a piping tip, or even a ziploc bag with one corner snipped off to help you pipe it into the cups, it's definitely recommended because spooning it in will make a mess and takes much more time.

In the bowl of your stand mixer fitted with the whisk attachment or a hand mixer, beat heavy cream and coffee creamer until stiff peaks form. Beat in sugar, cinnamon and vanilla. Set aside. You can also add the whipped cream to another ziploc bag with either the corner snipped off or a piping tip inserted to help pipe it out, or just simply use a spoon and dollop it on top of the cheesecakes. I prefer a piping tip.

Take your shooter glasses and start out by taking one tablespoon of Oreo crumbs and pressing them lightly into the bottom of each one to create a "crust." Then, pipe some cheesecake filling into each cup, almost to the top. Finish them off by swirling some whipped cream on top.

Pumpkin Spice Cheesecake Shooters will stay fresh for up to 5 days stored in an airtight container in the refrigerator. If you are making these ahead, I recommend waiting to make and top the shooters with the whipped cream for best flavor.
[pinterest]