[pinterest]
Yesterday morning was a pretty traumatic and scary for my family. If you've noticed I've been a little MIA the past week, I apologize, but I'm back! Between moving and my iMac taking a crap on me temporarily, I finally have everything back on track. On top of all things.. last Thursday I took John to see a pediatric surgeon because he has an cyst on his neck and his doctor recommended we get a second opinion after the ultra-sound came back. Low and behold, he needed to get it removed because of where it was located and the surgery was yesterday morning! We had to be at the hospital by 6:30AM. Yeah.. It was fun. No drinks, no milk no nothing for the poor guy until after his surgery. Luckily, the surgery went perfect and everything is great so far!
Before the surgery, the anesthesiologist told us that once he was on the recovery room, he would probably wake up upset and out of sorts and not to worry because it's all normal. Well, once the nurses came to get us and we got to him, the other nurse that was sitting with him was telling us how he just kept saying hi to her and all of the nurses and smiling like crazy. Ha ha! I love my happy little boy. Well, since you know the low down on my whole morning craziness.. How about some delicious donuts to sweeten up your day? I just may need to make some of these after the past day we had!
Before I made these donuts, I thought my trusty old cinnamon sugar donuts would be my favorite baked donut fore forever and ever. These donuts are AMAZING! I went off of that recipe and added some pumpkin puree in place of the eggs and some extra spices and they are seriously incredible. They're the perfect texture and the pumpkin just brings such a yummy sweetness accompanied by the spices making these donuts just absolutely mouth-watering.
These donuts are perfectly fine without the cinnamon sugar but I would put cinnamon sugar on just about anything so maybe I'm biased because I love it so much. Whatever. I say go big or go home and adding the cinnamon sugar lends SO much added flavor and a delicious crunch to the outside too. If you are really feeling rebellious, you can coat the entire donut with it, but I just wasn't feelin' it.
I literally had 4 or 5 of these in one sitting as soon as they came out of the oven because I just couldn't control myself. My family gobbled these right up and they were gone by the next morning. All 18 of them.
Your house will be filled with amazing fall aromas for the rest of the morning and that's just an added bonus! I love, love, loveeee these donuts so much I just cannot say enough good things about them. But what I will say, is that they are extremely addicting! Practice your self control before you take a bite of one of these babies because you will not be able to resist another. These are a must for your Fall menu!
[pinterest]
Pumpkin Spice Cinnamon Sugar Donuts
Ingredients
*Donuts*
2 1/2

cups

all-purpose flour

4

tsp

baking powder

2 1/2

tsp

cinnamon

2

tsp

pumpkin pie spice

10

tbs

unsalted butter

melted

3/4

cup

brown sugar

1/4

cup

granulated sugar

7

tbs

canned pumpkin puree

NOT pumpkin pie filling

2

tsp

vanilla extract

1 1/2

cup

buttermilk
*Cinnamon Sugar Coating*
6

tbs

unsalted butter

melted

2

tsp

cinnamon

1/4

tsp

pumpkin pie spice

1/2

cup

granulated sugar
Instructions
Preheat oven to 350°. Spray donut pan with cooking spray and set aside.

Whisk together the flour, baking powder, salt, cinnamon and pumpkin pie spice in a large bowl and set aside. In another large bowl, whisk the melted butter and sugars together until smooth. Add in the pumpkin puree and vanilla and mix until completely smooth. Stir in buttermilk until combined. Pour in the flour mixture and mix until just incorporated being careful not to over mix so your donuts do not become tough.

Pour the batter into a ziploc bag and cut off one corner. This makes it much easier to pour into the donut rings. Pour batter into prepared donut pan about 3/4 to the top of each one. Bake for 14-16 minutes or until the tops are firm and spring back when you touch them.

While they are baking, mix up the cinnamon, pumpkin pie spice and sugar in a medium sized bowl and in another bowl, melt butter and set both aside. Remove donuts from oven and let them cool in the pan for 5 minutes or until firm enough to handle. You want them to still be very warm when coating them. If you use very hot donuts, you may not need to dip them into the butter if you prefer not to (the topping won't stick as well, but will stick somewhat). If using butter, quickly dip the tops of donuts into melted butter and then immediately into cinnamon spice sugar mixture. Place them on a wire rack before going onto the next. Repeat process for rest of the donuts.

Donuts are best served the same day but will stay fresh for up to 3 days if stored in an airtight container.
Notes
Do not cover until donuts are completely cooled and room temperature or the warmth from them trapped in the container will result in rubbery donuts.
[pinterest]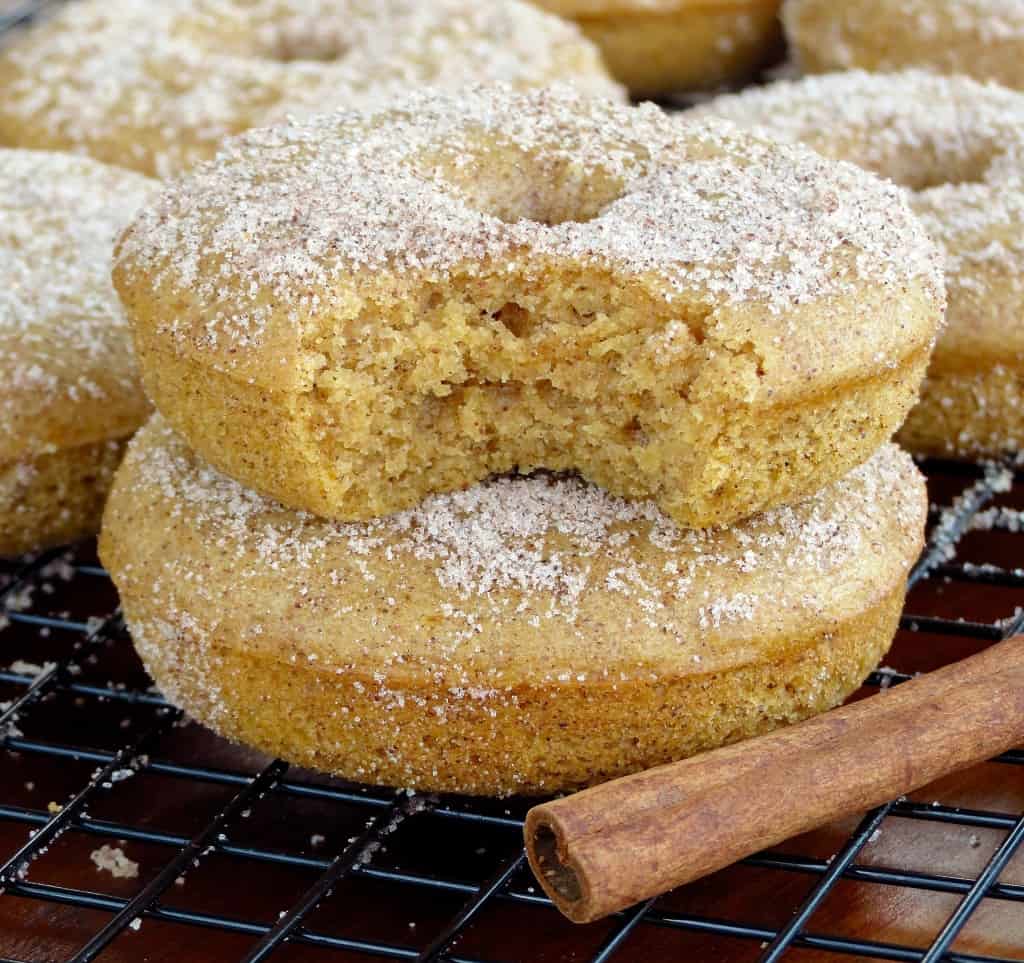 [pinterest]