[pinterest]
Red Velvet Cupcakes with Cream Cheese Frosting. My favorite treat that I make for Valentine's Day every year!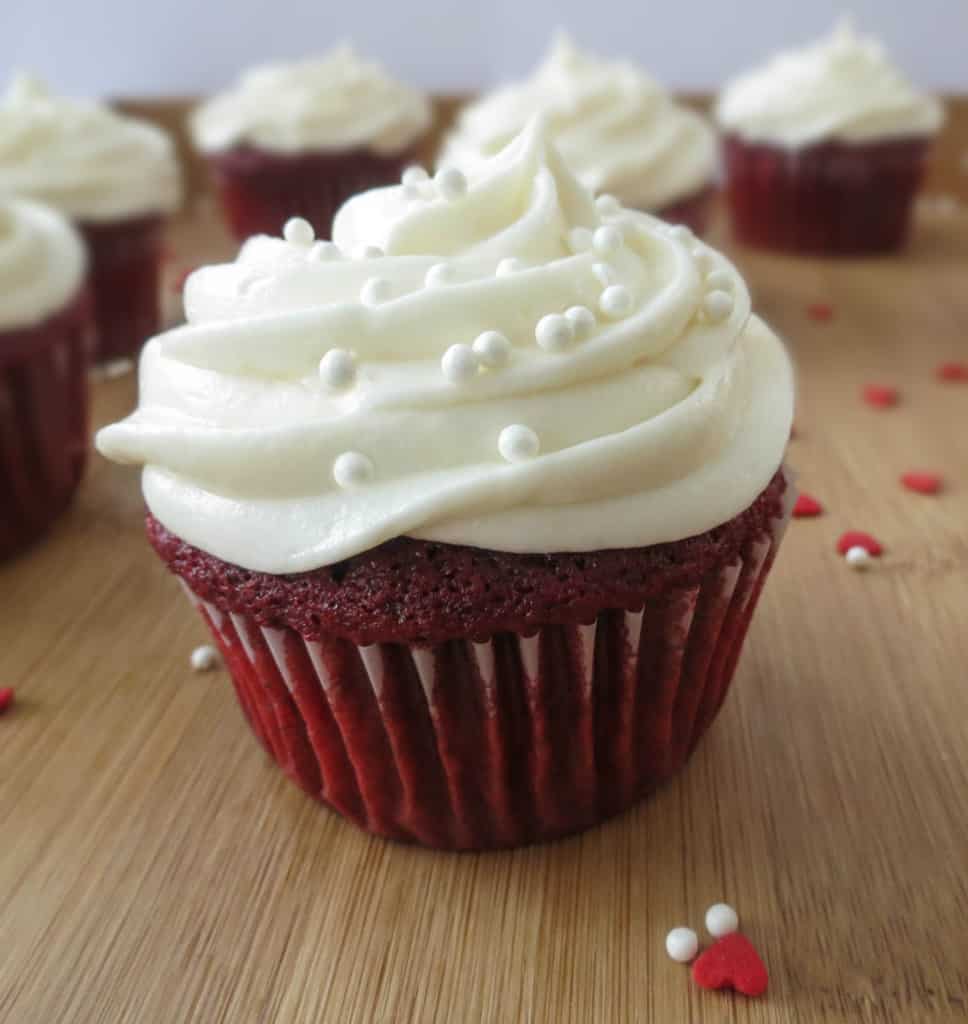 I almost like red velvet more than I like chocolate. Almost. Because I love them so much, that also makes me the biggest critic for them. And I have to say, these DEFINITELY pass my test.
Almost every time I have red velvet, I always feel they never have enough flavor. That's why I added a little bit more cocoa than your typical red velvet in this recipe. The flavor of these cupcakes is just amazing!
Am I the only one who thinks that if my red velvet isn't red enough, they don't taste as good? Ha! Obviously, that isn't true, so I guess it's just in my mind. But, just to ease my mind, I made sure I put PLENTY of red food coloring. I used a whole jar of Wilton's "no taste red" gel food coloring + almost a whole bottle of liquid red food coloring (the ones that come in the assorted box).
The cupcake is perfectly moist and fluffy + topped with my absolute favorite go-to cream cheese frosting in the whole world, it is just really the most amazing cupcake ever. Oh, and you should realllllly pipe that frosting on! There's nothing worse than a sad cupcake with not enough frosting. Also, that helps them keep their moisture in. These stay moist for days!
Yummmm. I have dreams of that bite.
Go ahead and go try these for yourself, you will not be disappointed!!
[pinterest]
Red Velvet Cupcakes With Cream Cheese Frosting
Ingredients
Cupcakes

2

eggs

1 ½

cups

vegetable oil

1

tbs

apple cider vinegar

or white

1

cup

buttermilk

1

teaspoon

vanilla

2 1/2

cups

all purpose flour

2

cups

sugar

1/4

cup

cocoa

1

teaspoon

salt

1

teaspoon

baking soda

1

jar gel red food coloring

1

bottle liquid red food coloring

Frosting

1 8

oz

package cream cheese

room temperature

½

cup

unsalted butter

room temperature

4

cups

confectioner's sugar

sifted

1

teaspoon

vanilla extract
Instructions
For the cupcakes:

1. Preheat oven to 350°.

2. In the bowl of your stand mixer, which the eggs together until light and a little bit thick.

3. Add in the vanilla, oil, buttermilk and vinegar and beat until everything is incorporated.

4. Add in the red food coloring until you have desired color.

5. Pour in the dry ingredients and mix on low until combined and completely smooth.

6. Put your liners in your cupcake tins if you haven't done so already, and fill them until about 2/3 full.

7. Bake for 20-25 minutes or until toothpick inserted in center comes out with just a few crumbs on it.

8. Let cupcakes completely cool before frosting!

For the frosting:

1. Cream together the cream cheese and butter until completely smooth, about 2 minutes.

2. Add in the vanilla.

3. Turn your mixer on low and pour in your sifted sugar a little bit at a time until smooth.

4. Increase mixer speed to medium and beat frosting until light and fluffy, about 3 minutes.

5. If you want a thinner frosting, add a little bit of milk to thin out. I like mine exactly as the recipe calls for!