These cupcakes are spiked with Root Beer in both the cupcakes and the frosting! You just gottaaaa try them!
I love cupcakes. But you know what I don't like so much? The actual task of making said cupcakes. You guys better love me for this one because I made them just for you! Whenever I make cupcakes, my frosting to cupcake ratio always happens to be a lot more because well, the frosting is always the best part! These Root Beer Cupcakes with Root Beer Chocolate Frosting are super chocolatey, moist and fluffy. While the root beer taste is only slightly noticeable in the cupcakes, you can definitely taste it in the delicious frosting!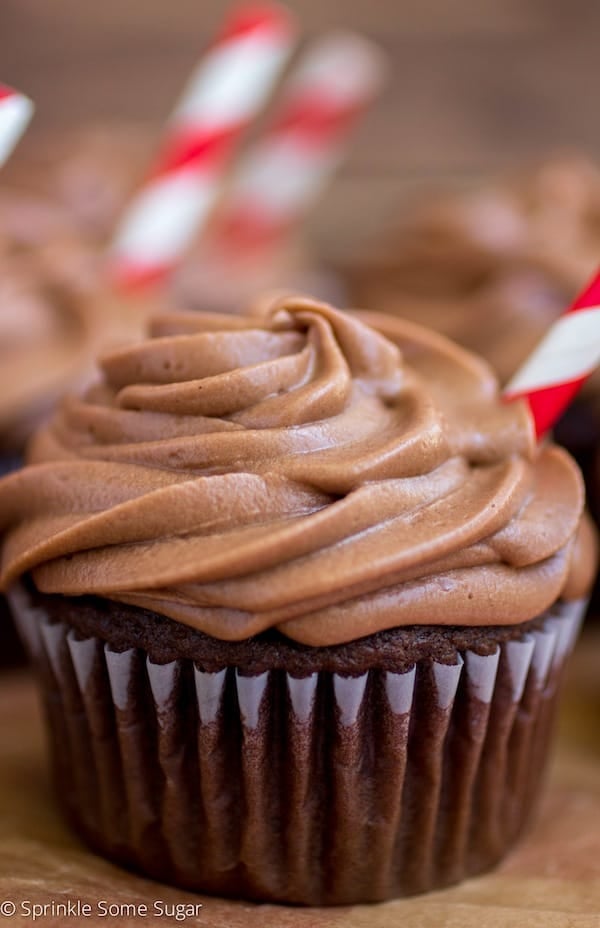 Mike is a soda feign so you can always find a stash of root beer hiding in the refrigerator. We like to keep Stewarts  To be quite honest, soda isn't really my thing – water is my drink of choice 24/7 so you'll pretty much never catch me with a soda in my hand but in desserts? I can get on board with that! You can make these cupcakes with any type of soda, use your favorite!
These cupcakes start with a cake mix and have some root beer added in to replace the liquid in the recipe on the back of the box. I also love to replace the oil in my cupcakes with some butter. And a few more eggs. The butter makes them extra rich and delicious. For the frosting, it is pretty much just a basic chocolate buttercream frosting but kicked up a notch with root beer whipped right in! It's so delicious and I think you can really taste the root beer shining through.
You are going to love these cupcakes! Serve them at your next get together and they're sure to be a hit.
[pinterest]
Root Beer Cupcakes With Root Beer Chocolate Frosting
Ingredients
*Cupcakes*
1

box chocolate cake mix

3

eggs

1

cup

root beer

1/2

cup

unsalted butter

melted
*Frosting*
1/2

cup

unsalted butter

softened

4

tbs

unsweetened cocoa powder

3/4

cup

root beer

5

cups

confectioner's sugar

1/4

tsp

salt

1

tsp

vanilla extract
Instructions
Preheat oven to 350 degrees. Beat all ingredients in a large bowl until smooth, batter will be thick. Scoop batter into cupcake liners 2/3 full. Bake for for 15-20 minutes or until a toothpick inserted into the center comes out clean.

While cupcakes are cooling, prepare frosting. In the bowl of a stand mixer fitted with the paddle attachment, beat butter until smooth. In a separate bowl, whisk together cocoa powder, sugar and salt. Add half of the cocoa mixture to the butter and beat until combined. Slowly add root beer to running mixer set to low speed until incorporated. Add the rest of the cocoa mixture and beat frosting until smooth and fluffy. If you want your frosting to be thinner, add a little bit of milk or cream to thin it out. Pipe frosting onto cooled cupcakes and serve.

Root Beer Cupcakes With Root Beer Chocolate Frosting will stay fresh for up to 4 days stored in an airtight container.
[pinterest]