[pinterest]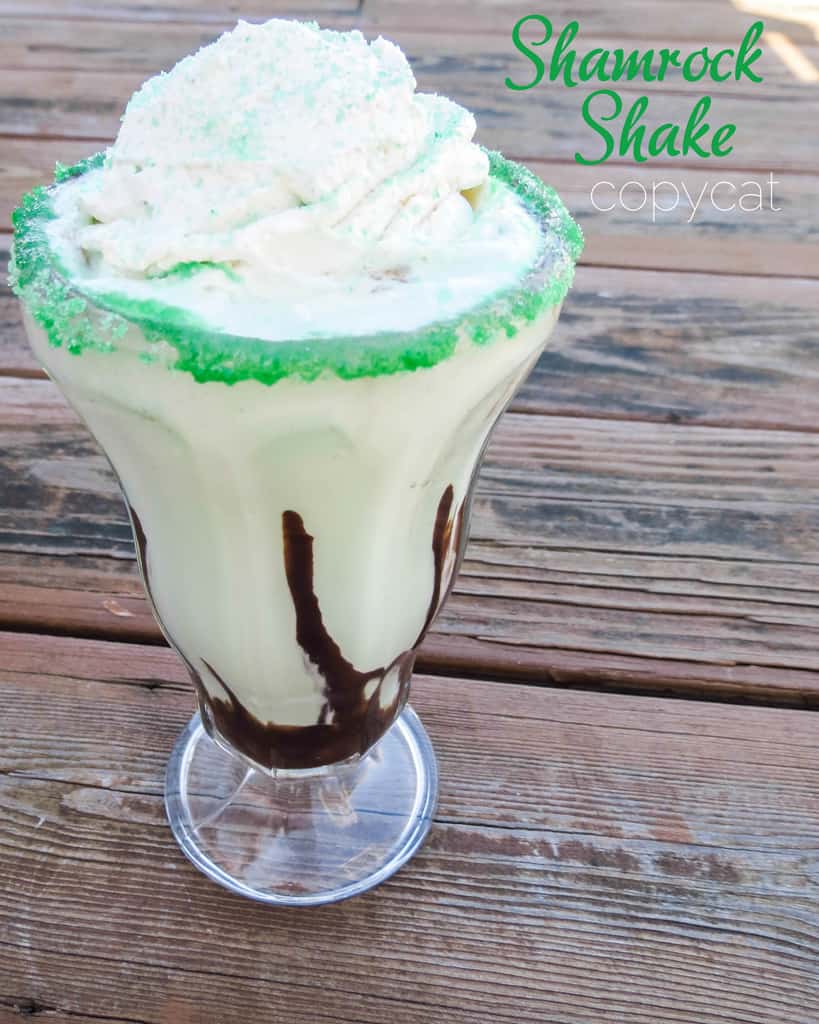 I'm so happy St. Patty's Day is right around the corner because it is my favorite holiday! I love, love, love everything green. And obviously for the main reason, I'm Irish! My father's side is Irish, while my mother's side doesn't have a drop in them, they are all Italian. I guess I didn't get any of her Italian genes – blonde hair + green eyes = totally Irish.
Now, about the shake. Have you ever had a Shamrock Shake from McDonald's? They have it every year, once a year, for the whole month of March. And let me tell you, they are amaaaazing! I'm not a huge McDonald's fan, but I do love their shakes. Especially their Shamrock Shake! I love everything and anything mint flavored and this tastes EXACTLY like melted mint chocolate chip ice cream (my favorite!), without the chips obviously. I added a touch of chocolate syrup along the sides not only to make it look pretty, but it gives it such a nice flavor, almost like mint chocolate chip ice cream! Feel free to leave it out if you just want a plain minty flavor, but I highly recommend it!
I topped my shake with some homemade whipped cream. I used this same whipped cream on top of my favorite hot chocolate recipe. Funny thing is, I really don't like store bought whipped cream at all but when I make this recipe from home, I can eat the whole bowl! It's so good. You don't have to top your shake with it, but it makes it even better! Also, for the little green sprinkled sugar around the rim of my cup and on top of my shake I took some sugar and some food coloring and shook them up in a bag to create green sugar! How cool is that? You can do this with any color. Sugar in the raw will give you a better "sprinkle" effect, but I only had regular sugar and it was perfect for what I needed.
Now you never have to wait all year long for this delicious shake, you can have it whenever you want with this delicious recipe!
[pinterest]
Shamrock Shake [McDonald
Ingredients
Shake

5

scoops vanilla ice cream

1/2

tsp

peppermint extract

1

cup

half & half

or milk

6-7

drops green food coloring

Whipped Cream

1

cup

heavy cream

2

tbs

confectioner's sugar

1

tsp

vanilla
Instructions
For the Whipped Cream

*Place your metal bowl and whisk attachment in the freezer for about 10 minutes for best results.

1. Take your metal bowl and whisk attachment out of the freezer and attach it to your stand mixer.

2. Whip the heave cream on high-speed for 2 mins or until stiff peaks form.

3. Combine the sugar and vanilla and beat some more until light and fluffy. Be careful to not over-beat because it will get very stiff.

4. I put my whipped cream into a zip top bag with a piping tip in the corner where I am going to cut the tip off - this will make it easier for you to put on top of your shake.

For the Shake

1. Put your ice cream, peppermint extract, half & half and food coloring all in your blender and mix until smooth.

2. Pour into your drinking glass and top with some whipped cream.

3. Garnish with some sprinkles (optional) and drink up!