The ultimate cinnamon rolls! Gooey, soft, tender and pretty much perfect.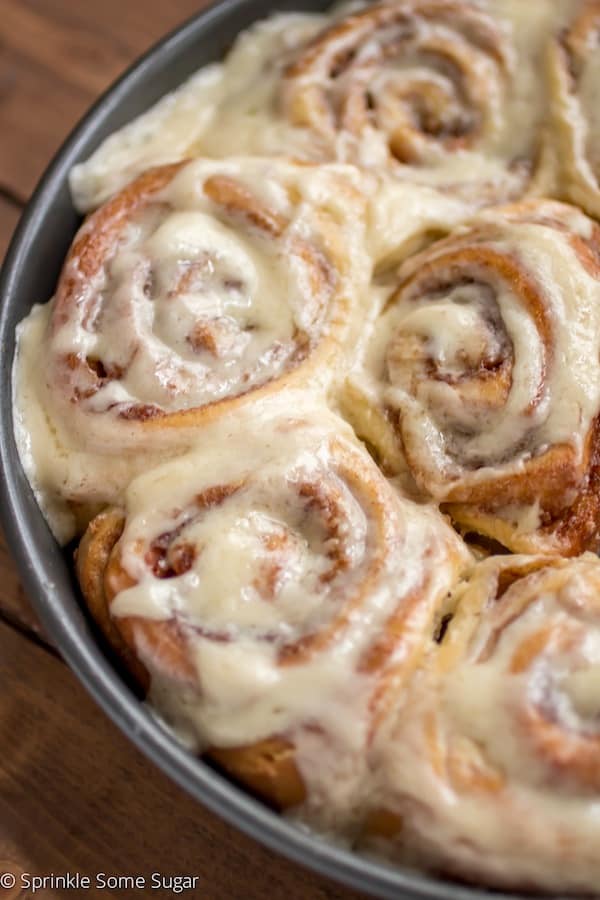 If I had to choose one food to eat for the rest of my life, it would be a big, fat, fresh out of the oven, warm cinnamon roll. There is just nothing in the world like it! I have another recipe on my site for cinnamon rolls, but I basically took that recipe and re-vamped it to make the absolute ultimate pan of giant delicious cinnamon rolls ever. Don't let the task of cinnamon roll making freak you out because it really is so easy. You just need a lot of patience! The end result is so, so, soooo worth it. Just trust me on this. What you get is the softest and gooiest cinnamon rolls ever doused in a creamy sweet cream cheese frosting.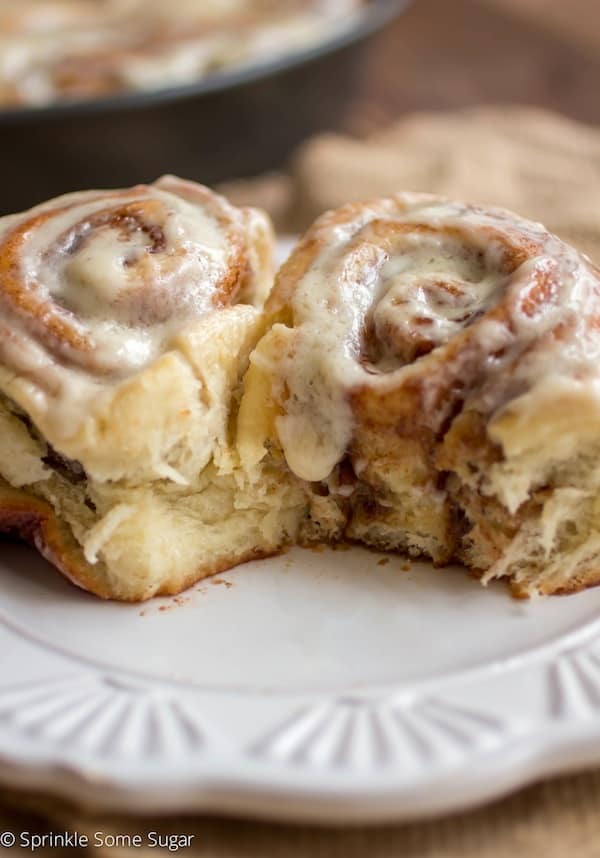 These soft and fluffy cinnamon rolls come out so tender and doughy, they're just perfect. Think: Cinnabon. My taste testers went nuts over these and may or may not have said that these put Cinnabon to shame! True story. Cream cheese frosting is my favorite kind of frosting so you know I made sure there's more than enough to go around in this recipe!
To make these cinnamon rolls, you'll follow the directions below in the recipe to create your super soft dough. Make sure you don't over flour your dough because you'l end up with tough and dry cinnamon rolls! The consistency is NOT like that of pizza dough. It should be slightly sticky but it shouldn't be overly sticky that you can't handle it without it sticking crazily to your fingers. You'll place it in a greased bowl and set it in a warm place to rise for about an hour or until doubled in size. In the last minutes of rising, you can gather your filling ingredients together and mix them up so they're ready. Once the dough is done rising, you won't punch the air out of it just yet. I like to just dump the risen dough out onto a clean, lightly-floured surface and then I pat it down lightly into a very large rectangle. Smear the butter on and spread the filling. Like so:
Roll it up tightly and cut 12 very large OR 16 decent-sized cinnamon rolls (pictured) with a serrated knife. If you would like to use two round pans, you can cut 16 cinnamon rolls and place 8 into each pan. If you would like to have those big, fat and round cinnabon-like cinnamon rolls, then you will need to cut 12 cinnamon rolls and space them out onto a 9×13 pan. Even though I have two round pans of 16 cinnamon rolls pictured here, cutting 12 rolls and placing them into a big 9×13 pan is definitely my preferred method. The round pans don't give them much room to expand on the second rise + during baking so they squish together slightly. After they're all nestled in your pan of choice, set the pan(s) into a warm place again to rise until they have grown slightly and are puffy. If you want to prepare these at night to bake in the morning, you will wrap them up TIGHTLY with plastic wrap and refrigerate them just before the second rise. The next day, you'll remove them from the refrigerator and set them back in the warm environment to rise for the second time to get nice and puffy.
Before and after second rise:
Now it's time to bake! Bake them up until lightly golden brown.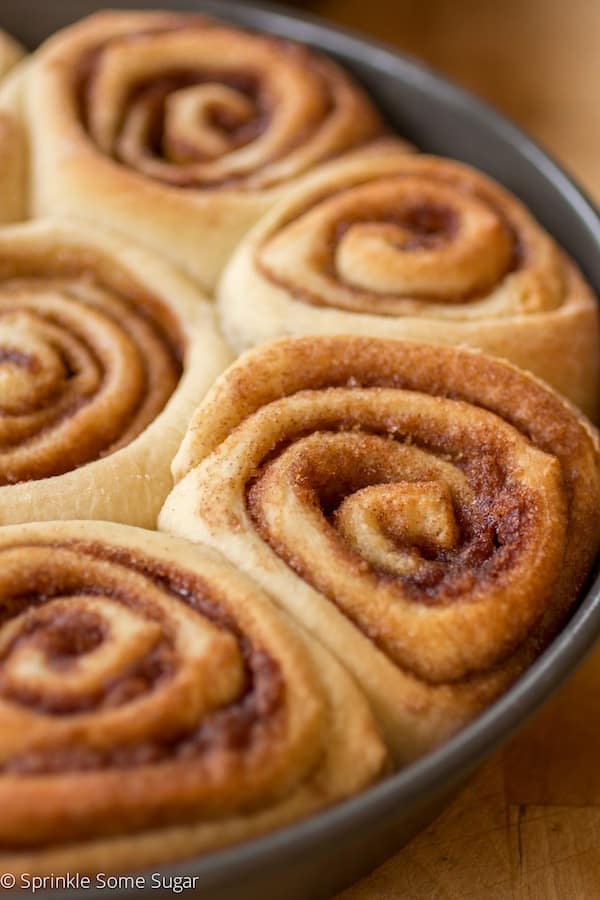 Go ahead and slather on some cream cheese frosting and dig into the most gloriously gooey and delicious cinnamon roll ever.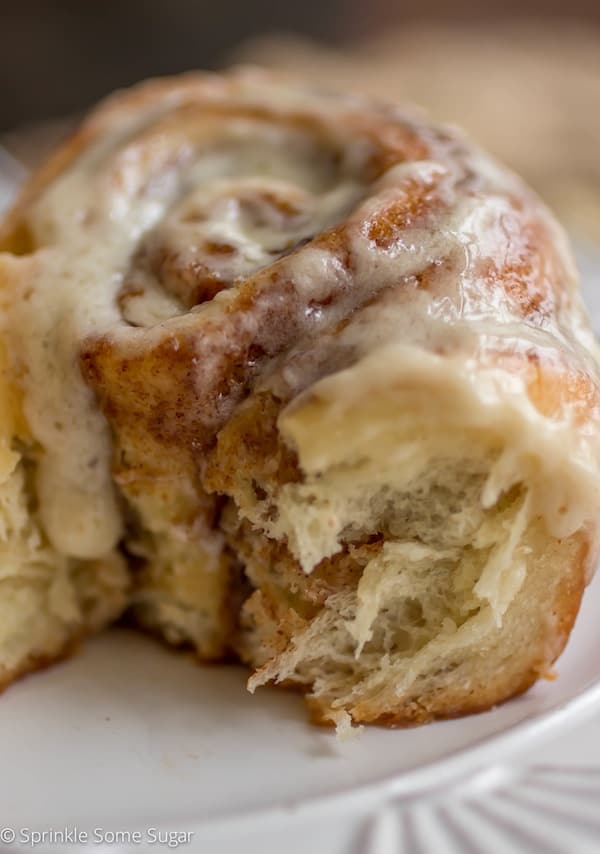 [pinterest]
Soft and Fluffy Cinnamon Rolls
Ingredients:
1 standard packet active dry yeast, 2 1/4 tsp
1 cup warm milk
2/3 cup granulated sugar
1/2 cup unsalted butter, melted
2 eggs, lightly beaten
1 egg yolk, lightly beaten
4 1/2 - 4 3/4 cups all-purpose flour
1/2 cup unsalted butter, very soft
1 1/4 cup brown sugar
2 1/2 tbs cinnamon
1 tbs corn starch
4 oz cream cheese, softened
1/4 cup unsalted butter, room temperature
1 cup confectioner's sugar
2 tsp vanilla extract
pinch salt, optional
Instructions:
In the bowl of your stand mixer fitted with the dough hook, Add yeast, warm milk and 1 tbs of measured out sugar. Stir together lightly and allow to sit for 10 minutes or until foamy on top. Stir in remaining sugar, melted butter and beaten eggs until combined. Add 3 cups of flour first and then add one tablespoon at a time until you have a workable dough. The dough WILL still be sticky so do not over-flour your dough! It should be sticky but not sticky enough where it sticks to your hands.Also note that your dough may not completely stop sticking from the bottom of the bowl so don't base your flour additions on that. Place dough into a lightly greased bowl and set into a warm place to rise until doubled, about one hour. I like to turn my oven onto 170 degrees and then turn it off, it creates the perfect warm environment.
In the last minutes of the dough rising, gather your ingredients for the filling. In a small bowl, stir the brown sugar, cinnamon and corn starch until thoroughly incorporated. Take the risen dough and don't punch it down just yet. Flip the bowl over and dump it out onto a lightly floured surface.
Pat it down lightly to release the air inside and roll it with a rolling pin into a very large rectangle, about 12 x 24. Smear the butter on into an even layer and sprinkle the filling on top. Pat it down lightly to pack it down.
Roll the dough up very tightly into a long log. Cut the log into 12 or 16 cinnamon rolls. 12 for a large 9x13 pan or 16 for two round 8" baking pans (8 rolls in each). Grease your pan of choice extremely well and place cut cinnamon rolls into prepared pan.
At this point, if you are preparing these for the next day, wrap them TIGHTLY with saran wrap (you do not want any air to get in and dry out the dough) and refrigerate until you are ready. Remove from the refrigerator and set back into warm environment for the second rise.
Allow them to rise in a warm place one more time until puffy, about thirty minutes.
Once rolls have done their second rise. preheat the oven to 350 degrees and arrange the rack into the center of the oven. Bake cinnamon rolls for 20-25 minutes or until lightly golden on top.
While cinnamon rolls are baking, prepare frosting. Beat cream cheese and butter together until smooth with no lumps. Add in confectioner's sugar, vanilla and optional pinch of salt and mix until smooth an creamy. Spread the frosting onto the warm rolls.
These Soft and Fluffy Cinnamon Rolls will stay fresh for up to 1 week stored in an airtight container at room temperature. I always store mine at room temperature and have never had an issue. If you are concerned about the cream cheese, store in the refrigerator. They are perfect warmed up in the microwave for a few seconds! Just like a fresh cinnamon roll right out of the oven.
https://www.sprinklesomesugar.com/soft-and-fluffy-cinnamon-rolls/
[pinterest]