[pinterest]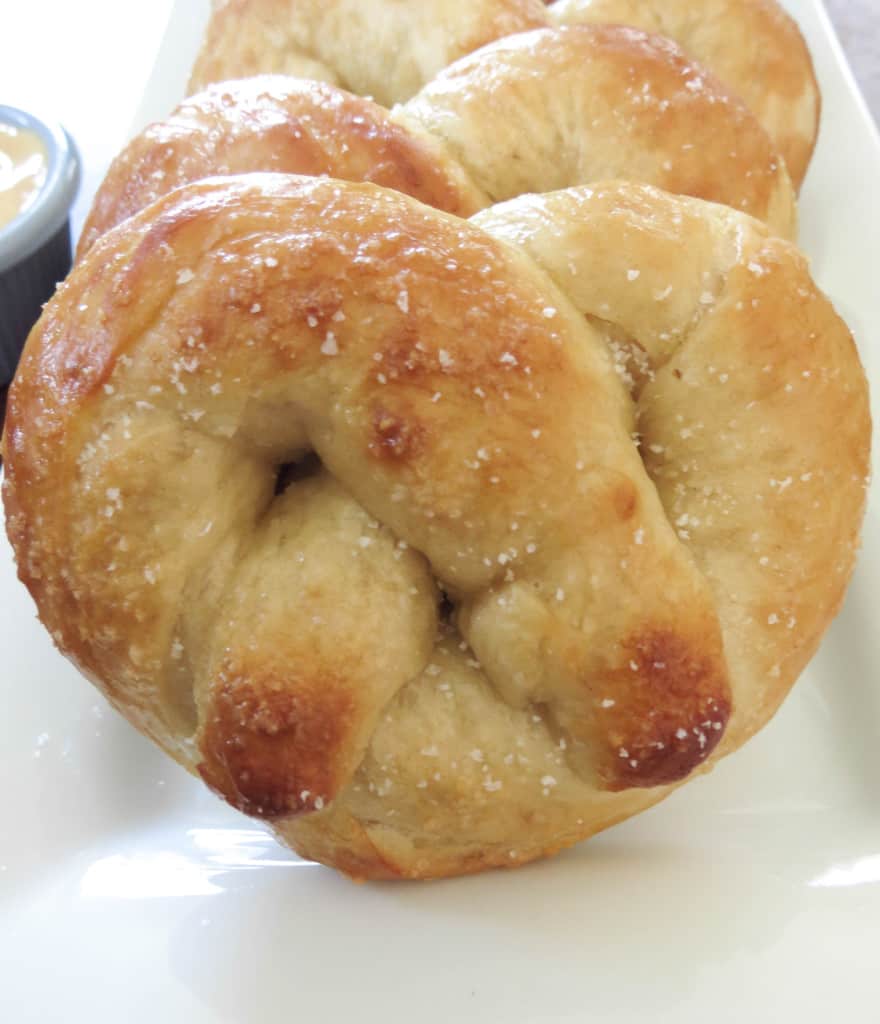 I'm a day late for National Pretzel Day, but here's an awesome recipe to celebrate today! Yes, you read that right. Deliciously soft and buttery pretzels prepped, baked and ready to eat in one hour! If any of you are like me, then you can't go to the mall without leaving with an Auntie Anne's pretzel. Once I go past that little place with the smell of freshly baked pretzels wafting through the air, my self control just goes out the window. (Which happens with pretty much everything, but whatever.) Along with my jeans. Once you smell them, there's no getting them out of your mind, no turning back until you have one. Can I just tell you that you can make them at home and have them be just as amazing? Seriously. When I tried this recipe, I thought, no way would these be just as good as my good ol' pal Auntie Anne's.. But I was wrong! These really are perfect and taste SO similar to them they're almost identical. Also, beware. They are INCREDIBLY addicting. You most definitely won't be able to have just one!
You get a soft and fluffy yet chewy, perfectly golden brown pretzel. They are even better once they have a nice healthy dunk in melted butter! And a good sprinkling of salt. Seriously, amazing.
The process to make these is very simple. Just get the dough together which only takes minutes, let it rise for about 30 minutes, roll out and shape the pretzels, dunk them in baking soda mixture, sprinkle with coarse salt and bake! So simple and everything is done under an hour.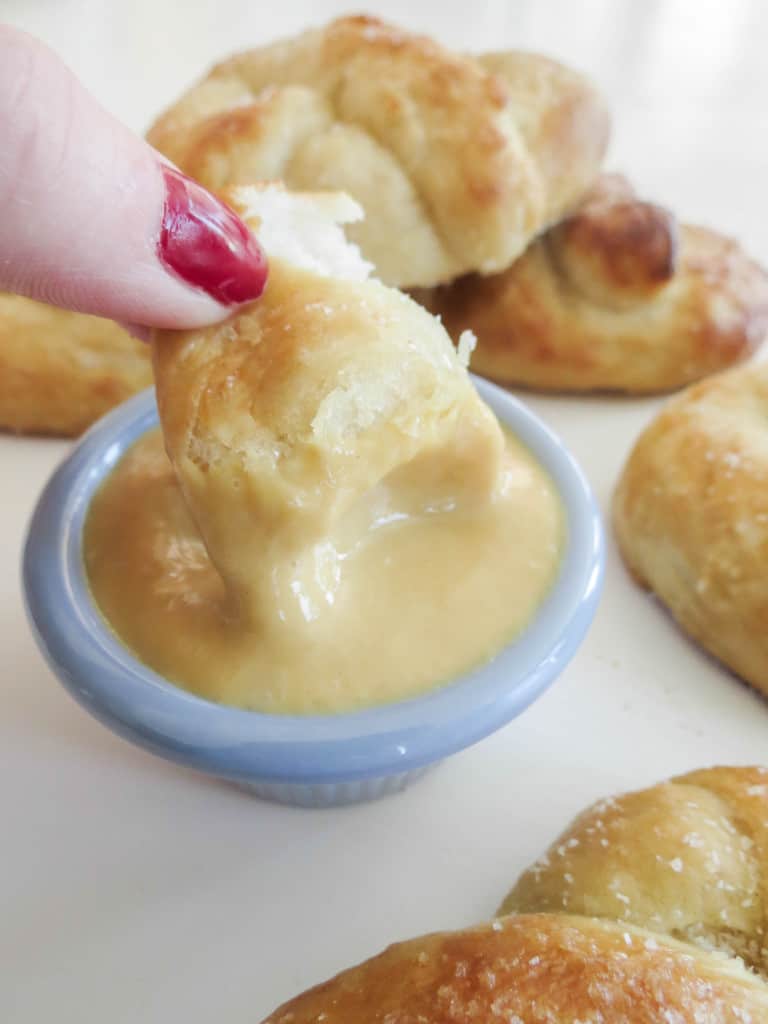 Move over Auntie Anne, you have some competition. You can now enjoy those delicious mall pretzels in the comfort of your own home for the fraction of the price!
[pinterest]
Soft Buttery One Hour Pretzels
Ingredients
2

cups

milk

warmed

2 ¼

tsp

rapid rise or instant yeast

2 standard packets

6

tbs

light brown sugar

packed

4

tbs

unsalted butter

melted

4 ½

cups

all purpose flour

plus up to an additional ½ cup as needed

2

tsp

fine salt

⅓

cup

baking soda

3

cups

warm water

coarse salt

to taste

8

tbs

salted butter

melted
Instructions
In the bowl of your stand mixer fitted with the hook attachment, combine yeast and warm milk together until yeast is dissolved. Add in brown sugar and melted butter and mix until combined. Pour in 4 cups of flour and add ¼ more at a time until dough pulls away from bowl. Dough should be sticky but not sticky enough that it sticks to your hands. Once dough is ready, knead for 5 minutes on low. Take dough out of bowl and spray bowl with cooking spray. Form dough into a ball and place in greased bowl to rise for 30 minutes in a warm place. (It should be almost doubled in size) I also like to spray the top of my dough with a little bit of cooking spray so it doesn't dry out.

Line 2 baking sheets with parchment paper, set aside. Combine baking soda and warm water together in a large bowl, set aside.

Once dough is ready, punch it down to release all air pockets. Cut dough into 12 equal pieces. The easiest way to do this is cut the dough down in half, then those pieces in half, then those into thirds. Roll the pieces of dough out to be 32 - 34 inches long and form each strip into a pretzel shape. Once each pretzel is shaped, drop them in the baking soda mixture for a few seconds. Shake excess water off with your hands and place on prepared baking sheet. Immediately sprinkle with salt. Repeat this process until all 12 pretzels are ready. (You will likely only be able to fit 6 pretzels on each baking sheet.) Bake pretzels for 7-10 minutes or until golden brown on top. Rotate pan after 5 minutes to ensure they are browning evenly. While pretzels are baking, get melted butter ready.

Once pretzels are ready, immediately out of the oven dunk the tops and sides into melted butter, Alternatively, you can brush the butter on. Sprinkle with some more coarse salt.

Pretzels are best served warm and fresh. Will keep for up to 3 days in an airtight container.
Recipe adapted from Food Network